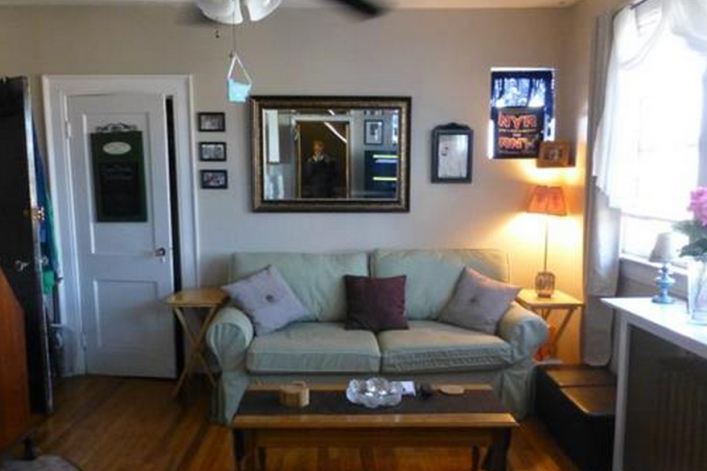 The Rockaways has gotten more popular than ever in the past few years (and have spawned many a tone-deaf New York Times trend piece to prove it), but we can't say we know too many people who've pulled the trigger and moved to the neighborhood full-time. For the budget-minded, though, we came across some serious incentive: a furnished one-bedroom near the Beach 116th Street subway stop going for a mere $895 a month. The price is low for a reason: you'd be living in one of the most remote neighborhoods in the city, with the serious risk of damage come flood (and storm) season, in a tiny bedroom (with a sloping ceiling to boot), and closet space only available in the living room. On the other hand, that sloping ceiling does include a skylight (it looks like you'd be in the top of the building here), and there's a washer/dryer in the basement, so you won't have to lug your laundry around the Rockaways.
Does this low price tag justify the risk and the long hours you'll spend on the A train? Our experts, including RentHackr founder Zeb Dropkin as well as real estate bloggers and veteran NYC renters Julie Inzanti and Lambeth Hochwald (who have a combined 27 years of experience in the world of New York rentals), weigh in for this week's Take It or Leave It.
Size: 1-bed, 1-bath
Location: 157 Beach 122nd Street (between Rockaway Blvd and the water)
Cost: $895/month
Flexible Layout: No​
Days on the market: 34 days
Subway: A, S at Beach 116th Street
Pros and Cons:
"For a furnished one-bedroom $895 per month is pretty good, but you'll be all the way out in the Rockaways! I think it is a little steep for the location. Sure, it's close to the beach, which is pretty great—but I'd rather take a train for an hour to the beach and live someplace more convenient. Also, the furnishings are nothing to rave about; they're sparse and basic. The bedroom looks like a nightmare! I can already see the medical bills piling up from repeat concussions from sitting up in bed too fast! 
I like the Rockaways to visit. It is pretty out there if you have a car to explore the neighborhoods or if you have a boat to enjoy Jamaica Bay and leisurely summer days on the water. But then again, if you had a car and a boat you probably wouldn't be in search of a $895 per month apartment." - Julie
"If living by the beach is on your bucket list and you don't have loads of stuff, this fully furnished one-bedroom might be the home you've been waiting for. And, if you don't mind sleeping in what looks like an attic bedroom--the apartment is two flights up after all--and can deal with the stress of waiting for the S or A train for a long trip to basically anywhere, it might be worth considering since the price is certainly right." - Lambeth
"Here's a turnkey furnished flat right at the beach in the Rockaways. You're basically living in the top unit of a house, and your bedroom has attic walls closing in around it." - Zeb​
Who would this apartment be perfect for?
"This apartment is perfect for someone in search of a cheap-ish place at the last minute, who can't afford to furnish it. It would also be a plus if you worked in the area, because commuting to Manhattan for work each day will drive you insane—the A train is the closest option, or the Shuttle." - Julie
"A writer or artist who wants to lower his or her overhead and spend time near the shore." - Lambeth
"Want to live half a block from the beach and just a $2.50 subway ride to Manhattan? Don't have furniture and don't want to style your own place right now? This is your spot." - Zeb​
The Verdict(s):
"Absolutely, 100% LEAVE IT! The price is nice but the apartment is tiny, the furnishing is poor and the location is too remote. Good luck during the next hurricane." - Julie
LEAVE IT "This apartment is located in the Flood Zone—and according to Google Earth, it looks like it's in a private home, so you'll definitely want to know more about the owners before you sign a lease." - Lambeth
LEAVE IT "Unless you have some overwhelming reason to live out there, you'll be miserable all winter. This would rock as a summer destination spot, though." - Zeb
Ready to rent? Check out our How to Rent Guide...and if the apartment you like requires a guarantor that you don't have, see if the landlord acceptsInsurent, a guarantor solution from one of BrickUnderground's sponsors.
Brick Underground articles occasionally include the expertise of, or information about, advertising partners when relevant to the story. We will never promote an advertiser's product without making the relationship clear to our readers.