The Search
"What's it like to live in that building?" New website hopes to give New Yorkers the answer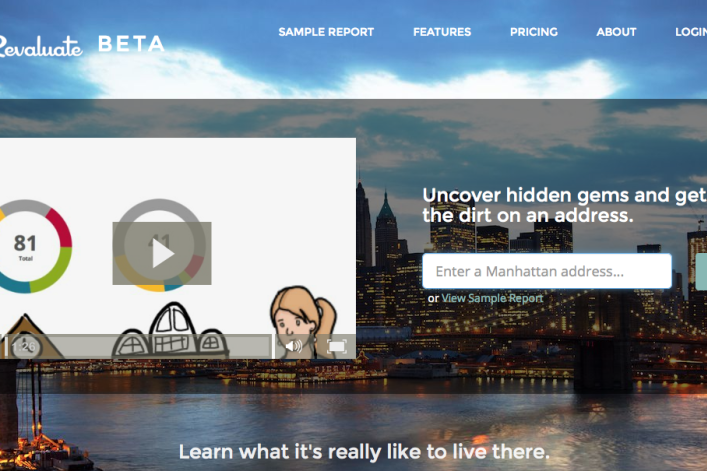 Every New Yorker moving into a new place wishes for a crystal ball, or at least some way of knowing their future home will be quiet, clean and devoid of crazies. Not surprisingly, a handful of startups are trying to fill this need, albeit in a more scientific way, by sourcing data that promise to lay bare a building's or neighborhood's true character, from the quality of the elevators to the presence of sex offenders. (Some examples include AddressReport, Neighborhood Scout, HomeFacts and PropertyShark.)
The latest to enter the field is Revaluate, which launches in beta today. Revaluate culls data from some 2,000 public and private sources, according to co-founders Chris Drayer (a real estate tech marketer) and Max Galka (a financial derivatives modeler), and boils it down to a building score. The idea is to provide users with an accurate and useful method of comparing similar buildings, to uncover the subtle differences between the two Upper West Side walk-ups that both have co-ops for sale, and to answer the question, What's it like to live there? 
"The scores are standardized for every address, which makes it easy to compare different buildings side by side," Galka says.
The score is based on four factors--safety, quality of life, environment and expenses--using an algorithm that looks for patterns, such as whether a building has a rat problem or the heat works. "If someone in the building recently installed a soundproof window, the building is on a busy street, and the residents have complained about traffic noise, the algorithm will recognize that all of these things point to traffic noise being an issue for residents," Galka says. "And that will negatively impact the building's quality of life score."
For those interested in digging deeper, there's also information based on raw public records, like court documents, building violations and noise complaints. (Some link to the original records, like case documents in the state appeals court, but others don't, though this is a bug the founders are working out.)
So far, Revaluate is free to use, while they work out a pricing model. We took the site for a test-drive, and this is what we found:
Let's get this out of the way upfront: Revaluate has entries for all 40,000 residential buildings in Manhattan, the founders say, but has yet to cover any other geographic territory. So Brooklynites (or really anyone interested in moving to another borough), move along. "If we get some positive feedback from people and we hear from these other boroughs that they're interested and want to see this info and find it valuable," Drayer says, "then we'll be expediting that process to get those other boroughs out and launched live." That could happen by the end of the year, he says.
That said, Revaluate has a ton of information, including some types of data we haven't seen on rival sites. This is one way they're trying to set themselves apart from the competition, by pulling data from both public and private sources, including information that "previously sat in the hands of private entities, was locked away in inaccessible government databases, or ... existed only in unstructured format, requiring manual extraction," Galka says.
For example, the "Famous Neighbors" feature, which lists noteworthy people that live within a block or two of the building, is especially fun (although the question of whether you'd move to a specific building to get closer to Conan O'Brien is a separate issue).
The "Expense Details" section also seemed particularly useful. It shows whether a building has any major upgrades on the horizon, like the replacement of an oil boiler to comply with a city law. For buyers, this is the kind of information you want to know going in, since any big-ticket repairs could likely impact your monthlies.
But it's difficult in places to digest the raw information--or to know what to do with it. What does it mean if building management gets cited for "Operating without renewing of expired operating certificate," as it had in one Upper West Side building we looked up? Is that reason enough not to buy there? Similarly, a list of court case names and numbers are only useful if you know which lawsuits will impact your life in a building. The dispute over the bed bug infestation on the 10th floor? Seems worth knowing about. But what about the lawsuit over a rent hike at a rent-stabilized unit? (Buyers could, of course, show Revaluate to their real estate attorney.) 
Drayer and Galka concede that the entries contain a lot of technical language but point out that the scores help guide users, while the records back up the scores with objective data. They also say they're working on a solution to address this issue, but wouldn't go into details. "We know that a lot of this language is difficult and we're working on a solution to make the language in the report more easy to digest," Drayer says.
Related:
Your apartment hunt, now with more (and more) data!
Revamped website Address Report mines public data for the scoop on your next rental
What 68 renters wish they'd known before they moved in
PropertyShark QuickTip: How to check for property violations (and find the ones that really matter) (sponsored)
Brick Underground articles occasionally include the expertise of, or information about, advertising partners when relevant to the story. We will never promote an advertiser's product without making the relationship clear to our readers.