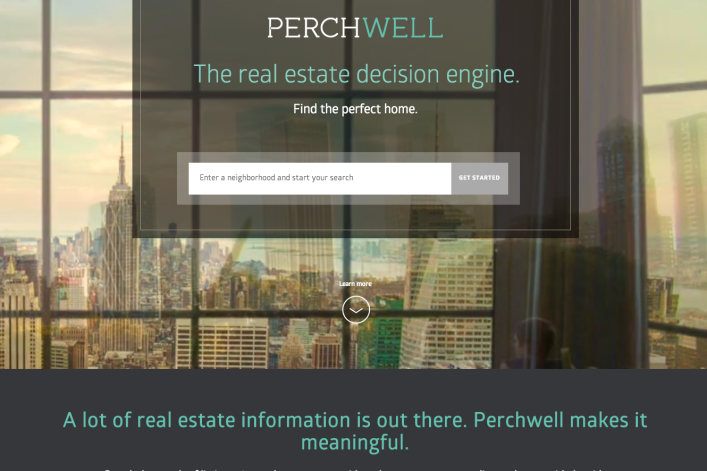 Anyone who's bought an apartment will tell you that a property's asking price is only one part of the cost. The other part? The monthlies, including maintenance fees (in a co-op), and common charges and property taxes (in a condo). In New York City, the problem of valuing monthlies gets pretty complicated. Some co-op fees, for example, are tax deductible, which means they may not be as big an expense as you think. Some condos have abatements that keep taxes low—but only temporarily. Some charges go to amenities like doormen or pools that, for some buyers, are well worth the cost, and for others, very surely not.
In most cases, low monthlies equate to a higher asking price and vice versa.
Perchwell, a new apartment-search website that launches in beta today, is hoping to help buyers make sense of all this with its PerchPrice, a proprietary metric that calculates a price tag for each available home based on both the asking price and the monthly charges. The idea is to help buyers figure out how much a place will truly cost them—​according to Perchwell, a $100 difference in monthlies equates to between $15,000 and $20,000 in "value"—​and to figure out if it's worth it.
For example, take two one-bedroom co-ops on the market at 185 Park Row, one on the 11th floor asking $549,000 and one on the ninth floor asking $559,000. But the 11th-floor unit has lower monthlies ($861 a month versus $917), and a PerchPrice to match: $688,636 compared to $733,292. 
For all you quantitative types out there, the PerchPrice is based on a standard financial calculation called the "discount rate," which measures the value of an upfront payment versus payments over time. Additionally, Perchwell takes into account listing and tax information, including whether a place has an abatement and when that will expire; whether a building is a condo, co-op or townhouse; and assumptions about the user, like income tax deductions. Users can tweak the assumptions based on their own situation, almost like a mortgage calculator. "The formula itself is a simple time value of money calculation," says Brendan Fairbanks, the founder of Perchwell. "It calculates the value today of cash payments, i.e. monthlies, in the future." 
Fairbanks is an ex-finance guy (two years in investment banking, three in private equity), whose interest in—nay, obsession with—​real estate manifested itself in hours spent trolling StreetEasy and weekend afternoons at open houses. He came to realize that amenities have different values for different buyers, and wanted to create a search engine that would help apartment-hunters evaluate the cost of all the extras.
In fact, that's another way to use Perchwell: Since the cost of amenities is typically figured into the asking price and the monthly charges—​in other words, you'll spend more to buy into a building with a doorman or a pool, and you'll spend more every month to live there as well—​the PerchPrice can also give you an idea of how much more you'll wind up paying overall to get that doorman versus a live-in super. 
"In order to 'value' features or amenities, you can use PerchPrice to determine the 'all-in' cost of homes with various feature sets ... and compare that to other combinations of features," Fairbanks explains. "For example, you could compare listings in Chelsea with elevators and doormen to listings in Chelsea with only elevators to see how much you'd have to pay for a doorman in Chelsea."
The site also has an attractive interface, with several search functions and filters that make it easy to fine-tune what you're looking for. Every element is responsive, so you can change your search criteria without navigating away from the results. And in one view, results are organized almost like a gorgeous Excel spreadsheet, letting you change how a search is sorted (let's say by most number of bedrooms or by asking price), and sort by multiple factors at once. "The point of this capability is to allow anyone to immediately sort on any possible combination of factors and, ultimately, bubble the listings to the top that are best for them," Fairbanks says.
Of course, whether this kind of search catches on remains to be seen—​and presumably the nitpicky financial calculations will go over the heads of most users. But the site is free to use, and the company plans to charge brokers to brand themselves as specialists in certain neighborhoods or price points, as well as give them access to a pool of serious buyers, i.e. you. At the moment, Perchwell only has listings in Manhattan—a major limitation—​and only homes available for sale. Plans to expand to additional boroughs and rental listings are in the works for the upcoming months.
Related:
Where can I find a Manhattan condo without the expensive extras?
What 8 first-time buyers wish they had known
When numbers collide: Why Zillow, Trulia and StreetEasy don't agree on apartment prices
Brick Underground articles occasionally include the expertise of, or information about, advertising partners when relevant to the story. We will never promote an advertiser's product without making the relationship clear to our readers.