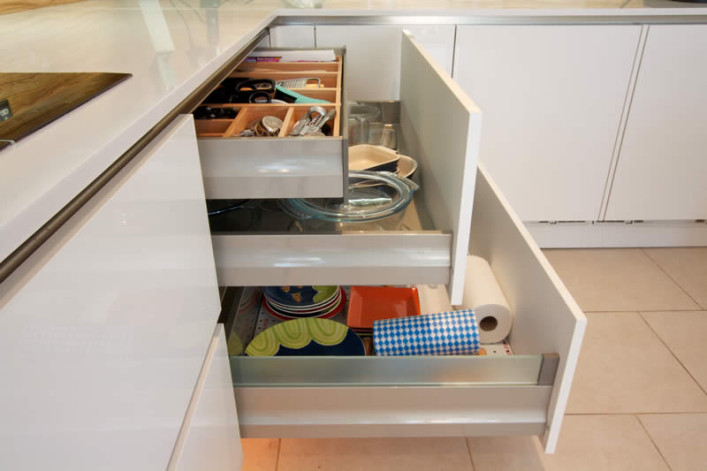 At first blush, moving in New York City seems like a breeze. After all, how much stuff could one small apartment actually hold? Answer: A lot! The tiniest of studios can pack up into dozens and dozens of boxes. And once all of those boxes are piled high into a new space, it could take days or weeks to dig yourself out.
In the meantime, you're going to need to eat, which is why The Kitchn's Moving Day Kitchen Survival Box makes so much sense. Just pack all of the following items separately from the rest of your moving stuff and you're guaranteed to have everything necessary to whip up some energizing, if basic, meals in your new digs (which you'll be needing in order to get all of that unpacking done).
Cooking supplies: A saucepan and a frying pan are the basics. Add to that a couple of knives (one chef's knife and one paring knife will do) and a cutting board and large metal or plastic bowl (for washing greens, beating eggs, serving salad, etc.). Throw in some basic tools and accessories, like a set of tongs and a rubber spatula (for cooking and serving), foil and resealable plastic bags (for wrapping up leftovers) and you're good to go. P.S. Don't forget three of the most used ingredients in any kitchen: oil, salt and pepper.
Cleaning supplies: You don't need much, just some dish soap and a sponge, a couple of kitchen towels (you can use them to wrap and protect knives and glassware in transit and for drying once you've arrived) and multi-purpose paper towels.
Serveware: A good rule of thumb is one complete setting (plate, bowl, knife, fork, spoon) per person in the household. Or, skip the serveware completely and simply use up any leftover paper or plastic party goods (if they happen to be from a five-year-old's Power Rangers Birthday Blowout, so be it).
Beverage supplies: Can you imagine getting through moving day without a wee celebratory drink at the other end? Neither can we, so be sure to include a wine and/or bottle opener and a set of multi-purpose glasses (choose tempered so they're less likely to break en route and heatproof if you plan on using them for hot drinks, too). And don't forget any morning beverage must-haves, like a small coffee maker, not to mention a selection of tea and coffee. There's nothing worse than waking up in a new apartment without some caffeine to help you face a day of unpacking.
Related:
16 tips for an (almost) stress-free moving day
 A little-known moving timesaver that's worth its $500 price tag
Insider moving tips form a small landlord
3 high-tech ways to make your moving process easier (and cheaper)
Brick Underground articles occasionally include the expertise of, or information about, advertising partners when relevant to the story. We will never promote an advertiser's product without making the relationship clear to our readers.