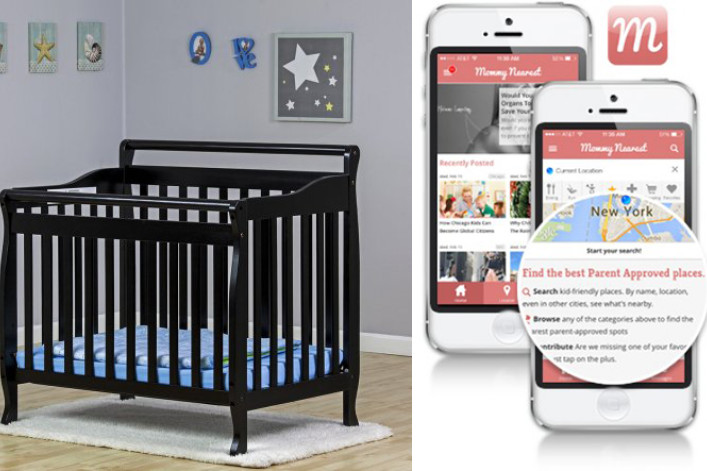 It may take a village to raise a child, but in New York City it takes a lot of stuff and services, too. Here, a roundup of the must-haves:
1. A HOOK-ON HIGH CHAIR
If your small NYC apartment can't fit a standard-size high chair, don't despair. The Chicco Caddy Hook On version clamps onto any table with a skirt up to 5.5 inches thick. With no legs to maneuver around, the inevitable spills and splatters that come with kid-feedings are a cinch to clean up, and since it installs in seconds, it's great for taking everywhere, from road trips to local restaurants. $40, Chiccoshop.com 
2. STROLLER STORAGE
That full-size stroller was not meant to double as a piece of installation art when not in use. So what's a clutter-phobic parent to do? Consider the MetroTots StrollAway, a heavy-duty steel hook that transforms any closet door into a stroller parking spot. Fold any stroller (fits most singles and some doubles) up to 40 lbs, hang it on the hook, close the door and forget about it. $40, Weebabe.com
3. BABYPROOFING 
Your home is the safest place on earth for your child. Or is it? Exposed electrical outlets, bookshelves that can tip over if climbed on, sharp corners, drawers filled with forks and knives … On second thought, maybe your home isn't the safest place for your child, but it can be. That's where BabyBodyguards—a service staffed with pediatricians, nurses, EMTs, firemen, contractors and craftsmen who offer everything from car seat installation to home babyproofing to infant and child CPR—comes in. Geared toward the apartment dweller, their One Level Living Package covers the basics and supplies the goods necessary to safeguard your place, while their Comprehensive Home Evaluation package includes a basic room-by-room walkthrough of your home and recommendations for making it safer for the whole family. $175-350, BabyBodyguards.com
Or, for the budget version (which is, admittedly, much less thorough), check out the Safety 1st Essentials Childproofing Kit, a handy box filled with everything you need for DIY babyproofing: doorknob covers to keep kids out of adult-only rooms, latches to prevent little ones from getting into cabinets and drawers and plug protectors to prevent children from sticking fingers into electrical outlets. $9, ToysRUs.com
4. TOY OF THE MONTH CLUB
That awesome Exersaucer may be a Godsend one day and gathering dust the next. Instead of buying, why not borrow? That's the thinking behind Sparkbox Toys, a toy rental company that delivers quality educational toys to your home on a monthly or bi-monthly basis. The process is simple: your child receives four carefully selected educational toys at a time and plays with them for four to eight weeks. Then, just as he/she is losing interest, a new shipment arrives. Best of all, you don't have to find storage for the old toys because they're shipped back—for free! From $24/month, Sparkboxtoys.com
5. BOOK OF THE MONTH CLUB
If your child's home library is more extensive than your own it may be time to consider Sproutkin, a book subscription service that functions similarly to Sparkbox. Each month your child receives 10 books based on a selected theme. You and your child read and discuss the books (an included activity card helps kickstart the conversation) for four weeks, at which time you return them for the next month's offering. If you love a book, keep it and pay 10 percent off the retail price. The programs cover kids 0 to 3 and 3 to 6. $25/month, Sproutkin.com
6. A CONVERTIBLE BED
The average child sleeps in up to three different sized beds between infancy and adulthood. Wouldn't it be great to cut right to the chase and just buy that twin bed and be done with it? You can with the Dream on Me 4 in 1 Portable Convertible Crib, which starts off as a sturdy and stationary crib then converts (by removing one side) into a toddler bed, and finally—by reconfiguring the sides into a headboard and footboard, or just a headboard alone—a twin. Now if there were only some way to grow the mattress to match … $117, Amazon.com 
7. THE MVP OF MOMMY APPS
For those times when you're venturing out in the city and need a family-friendly restaurant or an awesome playground or even a bathroom, fast. Mommy Nearest is a handy app that provides info about nearby businesses and services—including emergency providers. Just install and all things kid-centric are a few taps away. Free, Mommynearest.com 
Related:
8 reasons your children should grow up in New York
Real estate with kids: Find a place, make nice with neighbors, and more
I'm buying a co-op. Will the board want to interview my children?
Brick Underground articles occasionally include the expertise of, or information about, advertising partners when relevant to the story. We will never promote an advertiser's product without making the relationship clear to our readers.