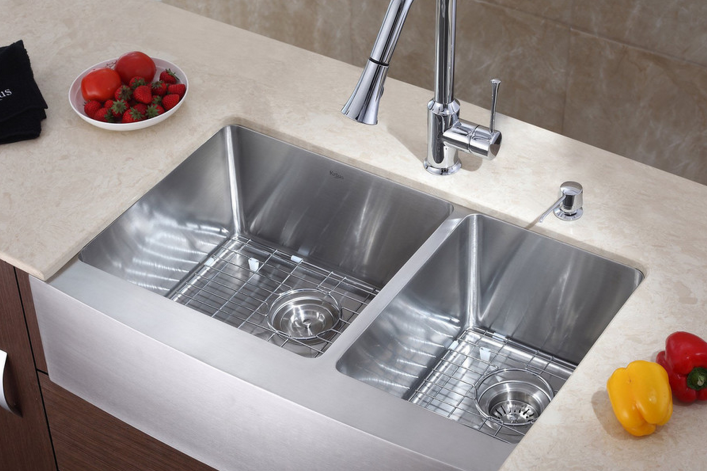 Q. My kitchen sink is old, dingy and small. How easy would it be to install a new one myself?
When it comes to DIY home projects​, replacing a kitchen sink sits somewhere in the middle of the continuum, and the difficulty depends largely on what you plan to use as a replacement, as well as the condition of the surrounding counter. If the new sink is a different shape or depth, I'd recommend calling in a professional, but if you simply want to install a new fixture that's the same size, you could probably handle it solo. 
Go the (relatively) easy route
Removing the existing sink is uncomfortable—you'll have to shimmy under the sink itself—but not complicated. First, shut the water off. Line the floor with paper towels and have a bucket ready to catch any water left in the pipes. Then, using a screwdriver, unscrew the sink clips that secure the sink to the countertop—there will be far more sink clips than you think there should be! After that's done, scrape off any leftover caulk/sealant around the sink's perimeter with a utility knife.
If your new sink is the same depth as your old one, you can use all your old plumbing, provided it's in good condition—meaning no leaks. Otherwise, you'll need to buy a new tailpiece, which is the pipe that's directly connected to the sink drain. (One option that's cheaper than chrome is these flexible PVC plumbing pieces, which are bendable and adjustable in length.) Secure the new sink in place with sink clips, which usually come with the sink itself, then use teflon tape on the threads of the pipes, and secure the slip nuts by hand, tightening with a wrench if needed. (You can damage the pipes or threads by tightening too much, and using hands will give you a better feel for the appropriate tightness.) Finally, apply silicone sealant around the sink edge where it meets the countertop.
On to faucets. They vary in style—single lever versus two handles, a detachable sprayer and so on—but come in standard plumbing sizes, so if you choose the same type of tap, you shouldn't have too hard a time installing them. Follow the manufacturer's instructions for installation, and then reconnect the connector pipes, which bring your hot and cold water from the water supply stop valves in your wall. 
A pro tip: if you know nothing about changing out sinks, go to a hardware store with a picture of your current fittings and measurements of all the connecting pipes. A store clerk should be able to tell you which ones you can reuse, as well as what you'll need. 
Alternatively, if this all sounds like too much, a handyman or plumber in New York City may cost in the ballpark of $85 to $125 per hour (and up!). Expect the work to take at least two hours, provided you have all the parts on hand already, and he just needs to drop, secure, seal, and reconnect the new sink.
Or change up the look entirely
If you're game for more work, then you could spruce up your kitchen with an under-mount sink (which "hangs" from the underside of the counter) or an apron sink (a.k.a. a farmhouse sink, where the front lip juts out from the counter). However, this may involve switching out your countertop or cabinet base to accommodate the new size and weight, so it's probably worth it to invest in professional help.
Prices will vary greatly, but companies like NYCityStuff will send a professional like a handyman or plumber, who will bill by the hour, to do the job. Alternatively, you could get a bid for the project from a contractor, who can buy the right parts, though some may charge a premium for this. 
Related:
9 things I learned from my two-year DIY reno
5 things you may live to regret doing in your own apartment
10 first-time renovation mistakes even New Yorkers make
Remodeling your NYC kitchen: 12 sanity-saving tips
Brick Underground articles occasionally include the expertise of, or information about, advertising partners when relevant to the story. We will never promote an advertiser's product without making the relationship clear to our readers.