Improve
John Buffalo Mailer's fave antique: the typewriter his dad used to write "The Naked and the Dead"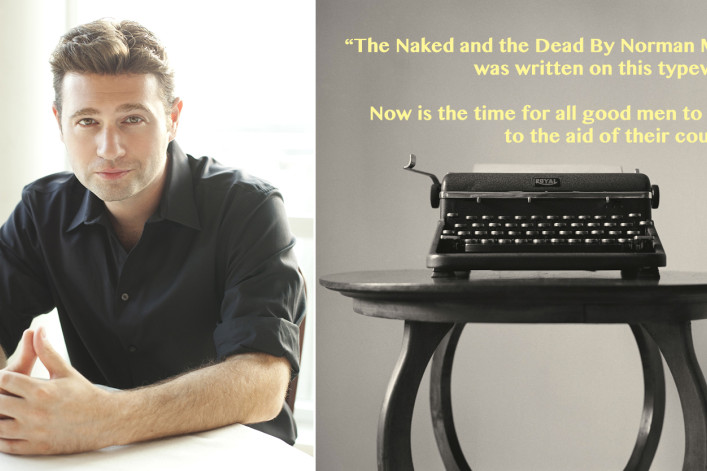 John Buffalo Mailer is a renaissance man of sorts, an actor, playwright, editor, and author who lives and works in his native Brooklyn. The youngest child of noted writer Norman Mailer and Norris Church Mailer, Buffalo Mailer has written several screenplays, including "Hello Herman," produced a documentary adaptation of Naomi Wolf's "The End of America," and collaborated with his father on a book of interviews. Most recently, Mailer starred as a young incarnation of his father in Matthew Barney's epic film "River of Fundament."
Buffalo Mailer lives in a two-bedroom apartment teeming with books and antiques in a rental building in Clinton Hill. Among the many items in his home is a 1940's Royal typewriter on which his father wrote his first book, "The Naked and the Dead"—​a gift from his dad on his 20th birthday. Below, he explains how the machine fits into his apartment:
Dad was living with his first wife, Beatrice, up in Provincetown when he was using this typewriter. He had just come back from the War, where he had been stationed in the South Pacific, and was determined to write the quintessential World War II novel. There are many who believe he succeeded in this endeavor. I am certainly one of them, biased as I am. After the success of "The Naked And The Dead," which catapulted him to literary super stardom at the age of 25, he was able to afford an assistant who would type up his handwritten pages, which was always his preference for writing. This is why "The Naked And The Dead" is the only book he ever wrote on this typewriter.
The typewriter fits right in, as our home is a serious mix of the old and the new. ... The Royal is very much in keeping with our philosophy of doing what is in our power to carry on the wonderful elements of the past, while embracing the extraordinary possibilities of the future. The Royal does get put away for parties, though. We tend to have fairly raucous ones and it would just be too painful to have to endure the look in a friend's eye when he or she realized they had just spilled their cocktail on a piece of American history.
When my father gave it to me, with very little pomp or ceremony, as he could hardly be described as sentimental, I felt it was his way of giving me confirmation that I was not totally insane for pursuing a career as a writer, that he thought enough of my talents at that point to trust me with such an important piece of American literary history. ... 
When he gave it to me, Pop sat down and typed: 
The Naked and the Dead By Norman Mailer was written on this typewriter. 

Now is the time for all good men to come to the aid of their country.

Strathmore charcoal quality paper Strathmore paper company Westfield, Mass.
If you were not to touch the roll, you would think that was all he typed. However, my father continued on down below with:
Now, will you men get your finger out of your ass? said Croft.
[That was] one of his favorite lines from "The Naked and The Dead." Then he signed it:
Norman Mailer April '97
A few years later, I couldn't help myself and added my own line to the bottom. It reads:
thank you dad. I love you
Related:
Peek at Dotty Attie's "mountain man with dementia" home decor in Gramercy
Russell Whitmore, owner of Red Hook antique shop Erie Basin, picks his most attention-grabbing objet
Brick Underground articles occasionally include the expertise of, or information about, advertising partners when relevant to the story. We will never promote an advertiser's product without making the relationship clear to our readers.