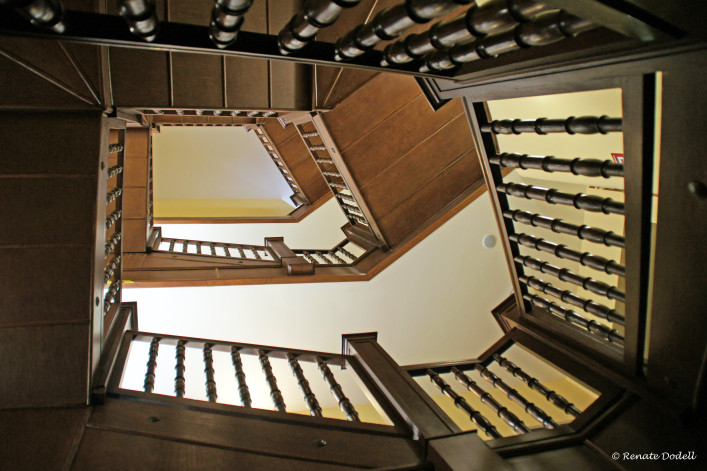 We often receive emails from readers asking for help in navigating their own real estate crises. In Realty Bites, we try to get them answers.
THE PROBLEM:
Sometimes climbing six floors to your front door just isn't worth it—even with a sharp discount on the rent. We recently heard from a reader who's been living in a rent-stabilized apartment on the sixth floor of a former tenement building for the past quarter century, and is ready to get out. 
"Climbing six flights of stairs for 25 years has taken its toll on me, combined with typical physical wear and tear, carrying heavy bags upstairs for years, etc.," she writes. "I am now suffering from serious hip and knee deterioration which is extremely painful." After a recent MRI, she's learned that she needs surgery, and won't have anyone to take care of her (or a way of actually getting back up the stairs) after the operation.
Understandably, she'd like to cut her losses and buy an affordable apartment in an elevator building. The catch? Before her health problems escalated, she signed a new two-year lease, even though her current lease hadn't yet expired, and the building was recently taken over by a management company with a "despicable" reputation that's been slow to respond to her queries. 
"I would think the management company would be jumping for joy to get a rent-stabilized tenant out," she writes, "but I'm anxious about trying to break the lease and what they will subject me to—especially financially. I haven't approached them yet with this situation, but given my medical condition (which I can prove), is there any easier way to get out of this lease without being hassled?" 
THE SOLUTION:
While getting out of a lease early is always tough, our reader has one thing right: the management company will likely be overjoyed to empty your apartment and jack up the rent before the next tenant moves in. So much so that if you play your cards right, you might even be able to negotiate a buyout, wherein your landlord pays you a lump sum in exchange for giving up your lease.
(Senior citizens ages 62 and older have the right to terminate leases if, for medical reasons, they can no longer live on their own, but it sounds like this is just an issue of relocating.)
"From a purely legal perspective, if the lease is already in place, you could be liable for rent for the rest of the term," explains Sam Himmelstein, a real estate lawyer who represents tenants. "But I have almost never seen a landlord hold a tenant to a below-market lease when they leave in the middle of it."
Arthur Zabarkes, a New York City architect, developer, and real estate consultant concurs: "I'd suggest you start with a low-key buyout request and go from there" before bringing your health issues to the management's attention. "Mention to the owner that you might consider leaving with a buyout," he explains. "No mention of money or of a schedule to leave or any dissatisfaction with your present situation. The owner should be left with the sense that the ball is in his court and that he should make an offer."  
That said, a lot of this depends on the individual landlord, and there are some important variables to keep in mind here. Management is more likely to be interested in a buyout if you live in a desirable area or a in building where new tenants are paying market rate. Another enticement would be if your stabilized rent is already close to $2,500—the threshold that lets landlords take an apartment out of stabilization altogether. Still, it's virtually a guarantee that your landlord stands to make some profit from replacing you with a new tenant, and they're likely well aware of this fact.  (For more info, see this post on negotiating a buyout.)
If, in spite of the potential profit, your landlord doesn't want to let you out early (or if you're not interested in negotiating a buyout), you could take another tried and true approach to getting out of a lease: find a replacement tenant. "Find a candidate with a good credit score who doesn't have a problem with a walk-up," advises Rob Solano, the executive director of community non-profit Churches United for Fair Housing. (Given your low rent, this should be pretty easy.) Though rent-stabilized tenants can only sublet for up to two years during a four-year period, that should take care of the remainder of your lease. For more specific guidelines on assigning your lease to a replacement, you can check out the Attorney General's Tenants Rights Guide. 
Whatever you and the landlord agree on, don't forget the last—and arguably most crucial—step of this process: getting your arrangement down in writing.
Related: 
Landlord wants to buy you out? How to name your price--plus real-life examples from $15k to $1 million
Mission possible: how to get out of your lease
I've got money in the bank, but no steady income. Can I still rent an apartment?
Win the NYC housing lottery: how to get an "80/20" rental
What's a buyout really worth? Use this calculator to figure it out
Does France have the solution for cash-strapped NYC buyers?
How to survive (and thrive) in a walk-up apartment
A 20-percenter protests an 80/20 landlord's letter about a looming "inspection"
Brick Underground articles occasionally include the expertise of, or information about, advertising partners when relevant to the story. We will never promote an advertiser's product without making the relationship clear to our readers.