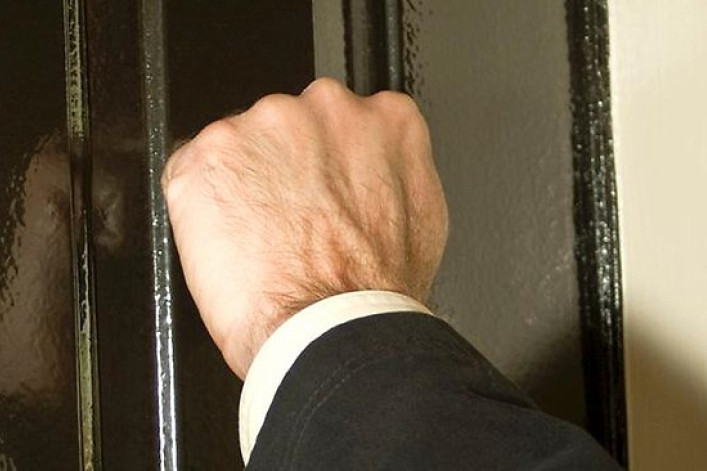 Just because you're happily ensconced in your Upper West Side co-op, content to overlook its imperfections to avoid the frenzy and expense of buying a new place right now, doesn't mean you won't hear from brokers trying to convince you to sell. 
Indeed, real estate agents have long used letters and phone calls to "fish" for listings, i.e.  apartments their clients want, even if they're not on the market. And with the supply of available apartments failing to meet buyers' insatiable demands (not to mention throngs of brokers competing for any and every potential listing), the tactic is becoming increasingly common—especially if you're in a desirable neighborhood. (Think most of Manhattan and pricier parts of Brooklyn, where you've probably gotten one of these unsolicited letters offering an appraisal, which look like this.) Halstead Property broker Andrew Phillips, who lives in a condo, says he "must get at least five to eight mailings a week from other brokers about listing my apartment."
If this kind of missive lands in your mailbox, should you respond? And what happens if you do? 
Make sure the broker is legit
Lucky for you, this is not the kind of project favored by less-than-legit brokers looking to turn your apartment into a quick buck (or endlessly harangue you until you list it).
"This is obviously a long game, to go through the time and expense of contacting people who might not even want to sell," points out Gus Waite, a broker at Coldwell Banker AC Lawrence, who doesn't personally send out letters "fishing" for listings.
Still, there are telltale signs that can help you figure out if the broker hoping to list your apartment is the right person for the job.
"I always put 'no strings attached' in these letters," says Brown Harris Stevens broker Edward Joseph, who has sent these kinds of letters before. "Meaning that if I go in and do the appraisal and they're mostly just curious, they're not obligated to move forward or use me as a broker." Of course, you should still expect a certain amount of follow-up (your apartment is now a potential commission, after all). "Obviously," Joseph  notes, "I try to stay in touch." 
Also, the more detailed the letter, the better. "If there are real statistics about sales in your building, of comparable apartments, and nearby in the neighborhood, that means a lot more than 'you won't believe how much your home is worth!'" says Kinnaird Fox, a broker with Fenwick Keats.
If a letter claims there's already an interested buyer for your place, look for even more information. "The letter should provide a certain amount of information without actually naming the buyer," explains Fox. "It could get into their background information, the amount of money they're willing to spend, whether they're paying in all cash, and why they think your apartment would be a good fit." 
"Some brokers will even bring in a friend to pretend they're an interested buyer" just to get a foot in the door, says William Raveis Managing Director Paul Purcell. "Keep pushing and pushing for details, and if the story starts to get muddled, you might not have a real buyer on your hands."
Persistence can be a good sign, too: "If you're hearing from the same person consistently," says Fox, it can mean that they're legitimately working with sales in your neighborhood (and therefore familiar with the market), and interested in your apartment specifically.
Beware the overly enthusiastic offer, though; while a broker's standard 6 percent commission is always negotiable, Purcell tells us, sometimes younger brokers that are aggressively trying to bolster their listings will offer a low commission right out of the gate. Seems like a good thing--or is it? "If someone immediately negotiates their own commission down," asks Purcell, "How well will they protect your investment during buyer negotiations?"
If you're interested
Call the broker, who should come by your apartment to do an appraisal, then come up with a plan (and a price) for potentially selling your place. "An appraisal could either take 15 minutes or it could take an hour," says Joseph, depending on how involved you want to be. You could spend ages talking details, or they could be in and out for a quick look to help with an appraisal. "After that, I'll put a marketing plan and potential asking price together based on the apartment, and other, similar recent sales in the neighborhood," Joseph says. 
This is where to really put your would-be broker to the test. "The seller should look for the amount of time and energy the broker has put into the listing presentation," says Phillips. A broker should sit down with you to review comparable sales in your area, go over the marketing strategy, and even encourage you to talk to other brokers before making a decision. "Our numbers, or comps, are now all public records, so all brokers will have similar information," explains Phillips. "But the one who interprets it best and communicates it to you clearly is someone a seller should seriously consider working with."
Shop around a bit before settling down with a single broker. Interview at least three.
"A seller should never feel obligated to one broker until they sign an exclusive agreement," says Phillips. "It is their responsibility to themselves to talk to a few brokers to see who or what makes the most sense. If you had a million dollars, would you only talk to one stockbroker before you decided to invest?"
Do a little legwork yourself, too, to help you vet the price quotes you're getting from different brokers. "Take a Sunday to go out and look at listings similar to your apartment," says Purcell, to get a feel for the competition and what you realistically could get for your place.
If you decide to move forward and put your apartment up for sale, most brokers will have you sign an agreement to work with them exclusively, and inside of a week, photos and floor plans of your place can be posted online for interested buyers. (We've got more information on standard listing agreements, too.)
The benefits of responding
It's all fairly straightforward, but something to keep in mind for the hagglers: "If you're only interested in selling if there's a short process and a high sell price, you could potentially have leverage" with a broker who's gone out of their way to get in touch, says Waite. Signing an exclusive means that your listing, by necessity, has to go public (and go online), but if you can talk your broker into holding off on having you sign, you could potentially arrange some one-stop shopping instead, having them bring by interested buyers all at once, instead of having your apartment in showing condition indefinitely. It might limit your options, but it's also a way to potentially make the process as short and painless (on your end) as possible. 
"If they've already got potential buyers lined up, you could offer to give the broker a single evening to show the place, and make it known that you'll only accept an all-cash offer at asking price," says Waite. (This seems far more likely to work with the kind of high-priced, immaculate apartments that already attract fast-acting all-cash buyers, rather than with more middle-of-the-road listings.) 
And if you try to play hardball and it doesn't work out (or you decide you're just not ready to sell)? Well, it never hurts to ask.
Related: 
Own a place in a desirable NYC nabe? Expect brokers to come courting
Questions to ask before hiring a broker
Buying in Manhattan? Don't expect to haggle
Buying a Brooklyn brownstone? New website unearths "secret" listings
Brick Underground articles occasionally include the expertise of, or information about, advertising partners when relevant to the story. We will never promote an advertiser's product without making the relationship clear to our readers.