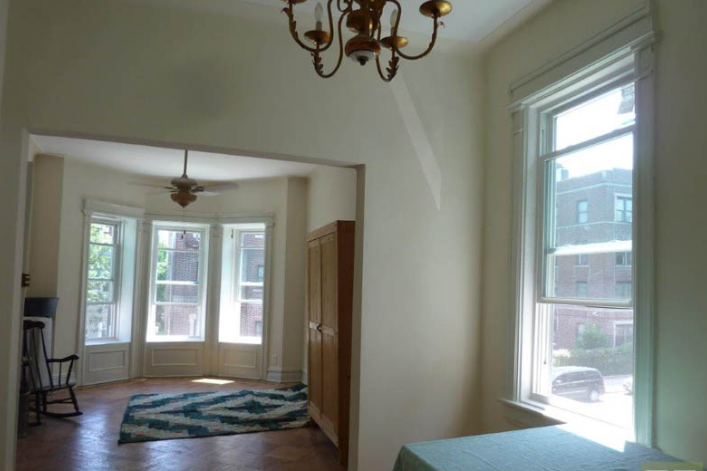 We'd love to live in a sun-filled brownstone apartment in just about any neighborhood, but Crown Heights also happens to be getting ever more popular with renters. Still, $3,000 a month for a three-bedroom is unusually high for the area, especially for bedrooms that are less than spacious. And given that the price of this apartment has already gone down by $800 a month and the fact that this floor of the building has never been rented out before, per the listing, you may be dealing with a first-time landlord with unrealistic expectations.
Still, the place could be a good fit for a small family with money to burn (and the energy to redecorate). Our experts — including RentHackr founder Zeb Dropkin and freelance writers Julie Inzanti and Lambeth Hochwald — weigh in for this week's Take It or Leave It.
Size: 3 bedrooms, 1.5 bathrooms
Location: 1307 Union Street (between Nostrand and New York Avenues)
Cost: $3,000/month​
Flexible Layout: No​
Days on the market: 50 days​
Subway:  3, 4 at Nostrand Ave; 2, 5 at President Street
Pros and Cons:
"If you can get past the low-quality photos you can see the lovely details of the space, like the ornate wood floors and the over nine-foot ceilings. The least they could have done was remove the old newspapers piled on the kitchen counter, the boom box with power-cord draped over the sink and the lawn furniture in the living room. It is a three-bedroom—and space is always nice. But it's hard to tell the size because it looks like the same room is photographed from different directions. The bedrooms must be very small if they didn't make the cut. It looks like there is only one bathroom, and it's tiny. There is good natural light, though, and on the top floor of the building, no upstairs neighbors will bother you. I also like that the apartment is close to the subway. The 3 train looks like it is around the corner when you Google-map the location." - Julie 
"It's a roomy second story of a brownstone just a few minutes from the express 4/5 and 2/3 trains. But it's an overpriced old place right near the busy Eastern Parkway, and that's after a drastic price reduction."  - Zeb ​
"This spiffy limestone brownstone might be for you if you don't mind schlepping to the top floor, if you don't have a pet—no furry friends allowed in this house—and you don't mind being on the Nostrand Avenue end of Crown Heights. The high ceilings, multiple exposures—so sunny!—and original details are fab, too. The downside: The kitchen's pressboard cabinets take away from the classic elegance of the space, and $3,000 a month is no bargain." - Lambeth
Who would this apartment be perfect for?
"This apartment is great for a small family who can utilize the three bedrooms and maybe turn one into an office, but they must have a great design sense to make this apartment look like it is worth $3,000 per month!" - Julie
"Students going in for a deal on Crown Heights could do worse. This place is priced as a two-bedroom now, and that's probably what it really is. But take a look to see if you could make it work as a three-bedroom.​" - Zeb
"Three friends who want to try out the neighborhood provided there are one-and-a-half baths—I couldn't see a photo of the advertised half bath—and that the third bedroom/home office isn't just a glorified closet."  - Lambeth
The verdict(s):
LEAVE IT "I still can't get over the $3,000 price tag for this space and location. I mean, this isn't Brooklyn Heights. And it doesn't look very spacious. The realtor should hire a professional photographer—throw in some cool props, mid-century furniture and a few flea-market finds. I bet they could trick someone into paying $3,500 per month."  - Julie
LEAVE IT "You're likely to find better per bedroom deals in the area if you do some digging." - Zeb
LEAVE IT "I'd worry that since this is the first time this floor has been rented there may be some kinks that need to be worked out." - Lambeth
Ready to rent? Check out our How to Rent Guide...and if the apartment you like requires a guarantor that you don't have, see if the landlord accepts Insurent, a guarantor solution from one of BrickUnderground's sponsors.
Brick Underground articles occasionally include the expertise of, or information about, advertising partners when relevant to the story. We will never promote an advertiser's product without making the relationship clear to our readers.