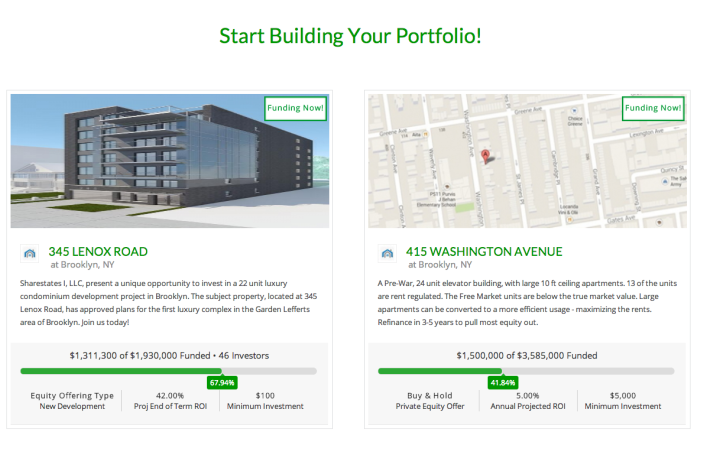 We'd all like a piece of New York's sky-rocketing real estate market—it's the least we could get in exchange for paying such exorbitant rents, after all—and a new site, Sharestates, aims to lets residents do just that, by investing in new properties for as little as $100 per share.
They're not the first company to offer the prospect of buying into real estate like you would the stock market, but they're the first to do it at this price point; CityShares, for example, has a similar setup, but their minimum investment clocks in at $100,000.
With Sharestates, the idea is to function as the "E-trade of real estate," letting users navigate their tidily laid-out site to browse potential investment properties, including background on the neighborhood, time frames for each project, and potential return on investment, as Business Insider reports. The primary focus is on "cash-flow properties" like rental and retail buildings, rather than ground-up construction, which can take much longer to actually put money in your pocket. (On the back end, founders Wayne Geffen and Allen Shayanfekr have had to do a bit of wrangling to get each new investment property qualified with the SEC, a process that's also been a hurdle to other companies trying to launch the crowd-funded real estate model.)
Of course, to invest in real estate also means to start thinking like a landlord, for better or for worse: the overview of a 24-unit building at 415 Washington Avenue in Clinton Hill (which is asking $5,000 per share) cheerily notes that "this property will yield substantial returns as more of the regulated units turn over to market." One wonders how, exactly, the management is going about speeding up that process.
For another current offering, at 345 Lenox Road in Prospect Lefferts Gardens, the overview lists among potential risks that the building is the "first proposed luxury condominium in the neighborhood," but notes, "the area has seen a good deal of gentrification in the last several years." Shares are on offer for $100 each, and are expected to eventually net around $45 apiece in profits.
You can check out the explanatory video below for more information, and decide if you've got the stomach (and the funds) to get in on New York's market. Every tycoon has to start somewhere, after all. 
Related: 
Can't afford an entire house? Now you can invest in gentrifying neighborhoods like you would the stock market
Get the 411 on financing an investment property (sponsored)
Buy Curious: is $500K enough to buy a good investment property in Manhattan?
Brick Underground articles occasionally include the expertise of, or information about, advertising partners when relevant to the story. We will never promote an advertiser's product without making the relationship clear to our readers.