Sales Market
Brooklyn and Queens are getting a lot more apartments—but will it get easier to rent one?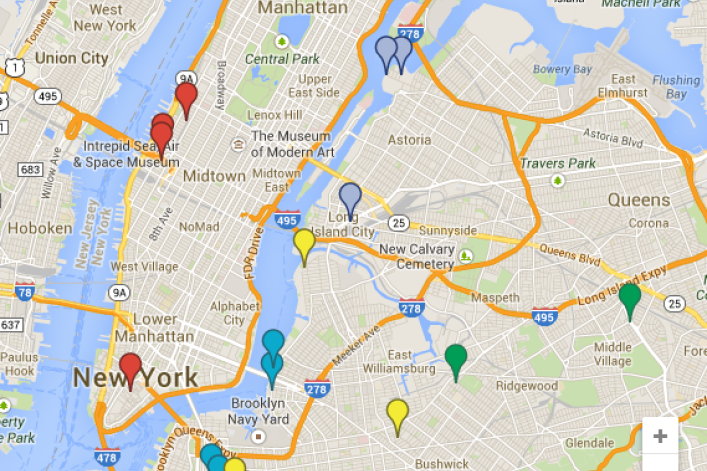 Between the skyscraper prices and rock-bottom vacancies, renting in this town is a bloodsport—but the faintest glimmer of hope may be on the horizon. In 2015, developers are set to build more rentals than any year on record, particularly in cheaper "outer outer borough" areas like Bushwick, Greenpoint and Ridgewood, Queens, The Real Deal reports.
Across the city, about 9,260 new rental apartments are slated to go up every year starting in 2015, or about 19 percent more than the previous peak in 2013, according to data compiled by real estate consultancy Nancy Packes Inc. And most of them are not going to be in Manhattan. 
Some 21,500 new rentals are planned or under construction in Brooklyn, with about 8,500 of them earmarked for "core" parts of the borough—that is, pricey areas like Brooklyn Heights, Downtown Brooklyn, Williamsburg and Dumbo. Another 13,025 rentals are slated for "non-core" areas of the borough—that is, slightly less pricey areas like Greenpoint and Bushwick. Meanwhile, about 11,980 rentals are planned for the prime parts of Queens—Hunters Point, Long Island City and Astoria—with an additional 3,281 rentals coming to farther flung areas like Ridgewood.
The good news here is that it seems like developers are listening, and building new projects in parts of the city where they can't charge as much rent (so you could potentially afford to live in a brand new building if you're willing to add some time to your commute). "This is a picture of changing land use radiating out from the center, which is absolutely essential to accommodate the [housing] needs of the city," Nancy Packes, founder of the eponymous firm, tells The Real Deal.
But here's the rub (and why you'll need to keep your optimism in check): for one thing, some of these "non-prime" areas are, well, already pretty expensive. Take Greenpoint, for example, where the median rent is $3,125 a month, according to StreetEasy.
And at the end of the day, thousands of new apartments don't necessarily translate into a lot of options for renters. Indeed, almost a tenth of the rentals coming to "core" Queens will be located in a single building: 1,000 units at 22-24 Jackson Avenue, which you may know better as 5 Pointz, the beloved graffiti mecca that's been whitewashed (literally) to prepare for the coming conversion. What's that phrase again? The more things change, the more they stay the same.... 
Related:
Brooklyn prices hit record highs, but it's still your cheaper option
Can anything stop the upward march of Brooklyn rents?
Ridgewood: The dirt cheap, radioactive Queens nabe that may be the next Greenpoint
Renting off the L train: what does it really cost, and what do you get?
Brick Underground articles occasionally include the expertise of, or information about, advertising partners when relevant to the story. We will never promote an advertiser's product without making the relationship clear to our readers.