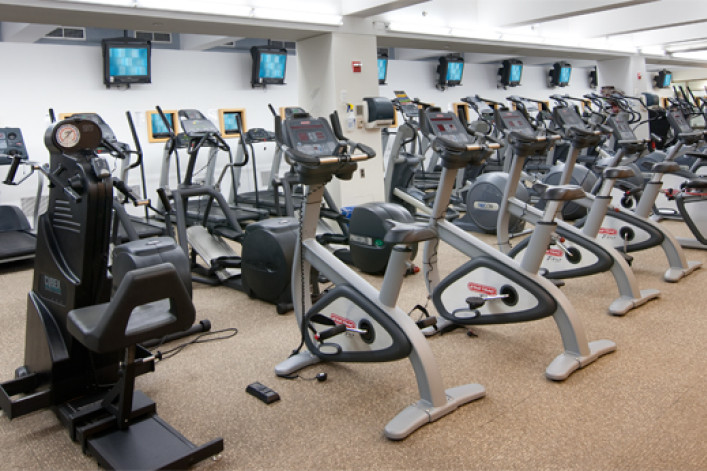 The building: 10 Hanover Square in the Financial District 
What you'll pay: Rentals available now range from a studio for $2,649 a month to a three-bedroom for $7,399 a month. 
Amenities:  Doorman, concierge, media room, package room, storage, rooftop terrace, club room, lounge, fitness center including sauna, rock-climbing wall and spa. The gym has a $70 fee per month. For the storage units, the cost is $15 a month. All other amenities are included in the cost of rent. 
Which amenities do you swear by?  
Annabelle: I love all the staff, they're awesome and always up for a chat. I work from home so it's nice having a friendly group in my building if I just want to wander down to the lobby and get my daily dose of human interaction. 
Warren: I like the gym, it's comparable to a nice Crunch or Equinox. 
Kevin: My roommates and I hang out at the media room and the roof a lot. The roof is actually perfect for dates. It's casual, no pressure, and a kick-ass view. My roommates and I call it the panty dropper. 
Amber: I love the gym, I love the guys that work here. Everything else is lovely as well, just I don't find myself gravitating to it as much because it isn't part of my daily routine. I guess if I find myself needing to rent out a space, I would definitely consider our media area but so far I haven't had any use for it. I have a big enough TV I can watch from my couch. 
Which do you never use? 
Annabelle: I have been living here since the winter and honestly, I don't use too much of anything in the building, but it isn't because it isn't nice. I just find myself wanting to walk around a lot here because the neighborhood is so beautiful and we are right by the water. It's packed with amenities but I just want to be outdoors no matter what. 
Warren: Well, the actual place is nice, the amenities are there, but the management company gets on my nerves so I haven't really used anything lately. I'm too fed up and I want to get away from luxury living back into a family-owned walk up. That vibe makes it hard to enjoy the good stuff we do have. 
Camilla: I have never used the concierge, storage, spa or rock wall. I am on and off with the gym. I would use it if I weren't too lazy to go to the gym. ... I'm not huge on the media room because I don't watch TV, but my son loves it. I think he just zones out there for hours. He could probably live there if I didn't drag him back home. 
Kevin: I haven't given the gym or sauna or storage a try. I could totally use a storage unit though so I should check that out. 
Amber: I think there's nothing to write off completely, it'll all get use in fair time. 
Anything surprise you?
Annabelle: I had lived in doorman buildings before and the staff was never this friendly. I was surprised how caring and even funny they were. Plus, I think it was made more surprising because a lot of them have worked in other places, other doorman buildings, and they seem to really love it here. 
Warren: As far as amenities go, nothing was surprising to me. I was just annoyed with myself because I didn't opt out of re-upping my lease in time because I couldn't get a new place and now I ended up living here longer than I was planning. So I guess I'm just surprised I stayed as long as I did. 
Kevin: We have a rock wall? 
Did the amenities draw you to the building?
Annabelle: No, I wanted to be on the water more than I wanted amenities. 
Warren:  I guess half and half. They were nice to have and I wanted a nice building, but mostly I wanted a nice building near my office. Now I want to be nowhere near my office and not such a nice building. 
Camilla:  I think they clinched it for my family. 
Kevin:  No, I just needed a place to stay and found roommates on an alumni board. I was just happy these dudes took me in. 
Amber: Sure, I loved the options. 
Related:
The Platinum's "social sauna" and zen room — more perplexing than pampering for residents 
Bocce ball, Saturday cartoons and adult swings: Castle Braid renters size up Bushwick's luxe artist collective
At Arias Park Slope, a "disturbingly clean" yoga room but subpar staff
Sweet Caroline: Renters at West 23rd St. building gush about staff, skip the pet concierge 
Amenities: icing on the real estate cake 
The technology concierge...and 6 other amenities we'd like to see
Brick Underground articles occasionally include the expertise of, or information about, advertising partners when relevant to the story. We will never promote an advertiser's product without making the relationship clear to our readers.