Take It Or Leave It
A sunny Harlem studio for $1,500 a month, but only if you'll take the ground floor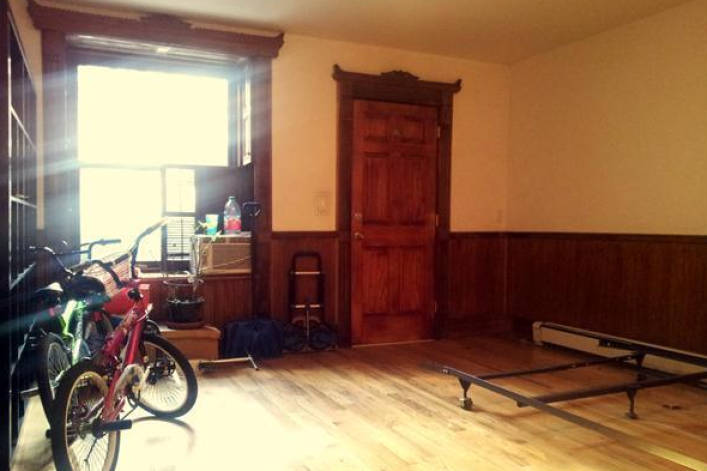 A studio with pre-war details, lots of natural light, and an actual fireplace isn't something you find too often for $1,500 a month. Especially not in Central Harlem, which has seen a huge surge in popularity—and prices—over the past several years.
Still, there's a reason this might be cheaper: ground-floor apartments are often considered a safety concern, and they're also potentially noisier. And while this apartment is near several trains and a couple of parks, Harlem isn't everyone's first choice, especially if your social circle orbits in Brooklyn. 
So is this Uptown studio a keeper? Our veteran renters—including RentHackr founder Zeb Dropkin, freelance writer Lambeth Hochwald, and BrickUnderground's own senior contributing editor, Lucy Cohen Blatter—weigh in for this week's Take It or Leave It.
The Apartment:
Size: studio, 1 bathroom                                                       
Location: 347 West 122nd Street (between Morningside and Frederick Douglass)
Cost: $1,500/month
Flexible Layout: No
Days on the market: 5 days
Subway: A, B, C, D at 125th Street; B, C at 116th Street; 1 at 125th Street; 2,3 at 125th Street
Pros and Cons:
"The apartment is in a charming brownstone, and even though it's on the ground floor, it looks like it gets quite a bit of light. It's also pretty inexpensive for a studio, and walking distance from Morningside Park. Note: the listing says it's 'a couple of minutes' walk to Columbia University, which is a bit of a stretch. More like a 20-minute walk. The kitchen area—though it's set away from the sleeping area, which is a good thing—is small and it looks like there's no dishwasher and limited storage." - Lucy
"This is an affordable studio near Morningside Park and close to the express trains. On the other hand, it's the basement unit, the finish is just alright, and you're living way uptown." - Zeb
​​"This ground-floor studio is certainly charming thanks to original details like antique shutters and a decorative fireplace. And, while a private entrance and southern, sunny exposures are nice, I'd want to be sure there aren't garbage cans stacked right outside the window, and ask if you can change up the peach and orange walls if those aren't entirely to your liking." - Lambeth
Who would this apartment be perfect for?
"Someone who doesn't have much stuff and doesn't plan to set down roots. Maybe someone who's temporarily in New York City who wants to live in Manhattan and take advantage of the always developing Harlem restaurant and nightlife scene." - Lucy
"A student or a solo worker who would have a short commute from here, is cool with the neighborhood, and would enjoy the parks." - Zeb
​"A recent grad or Columbia student who has outgrown dorm life.​" - Lambeth
The verdict(s):
LEAVE IT "The fact that it's small, and on the ground floor, works against it." - Lucy
LEAVE IT "I'm torn on this one. It's a decent deal. Being too far from friends and the low light/poor view of a lower level unit would lead me to look elsewhere." - Zeb
TAKE IT "You could do worse on a starter pad." - Lambeth
Ready to rent? Check out our How to Rent Guide...and if the apartment you like requires a guarantor that you don't have, see if the landlord acceptsInsurent, a guarantor solution from one of BrickUnderground's sponsors.​
Brick Underground articles occasionally include the expertise of, or information about, advertising partners when relevant to the story. We will never promote an advertiser's product without making the relationship clear to our readers.