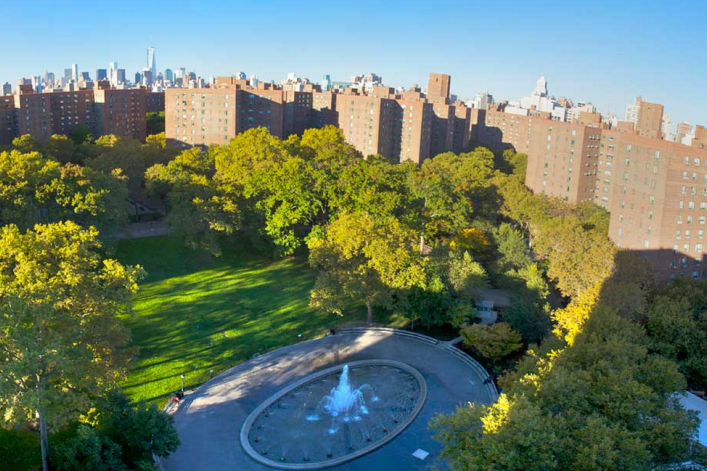 The building: Peter Cooper Village/Stuyvesant Town, 252 First Avenue, stretching from First Avenue to Avenue D and from 14th Street to 20th Street.
What you'll pay: Rentals available now range from a one-bedroom for $3,291 a month to a three-bedroom for $5,785 a month. All apartments in the complex are no fee.
Amenities: Concierge; study room; cafe; green market on Sundays, May to December; playground; outdoor recreational area including basketball courts, tennis courts, bocce courts, and a volleyball court; community center; outdoor space; fitness center: $950 per year, $299 for students; kids center: $60 per family; garage starting at $350 per month; package receiving: $40 to $45 per month; storage: $100 per month.
Which amenities do you swear by?  
Pat: I really like the outdoor space, it's great for summer lounging. The long winding paths are great too. My daughter really likes walking through all the buildings that way. 
Rocco: I love the courts. They're taken care of, they aren't overrun with kids. It's always easy to play a pick up game because someone is always there. 
Alya: All of the workout facilities are nice, from the actual gym to the courts to the walking/running path. 
Tiffany: I really avoid most everything, I'm waiting for my lease to be up.
Yu: I haven't really tried a lot because they're a little out of my price range. I do like the green though, that's nice. And it's free. 
Which do you never use?
Pat: I've never used the kids center because my daughter goes to school now, or the garage because I don't have a car. I'm not much for the gym; it's really expensive. And I don't know anything about the study room. 
Rocco: I've never used the study room, storage, kids room, or garage. My family did use the garage once when they visited, and they seemed to have a good experience. It was way easier than doing street parking. 
Alya: I've never eaten at the cafe. I think it's silly to go to a cafe like that when we live in the middle of the most diverse food city in the world. I'd rather have something I've never tried before from a cart than a boring cafe sandwich. 
Tiffany: I don't use anything. There is always a deposit, always a way to overcharge you. There are even late fees for not getting your package on time. But what if you don't have time to get your package or you're out of town?  So I just stopped using everything. There's no point when you could pay for it outside of Stuy Town and get more for your buck. 
Yu: I haven't tried much but I know I would never use the gym. $900 is more than I pay for the YMCA, and I love them. Plus they're only a block away over on 14th, so I really don't see the point of paying all that money to have the gym here. And I don't think I would ever use the green market because Union Square is a stone's throw away and they have the biggest, best market every weekend. 
Anything surprise you?
Pat: I was surprised by how many college kids live here. I thought it might be out of their budget, but I don't mind it. They're respectful. 
Rocco: I was surprised they let all five of us live in my place. It's really meant as a two-bedroom. 
Tiffany: Just how hard everyone is to reach. The management staff is really, really slow with getting back to me. That's really why I want to move out so fast, I need a more responsive team.
Yu: Pretty much everyone I dormed with moved here so that was kind of surprising, I guess. Our dorm is just a block away on 15th and at the end of the year I feel like we all just packed it up into a box and walked over. I kind of like that though, feels college-y even though schools here don't really have campuses in the traditional way. 
Did the amenities draw you to the building?
Pat: Definitely not, it was an afterthought. 
Rocco: No, it was just a big easy place to split between a bunch of roommates. 
Alya: They're nice to have I guess, but I think it didn't make a difference. 
Tiffany: Definitely no. 
Yu: No, but I guess they didn't really influence or hurt it either. 
Related:
The Platinum's "Social Sauna" and Zen Room — More Perplexing than Pampering for Residents 
Bocce Ball, Saturday Cartoons and Adult Swings: Castle Braid Renters Size Up Bushwick's Luxe Artist Collective
At Arias Park Slope, a "disturbingly clean" yoga room but subpar staff
Sweet Caroline: Renters at West 23rd St. building gush about staff, skip the pet concierge 
Amenities: icing on the real estate cake 
The technology concierge...and 6 other amenities we'd like to see
Brick Underground articles occasionally include the expertise of, or information about, advertising partners when relevant to the story. We will never promote an advertiser's product without making the relationship clear to our readers.