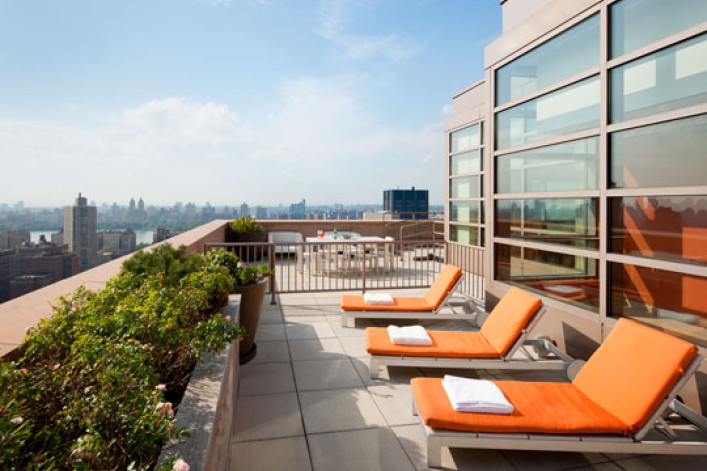 The building: One Carnegie Hill, 215 East 96th Street, between Second and Third Avenues.
What you'll pay: Rentals available now range from a studio for $2,495 a month to a three-bedroom for $10,500 a month. Apartments for sale now start at $499,000 for a studio and range to $2,925,000 for a three-bedroom.
Amenities:  Doorman, concierge, garden, playroom, party room, pool, fitness center, rooftop sun terrace, lawn, entertainment lounge, garage (with valet), and storage. The storage is $125 per month, and parking is $400 per month. The amenities fee is $600 per person per year, or $1,000 per couple. The rooftop is still accessible to those who choose not to pay the amenities fee. 
Which amenities do you swear by?  
Lee: The doormen are great. The roof is also very nice, though I haven't spent too much time up there yet. 
Paula: I love the staff, they're all very personable and funny and very timely. They always seem to know when we are going to arrive with groceries. It's like they can get to the door and help us before we are even around the corner. 
Ron: I don't have the membership to everything, so I just use the doormen and the roof. I don't live here full-time, so I don't need all that jazz, but I do like the two things I use. My wife has parked our car here before, and that was fine too. Standard issue NYC garage, not too crazy expensive. 
Dennis: I think everything is really nice. The best part, for me, is that it isn't too crowded. The building has a lot of children but they don't take over the pool or roof which I like. I'm not really a kid person. 
Hugh: I'm relatively new here, so I haven't given it a try yet, but I think I'm really going to enjoy the pool and the gym. The staff are great. 
Which do you never use?
Lee: I haven't tried the pool, storage or garage. I do street parking up a little from here, which is annoying sometimes but much less expensive. 
Paula: I never will use the storage, garage or roof. I'm scared of heights. I don't even live on a very high floor. 
Ron: I don't use the pool or the gym. I'm still a member of my old gym, it's between my office and my apartment, so it's easy to force myself to go without having to pay to have it in my building. 
Dennis: I don't do any of the kid stuff and I don't work out much. 
Hugh: Haven't really tried it all yet but I think I will. I'm not sure I would ever need storage; my place has more closets than I know what to do with. 
Anything surprise you?
Lee: No really, it isn't a cookie cutter place but still nothing is shocking. 
Paula: It is as I expected and was hoping. 
Hugh: I was surprised how nice everyone is. Everyone on the building staff takes their job very seriously. Often [at other buildings] the staff are just kids in school, so they aren't too attentive. 
Did the amenities draw you to the building?
Lee: They definitely helped to brighten up a place that otherwise I'm not sure I would have looked at because it's so far east. 
Paula: Definitely, I wanted to have luxury living. 
Ron: I think in a roundabout way they did. I wanted to have a low-maintenance, easy-to-care-for place, and because there's so much staff here to take care of all that stuff, they make my life a lot easier. So I didn't move in for the pool, but I did for the full service aspect. 
Dennis: They helped to seal the deal, and my partner loved them. 
Hugh: I came for the views. Everything else is a bonus. 
Related:
The Platinum's "social sauna" and zen room — more perplexing than pampering for residents 
Bocce ball, Saturday cartoons and adult swings: Castle Braid renters size up Bushwick's luxe artist collective
At Arias Park Slope, a "disturbingly clean" yoga room but subpar staff
Sweet Caroline: Renters at West 23rd St. building gush about staff, skip the pet concierge 
Amenities: icing on the real estate cake 
The technology concierge...and 6 other amenities we'd like to see
What matters more: location or amenities?
Brick Underground articles occasionally include the expertise of, or information about, advertising partners when relevant to the story. We will never promote an advertiser's product without making the relationship clear to our readers.