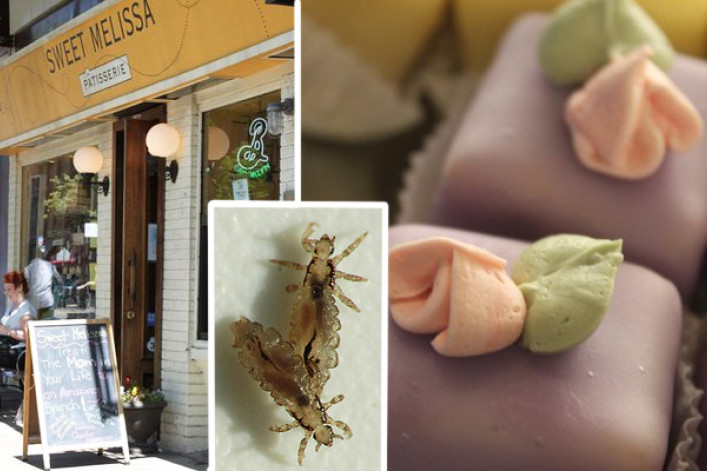 [Update: Apparently Park Slopers really don't want a lice-removal business in their neighborhood, and have put up flyers protesting it. According to Fucked in Park Slope, rumors of the place coming to the neighborhood are just rumors for now, although apparently the owner is still looking.]
Park Slopers are known for getting uptight about changes to the neighborhood, but we can kind of understand the pain that residents of one Seventh Avenue rental building are feeling. 
The storefront on the ground level of the building, which until recently housed a Sweet Melissa Patisserie, is rumored to be the future home of the awesomely named Lice Busters, a lice removal salon, as neighborhood blog Fucked in Park Slope reports. (You've got to respect the business for knowing its target market: it's across the street from a public school and in the city capital of doting parents with cash to burn.)
Ick factor aside, when your darling downstairs bakery is replaced by a high-end iteration of a pest removal company, does it actually affect property values? Not really, according to several brokers we spoke to. 
That's good news for apartment owners, but tenants shouldn't expect a rent reduction. "I don't think you'd have a leg to stand on," says Jason Haber, a broker at Warburg Realty.
For one thing, the business doesn't appear to be introducing anything hazardous to the building. Their methods are natural, according to their website, notes Barbara Ann Rogers, a broker at William B. May, so there's no real worry about exposure to harmful chemicals or smells. 
"If they were introducing a new element of risk to the environment then maybe, maybe property values might be negatively impacted, but since demand continues to exceed supply it would have to be a major health risk [to affect property values]," says Donald Brennan of 
Brennan Realty Services
.
In fact, other types of retail--like restaurants that can't control disease-spreading pests or even a bodega or abandoned building--would be a bigger threat to residents, brokers say. 
"My sense is that, while this may on the surface be less attractive than a cutesy pastry shop, it may actually be a better neighbor, minus the wails of the little ones not enjoying their de-lousing," Rogers says. 
On the other hand, it's hard to ignore the gross-out element of being in such close proximity to so many creepy crawlies, even if the salon is dedicated to eradicating them. 
"When someone's looking to purchase they might be less than thrilled to see Lice Busters next door,'" says 
Corlie Ohl, a broker at Citi Habitats
. "There's that definite ick factor. It's the kind of business that would be better on a second floor with no signage. It's unfortunate that it's on the ground level at full view."
Still, let's not forget the most important thing: "All schools have kids with lice," Polsinelli says, adding, "They'll be getting plenty of business to pay their rent."
Related:
Brick Underground articles occasionally include the expertise of, or information about, advertising partners when relevant to the story. We will never promote an advertiser's product without making the relationship clear to our readers.