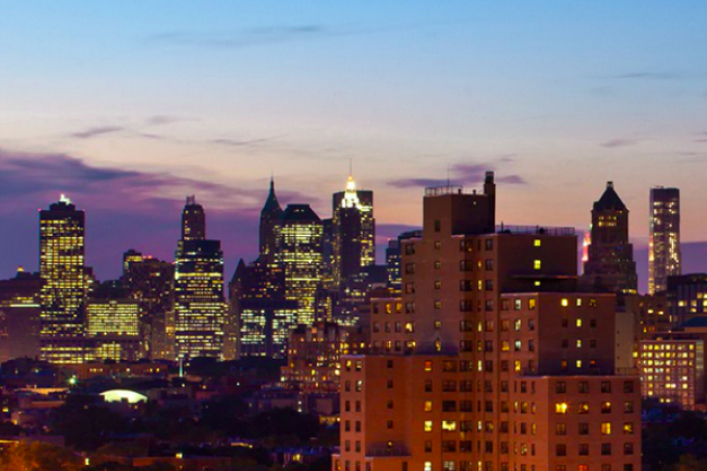 The building: Arias Park Slope, 150 Fourth Avenue, Brooklyn 
What you'll pay: Rentals currently available start at $2,900 a month for a studio and go up to $5,000 for a two-bedroom with outdoor space. 
Amenities: Doorman; fitness center including yoga room; lounge including catering kitchen and catering bar, billiards table, TV area, fireplace; courtyard including putting green, quiet seating area, terrace, garden and garden seating area; roofdeck including terrace green, fountains, fire pit, grill, bar, dining area, private cabanas, sun beds, outdoor shower; bike racks; parking; storage units
All amenities are included in the cost of rent with the exception of parking and storage units. Parking is $325 per month and the garage is all indoors. Storage bins are $75 per month.  
Which amenities do you swear by?  
Shirley: I love the yoga studio. It's really soothing, and crazy clean. It's almost disturbingly clean. You can probably eat off of the mats in there. I also really like the fire pit during the summer, it feels very suburban but has such a great cityscape behind it.
Lai: Not much of an amenity but I love the architecture of the building, if that counts. I think its very non-cookie cutter. Luxury buildings always look the same, but not this one. I also really like the fitness center and grilling area. My wife and I prefer to grill outdoors when we can and usually buildings don't allow open flames, so this was an awesome addition.
Cici: The storage unit is my favorite because it's huge. Its at least 8 feet deep. I have shoved so many things in there. I split it with friends so the cost isn't that bad, and I never have a mess in my apartment. I think I have another apartment's worth of stuff in there. I also like the lounge, pool tables and the sunning area. It's nice to have a private place to sunbathe.
Aleksander: I am new to the building. So far I use the fitness center regularly. It's very nice. I prefer it to Crunch, where I used to be a member. I also kind of look at it as a rent break. I pay more to live here but canceled my $12-a-month gym membership. 
Jay: I like the gym and my wife likes the catering kitchen. I guess just because it's so much bigger than a normal city kitchen. I also like the outdoor lounge and the terrace. 
Which do you never use?
Shirley: I don't use the outdoor space because I prefer to walk to the park or hang out by the water in Williamsburg. It's kind of crowded during the summer anyway so it really isn't my thing.
Lai: I haven't tried the larger catering kitchen, or any of the parking, storage and bike racks. I suppose I use the doormen but I never ask them to do anything except just, well, open the door. I feel guilty bugging them.
Cici: I never ask the building staff to help with anything, not even open the door. They aren't really that great, which sucks, because the building is so nice. It would be awesome if the doormen knew our names, especially because we have kids who run around all over the place. They just aren't that attentive. Besides that, I try to use as much as I can.
Aleksander: I think I will use all of them.
Jay:  I feel like the staff aren't very diligent, because the doormen don't tell them too much of what is going on or they just don't listen to residents. So I never use them for anything. I just wish we had a schedule of what was being added or renovated, who was on duty and when. 
Anything surprise you?
Shirley: It's sort of what I was expecting out of the building. I thought it might be a little quieter, in my apartment I mean. I was pleasantly surprised to see other yoga lovers here.
Lai: I'm surprised we have a putt putt course. That's cool.
Cici: Nothing is too surprising, I guess, just sort of disappointing. The staff isn't that great and that's rare in a luxury building. I lived on the Williamsburg waterfront before this and those staffers were very kind and impressive.
Jay: I thought the staff would be more diligent. 
Did the amenities draw you to the building?
Shirley: Initially they did, but now I wish I had thought it through more and went for something a little smaller, even if it meant being less fancy, with lower rent.
Lai: They were an added bonus.
Cici: I wanted my kids in this school system so I moved here for that, rather than for the building or amenities.
Aleksander: Not really, it was just a sublet I found through a friend. I like [the amenities] but I would be happy in any building. I just like living in Park Slope.
Jay: They were nice to  have but I don't need to have them. 
Related:
Sweet Caroline: Renters at West 23rd St. Building Gust About Staff, Skip the Pet Concierge 
Residents of FIDI's 25 Broad: "For this kind of rent, bring on the excess"
Renters at Avalon Chrystie Place gladly pay up for a Whole Foods below and a roofdeck above
Renter's insurance and drinking games on the roofdeck? Both are a go at this Murray Hill building 
Amenities: icing on the real estate cake 
The technology concierge...and 6 other amenities we'd like to see
Brick Underground articles occasionally include the expertise of, or information about, advertising partners when relevant to the story. We will never promote an advertiser's product without making the relationship clear to our readers.