Take It Or Leave It
A sunny West Village triplex with a terrace--too good to be true at $10,000 a month?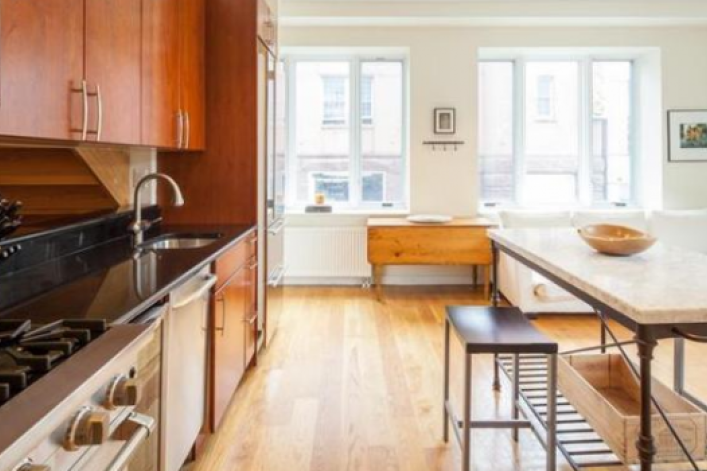 An adorable West Village townhouse may well be the ultimate New York fantasy apartment, but even in today's market, $10,000 a month is one helluva price tag. 
This apartment's also been on the market for a while, and the actual bedrooms look more than a little "cozy" (i.e. miniscule). Still, downtown three-bedrooms don't get much dreamier than this: the place has a spacious open kitchen, loads of natural light from large windows and a skylight, two bathrooms with major tubs, and a patio that looks out on one of the city's most dynamic neighborhoods. Is the spot worth the high price if you've got the cash? And who, exactly, is this right for? The listing mentions it'd be good for shares, but with the cramped quarters and pet-friendly policy, it might make more sense for a small family?
Our experts—including RentHackr founder Zeb Dropkin, freelance writer Lambeth Hochwald, and BrickUnderground's own senior contributing editor, Lucy Cohen Blatter—weighed in for this week's Take It or Leave It.
The Apartment:
Size: 3-bedroom triplex                                     
Location: 167 West 10th Street (between Waverly and Seventh)
Cost: $10,000
Flexible Layout: No
Days on the market: 20 days
Subway: 1 at Christopher St.; A, B, C, D, E, F, M at West 4th St; F, L, M, 1, 2, 3 at 14th St.
​Pros and Cons:
"This apartment is actually a super nice little three-floor townhouse in the West Village. It has some oddly shaped rooms, and it's a shocking $10,000 a month." - Zeb 
"The biggest pro here, by far, is the location: smack in the middle of the West Village. Also, the exterior of the townhouse is just quintessential Greenwich Village charm. But while the place is technically a three-bedroom, two-bath, it looks small--the upstairs bedroom doesn't look like it fits much more than the bed. And that price! Ten grand a month is steep, no matter where you're living.​" - Lucy
"There's virtually zero to knock about this neighborhood and props to you if you can carry $10,000 a month on rent. However, something feels a bit slapdash about this pricey West Village three-bedroom triplex. The photos make me feel like it's been a crash pad for a bunch of college buddies. Also, red flag alert, this apartment has been on the market for over 100 days and the price was originally listed at $12,000, so I'd definitely recommend doing some due diligence to see what's happening here.​" - Lambeth
Who would this apartment be perfect for?
"Three rich young people who are ready to spend a lot to live in a place like this one in the West Village. " - Zeb
​"Someone, most likely someone with a family, who plans to stay in New York for a short time, since the lease is available for six to 12 months. If your work will pay for it, all the better." - Lucy
"Three sorority sisters who want to crash here for six months--the lease is flexible--before returning to their NYU dorm.​" - Lambeth
The verdict(s):
LEAVE IT "This is a budget breaker." - Zeb 
LEAVE IT "Unless someone else is footing the bill. Then, take it and enjoy the hell out of the neighborhood.​" - Lucy
LEAVE IT "Or take it because it's a walk-up and you'll get so much cardio, you won't need to join the New York Sports Club across the street." - Lambeth
Ready to rent? Check out our How to Rent Guide...and if the apartment you like requires a guarantor that you don't have, see if the landlord acceptsInsurent, a guarantor solution from one of BrickUnderground's sponsors.
Brick Underground articles occasionally include the expertise of, or information about, advertising partners when relevant to the story. We will never promote an advertiser's product without making the relationship clear to our readers.