Take It Or Leave It
A swank, 1,000-square-foot studio for $2,250 a month on Staten Island. Are you up for it?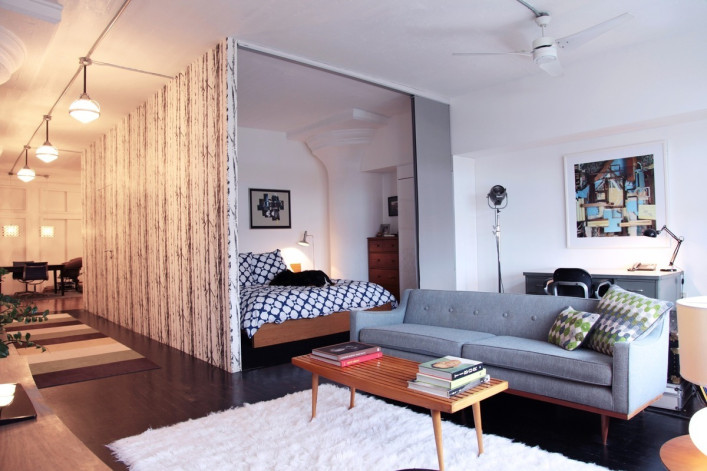 These days, $2,250 a month for a 1,000-square-foot studio in a building loaded with amenities (tennis court, yoga studio, parking space, the list goes on...) is as good a deal as you'll find in the city. The one caveat? You'll have to take the ferry to work because this place is on Staten Island (albeit in the part closest to Manhattan). 
Our experts—including RentHackr founder Zeb Dropkin, freelance writer Julie Inzanti, and BrickUnderground's own senior contributing editor, Lucy Cohen Blatter—weigh in for this week's Take It or Leave It.
The Apartment:
Size: studio                                       
Location: 10 Bay Street Landing at Victory Boulevard and Murray Hulbert Avenue
Cost: $2,250 a month
Flexible Layout: No
Days on the market: 2 days
Subway: Staten Island Ferry at St. George Ferry Terminal
​Pros and Cons:
"The apartment is HUGE for a studio, and it's totally design-y. Of course, it needs to fit your personal style, since most of the interior design is built in. The building is also filled with amenities, including a parking spot, a gym, tennis courts and a playground! While there's no broker fee, there is a co-op application processing fee of $375, as well as a credit/criminal check fee of $175 and a move-in/out fee of $250. And it's not so great that there appears to be only one set of windows in the whole space. Also, it's in Staten Island, which for many is just a little too out of the way, but explains the relatively inexpensive price." - Lucy
"The apartment is lovely--spacious and airy with high ceilings, and I love the subway tile detail in the bathroom and kitchen. Plus it is close to the ferry. But that's precisely the problem. The major drawback of this apartment is the location; Staten Island is a little isolating.  Sure, the ferry is a 30-minute commute to Lower Manhattan, but who wants to travel home after happy hour on choppy water? You'll probably also have a hard time convincing your friends to board a boat to visit you." - Julie
"Holy amazing studio apartment--super clean and modern finish with great amenities and parking?! And at a decent price!? But oh, it's in Staten Island…" - Zeb
Who would this apartment be perfect for?
"A couple--maybe a single person--who loves to entertain, or just loves some space, and doesn't mind taking the ferry to work in the morning--extra incentive if he or she works in the Financial District or Staten Island. Or really, anyone for whom space and luxury are more important than location.​" - Lucy
"Commuting from Staten Island seems taxing, so this place is perfect for a freelancer or someone who works from home. Maybe a couple where only one freelances or works from home. After all, it is a studio apartment. Without a separate bedroom with a door you can close, it will get claustrophobic--I don't care how high the ceilings are." -Julie
"With Fios, parking, a gym and located a 1/4 mile from the ferry, this spot is good for a freelance professional who can work from home, or who has to drive their car a lot." - Zeb
The Verdict(s):
LEAVE IT "Between the added fees, the location--sorry, Staten Island--and the lack of windows, it's just not that great a deal." - Lucy
LEAVE IT "Sure, you get a lot of space, but the rent isn't that cheap to justify the move to Staten Island. Any money you'd save would end up spent on car payments, since you'd need one to get around Staten Island." - Julie
TAKE IT "As long as you know you can enjoy Staten Island living and you're not going to regret the isolation from the city." - Zeb
Ready to rent? Check out our How to Rent Guide...and if the apartment you like requires a guarantor that you don't have, see if the landlord acceptsInsurent, a guarantor solution from one of BrickUnderground's sponsors.
Brick Underground articles occasionally include the expertise of, or information about, advertising partners when relevant to the story. We will never promote an advertiser's product without making the relationship clear to our readers.