Take It Or Leave It
Is a dated uptown duplex with a Katharine Hepburn backstory worth $3,500 a month?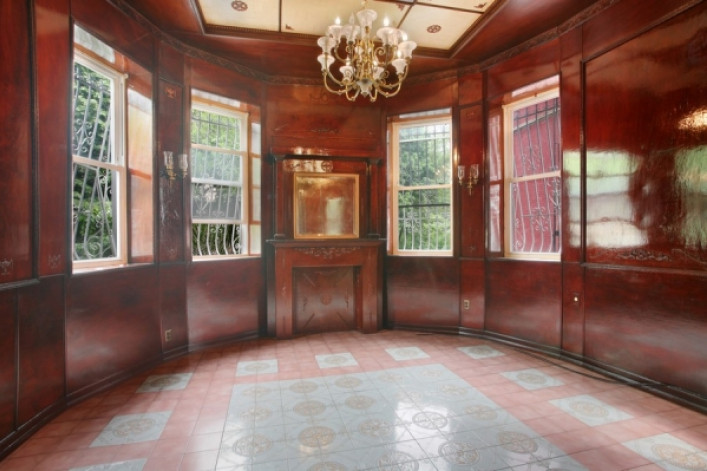 A duplex in a townhouse--with a backyard!--for $3,500 a month is a steal by Manhattan standards, especially when you take into account the building's back story. Built in 1899, it was purportedly once owned by a mobster and featured in a Katharine Hepburn movie. Even so, West 160th Street can feel like Siberia to some, and the kitchen (along with some of the decor) is in sore need of an update.
Is it worth it for a grand old home to call your own? Our experts—including RentHackr founder Zeb Dropkin, freelance writer Julie Inzanti and BrickUnderground's own senior contributing editor, Lucy Cohen Blatter—weigh in for this week's Take It or Leave It.
The Apartment:
Size: 2-bedroom duplex                                  
Location: 869 Riverside Drive between 158th and 160th
Cost: $3,500 a month
Flexible Layout: No
Days on the market: 5 days
Subway: 1 at 157th St.; C at 163rd St.; A, C, 1 at 168th St.; B at 155th St.; A at 175th St.; A, C, B, D at 145th St.
Pros and Cons:
"This two-bed, three-bath duplex in a Washington Heights townhouse has history, and it also has outdoor space and walk-in closets! But the interiors are looking a bit dated, and dark, with lots of wood paneling everywhere. It's also a bit of a trek to the nearby 1 train, and the neighborhood--160th and Riverside to be exact--can feel a little isolated, and possibly less than safe at night." - Lucy
"The apartment looks really spacious, and it is located in a quiet neighborhood, right near Riverside Park. Plus, the price is pretty great for a duplex with two bedrooms, three bathrooms and outdoor space. I'm not sure why the listing brags about having former drug lord and crime boss Nicky Barnes as a previous tenant. Aside from his terrifying history, mobsters aren't exactly known for having excellent design taste and the interior is a tad gaudy. 
There is something charming about original woodwork, but when the woodwork has a high-gloss finish and is incredibly ornate it can feel dated and depressing. 
The three avenue distance to the nearest train can be great--who doesn't need a little exercise every morning?--BUT it can also be a nightmare. You will be cursing the real estate agent when you're making that walk in the dead of winter." 
- Julie
"This pre-war has some history, and puts you very close to the Hudson River Greenway. But you're going to have to bus and/or switch from local trains on your daily commute." - Zeb
Who would this apartment be perfect for?
"A history buff or anyone who loves old-fashioned homes. Also, someone who needs a two-bedroom, and really wants to stay in Manhattan on something of a budget." - Lucy
"A family would definitely benefit from the space and proximity to the park. I bet there is ample street parking, too. This place could also be perfect for someone who has a penchant for former gangster homes... or Katharine Hepburn films." - Julie 
"Depending on the schools and their commute, this could be a good spot for a young family." - Zeb
The Verdict(s):
LEAVE IT "When you consider the less-than-updated look of the place and the remote location, the downsides seem to outweigh the pros." - Lucy
LEAVE IT "There is plenty of space, especially for the price, but Riverside Drive can feel like no man's land and the interior needs a lot of work. If they knocked $1,000 off the rent, though, I might change my verdict.​" -Julie
LEAVE IT "Unless you're really set on a Manhattan townhouse. Be sure to check for traffic noise at peak times and night." - Zeb
Ready to rent? Check out our 
How to Rent Guide
...and if the apartment you like requires a guarantor that you don't have, see if the landlord accepts
Insurent
, a guarantor solution from one of BrickUnderground's sponsors.​
Brick Underground articles occasionally include the expertise of, or information about, advertising partners when relevant to the story. We will never promote an advertiser's product without making the relationship clear to our readers.