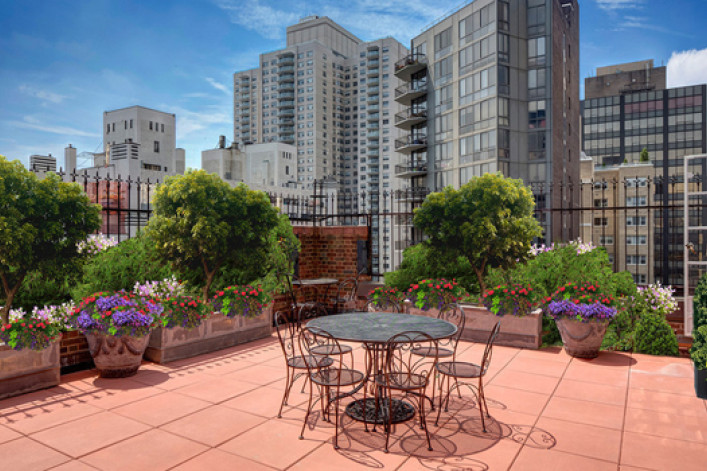 It seems like every season comes with its own particular set of apartment-related trials and tribulations, and summer is no exception.
From leaking (or plunging) air conditioners to all things great and small that can go wrong when you head out of town, standard co-op, condo, or renters' insurance will cover a wide range of warm weather-related damage.
Here are six all-too-common, summer-specific problems you can expect to be covered by your policy, says New York City apartment insurance broker Jeff Schneider of Gotham Brokerage: 
Your AC units goes rogue
Most of us have a nagging worry about our air conditioner falling from its perch in the window, but Schneider says this happens far less often than you'd think (though if it does, your insurance will cover any subsequent damage).
The more common AC-related problem is water damage--if the drainage vent hasn't been properly cleaned and water starts dripping into your apartment or a neighbor's, it can warp floors or ceilings. If this happens, you'll be covered, too.
You get an unwanted house guest: mold
Leaky air conditioning units don't just warp floors -- they can also create a happy little breeding ground for mold. While your insurance policy will cover the initial clean-up from a water damage claim, if a situation develops six months from now because you didn't have your AC on and the apartment was poorly ventilated, that type of mold is excluded under most policies. Keep your apartment dry and well-ventilated after a water situation, and if a water problem does develop, make sure it's handled as soon as possible, while you're still entitled to coverage for it.
You run into problems with an empty apartment...
"Vacations tend to cause both minor and major problems in your apartment" says Schneider.
Small problems--like leaks--can turn into larger-scale problems when left unattended, and of course, there's the issue of potential theft or damage. Standard apartment insurance will cover the kind of unexpected incidents that come up when your apartment is empty, meaning you can have some real peace of mind when you're out on the road.
...or an occupied one
Insurance can get tricky when you've got someone else staying in your place, particularly set-ups like Airbnb rentals. "When you're renting your apartment out on a short-term basis," says Schneider, "no company wants to cover that. There's a great exposure to damage, theft, trips and falls, and wear and tear when lots of people pass through."  And if, for instance, a fire breaks out while you've got your apartment illegally rented out, the damage won't be covered.
Still, it's possible to get coverage for a longer-term sublet. "If it's more of a one-time thing and you've got a reliable person in your apartment for a month or more," says Schneider, "you may have automatic coverage." Before you make any assumptions (and before you leave town), re-read your insurance contract and check with your agent. Anything longer than a month or two may require a surcharge for coverage.
Exception:  If you've got a friend house-sitting free of charge, you're covered and in the clear for potential damage.
Things get overheated
Damage caused by power surges and outages will be covered by any standard insurance policy. Something to consider when you're running multiple AC units, a heavy-duty fridge, and a stereo system...
You have a run-in on the road
A surprising perk of an apartment insurance policy is that it'll cover you far beyond your actual apartment.
Some policies cover theft of property when you're out and about, and this can extend to your property being stolen from, say, hotels and airlines. (Check your particular policy before you make any assumptions, though).
If you're planning to rent a house or apartment for a while--a month or more--there's also the option of extending your policy's liability coverage to your vacation house. This type of extra will run you around $50.  And if you happen to be traveling with particularly valuable goods, like expensive jewelry or sporting equipment, check your policy before you go: if you've already got coverage for off-premises theft, 10 percent of your normal contents limit should apply while you're traveling.
Also from Gotham Brokerage:
8 questions you MUST ask before buying renters' insurance
There's an aparmtent INSURANCE blacklist too. Here's how to stay off of it.
5 things all roommates need to know about renters' insurance
10 things you didn't know were covered by renter's insurance
The top 3 apartment insurance claims in NYC
How to file a claim on your apartment insurance--the right way
5 reasons to get apartment insurance if you have outdoor space
Related: 
BBQ season is here. Find out which mishaps your insurance will cover
Heading up to tar beach this weekend? Read this first
Brick Underground articles occasionally include the expertise of, or information about, advertising partners when relevant to the story. We will never promote an advertiser's product without making the relationship clear to our readers.