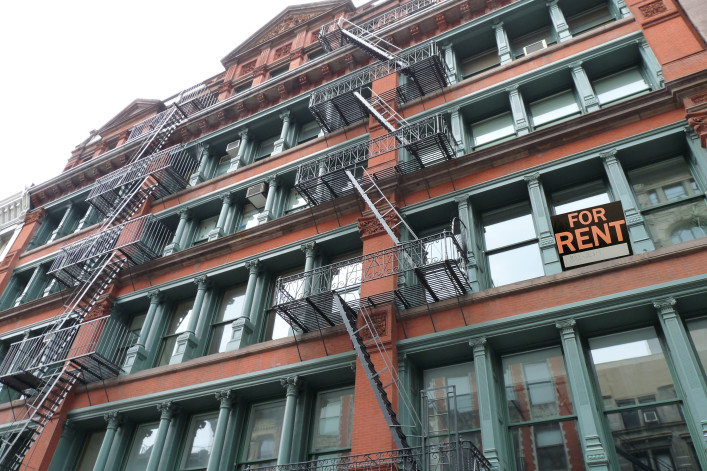 If you're looking to rent out the top floor of your brownstone or sublet your apartment during a posting abroad, you'll no doubt want to find a respectful, financially stable renter.
But where's the best place to lock one down? Take a cue from professional property managers and landlords, who let us know the best ways for smaller owners to locate good tenants.
Post an online ad: The easiest way to reach renters is, not surprisingly, by posting ads on any number of apartment-listing websites. But you want to be strategic about it. 
The most popular sites among landlords are StreetEasy ($50 for your ad to appear for two weeks; $75 if you want your ad to be a featured listing); the New York Times real estate classifieds ($99 for your ad to appear for 14 days); and Craigslist ($10 for brokers; free to list by owner). 
Savvy would-be renters tend to trust StreetEasy and the Times over Craigslist, since they don't have to worry as much that what they're seeing isn't what they'll get, says Dylan Pichulik, CEO of XL Real Property Management, which manages small condo and co-op buildings in the city, as well as individual apartments for owners. 
"The best way is listing through StreetEasy because they have web crawlers that pull information from other databases," such as brokerage websites, says Pichulik, drawing renters with a volume and variety of listings. In addition, he says that "people have grown a little apathetic toward Craigslist because there's so much garbage on there, and it can be very inefficient."
Or, as BrickUnderground's small-landlord columnist Craig Roche put it last year, "putting an apartment on Craigslist, as often as not, is an invitation to scammers and local 'entrepreneurs' who will pose as me and try to 'rent' my apartments."​
But since Craigslist is free to landlords, it doesn't take much to put up an ad, points out Donald Brennan of Brooklyn-based brokerage Brennan Realty Services. "If you've been getting tenants that way for years, it'll definitely be hard to break that habit," he says. 
Also, for all its drawbacks, Craigslist continues to be the place where many renters start their search, Pichulik says, "because they think they'll find no-fee apartments."
Tap your networks: Post the information on your Facebook or Twitter accounts, and draw from a pool that's weighted more heavily toward friends and acquaintances. 
"It can be a good resource," says Pichulik, adding that typically small landlords who post on their own feeds "want more of a friend of a friend to move in, like if they're subletting their unit or breaking a lease."
Pro tip: If you own at least three apartments, consider the new Apartment Hunters tool on LandlordsNY, a free social network for landlords (and a BrickUnderground sponsor). Apartment seekers submit the basic qualities they're looking for in a rental--number of bedrooms and bathrooms, neighborhood, price and must-have amenities (like a pet-friendly building or a gym)--and the information is blasted to the 1,300 or so landlords who belong to LandlordsNY. Plans are also in the works to add a pre-screening feature that would run credit checks on tenants. ​
Hire a broker: Brokers manage the due diligence, make sure the tenant is the right fit, check their credit to make sure you're getting what you think you're getting--all at no charge to you, and a fee of anywhere from a month's rent to 15 percent of a year's rent charged to your tenant.
"From a financial perspective, there are no risks to the landlord in using a broker," says Brennan.
While you may be somewhat less competitive compared to bigger landlords who cover the fee (and thus, advertise their offerings as "no-fee" apartments), it probably won't make much of a difference in today's tight rental market, says Brennan. 
So how do you find a broker to help you in a situation like this? If one helped you get the apartment, call them back and get them on the case. If they're not the right person for the job, they can direct you to someone else in their brokerage.
If you found the place on your own, try cold-calling a real estate brokerage to speak to a rental agent. Or check out StreetEasy to see who's renting comparable apartments in the same neighborhood, Brennan suggests. 
Spread the word: Sometimes the oldest ways are the best ways. Ask friends, co-workers and other tenants in the building (if you have them) if they know of anyone interested in moving in. 
Know other landlords? Chat them up and ask if they know of anybody looking for a place like yours. "Anybody is a potential source of leads," says Brennan.  
Related:
Want to be a successful? 10 buildings upgrades that will actualy pay off [sponsored]
Brick Underground articles occasionally include the expertise of, or information about, advertising partners when relevant to the story. We will never promote an advertiser's product without making the relationship clear to our readers.