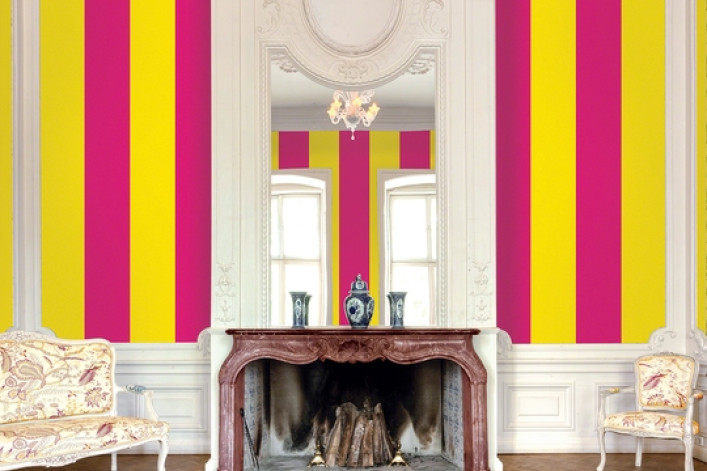 If the prospect of painting your apartment--and then repainting it before you move to pacify your landlord--fills you with dread, there is another way. Meet temporary wallpaper, a decorating option that comes in a variety of flavors but generally requires only peeling the paper off a backing, sticking it on the wall, and then ripping it off when it's ready to come down (or you're ready to change the decor again). 
Lots of these companies have sprung up to cater to DIYers on a budget and tenants who want to decorate without getting approval from building management. (If you're looking for design ideas, Apartment Therapy has a ton of examples for any aesthetic.) We canvassed the web for noteworthy picks and came up with these seven, which each offers something slightly different.
Founded in 2002, Wall Candy Arts caters to the fickle tastes of children with a whack of non-toxic, peel-and-stick wall coverings that can be removed and rearranged without leaving marks. Little Jimmy's obsessed with rock n' roll on Tuesday but a wannabe astronaut on Friday? The bright outer space cartoons and "U Rock" letter decals fit the bill.
Decals cost $6 to $60, while wallpaper comes in kits of four 36- by 94-inch rolls for about $300 a pop. Another spiffy item: dry erase white board decals that turn any wall into a writing surface.
If you've always wanted to print your own temporary wallpaper (or fabric, decals and gift wrap), then check out Spoonflower. Simply upload a digital photo and the Durham, N.C.-based start-up will print it out on its digital textile printers for $5 a foot. Soak in water and apply; peel off when you're done.
Swag Paper's "peel and stick" wall coverings come in a range of patterns, from chevrons to falling leaves, but if you're up for a bolder statement, check out their collection of wall-sized vintage maps. Nothing enlarges a shoebox-sized apartment like an antique-y sketch of the globe, or satisfies your inner history buff like a map of Lower Manhattan circa 1865. Prices for maps range from about $35 to $65, while wallpapers start at $6 a square foot.
If Instagramming that shot of your trip to the Grand Canyon just isn't enough, check out Murals Your Way, a 40-year-old company that makes custom, removable wall art from photos you provide. They can also adapt a graphic you choose, like changing a green pattern to red, or match wallpaper to paint colors for swish accent walls. Too much effort? Murals Your Way has a ton of prints to choose from as well, from cheetah to kaleidoscopic swirls to Lisa Frank-style aquarium scenes. Their SmartStick material, a reusable polyester weave, starts at $192 for a 4- by 6-foot piece, the smallest size available.
If you're looking for hand-drawn wall coverings that you can still rip off when you move, then best to turn to Etsy. The indie crafts emporium has a slew of users who make removable wallpaper, though the quality, prices and materials vary.
A New York City-based addition to the temporary wallpaper scene, Chasing Paper caters to the commitment-phobic decorator in all of us. Its paper comes in 2- by 4-foot panels that cost $30 a pop--perfect for lining a half wall, closet or other small area and cheap enough to change up when you get bored. Also noteworthy: for an extra $10 a strip, you can get temporary chalkboard paper that adheres to fridges and kitchen backsplashes. Draw on!
If you'd rather order your temporary wallpaper in person, you can head to any of 19 Manhattan and Brooklyn locations of Tempaper (though online ordering is also available). Patterns come in eye-popping colors and dramatic, abstract prints but tend to be on the more formal side--no lollipops or dancing mice here. We're especially drawn to Feathers Twilight--a slate grey feather pattern over muted gold--which will set you back $98 for a roughly 56-square-foot roll.
Related:
8 easy upgrades to make your rental your own
NYC Renovation Qs: 7 things to consider before wallpapering your apartment
Four must-haves from the Architectural Design show--if money were no object
Brick Underground articles occasionally include the expertise of, or information about, advertising partners when relevant to the story. We will never promote an advertiser's product without making the relationship clear to our readers.