Perk Check
Renters at Avalon Chrystie Place gladly pay up for a Whole Foods below and the roofdeck above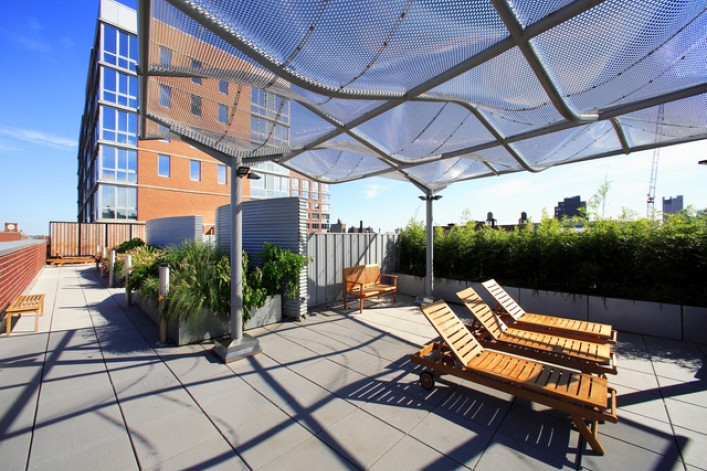 Each week, our intrepid Perk Check correspondent Polly Mosendz surveys those who live in New York's most amenity-laden buildings to find out which extras are actually useful and which ones barely get a try.
The building: Avalon Chrystie Place, a rental at 229 Chrystie Street on the Lower East Side
What you'll pay: Rentals available now start at $3,350 a month for a studio, while two-bedrooms start at $6,100 per month. The building leases many of the apartments directly, so you can score them without a broker fees. 
Amenities: On-site Zipcar pick up/drop off station, fitness center, pool, concierge, doorman, Wi-Fi lounge, roof deck with a barbeque area and a picnic area, game room
Which amenities do you swear by?
Turner:  I think I use most of them. I try to.
Francine: The outdoor space and the gym.
Glen: I use the roof deck every day that the weather allows. That's basically why I decided to live here. I just wanted to have outdoor space that I didn't have to worry about maintaining and that I could have people over at. So as long as I'm paying for it, I'm lounging outside.
L J: Does the Whole Foods [on the ground floor] count as an amenity? I think it should because it's in our building. Honestly, I use that the most. They even let me cut the Saturday lines when it's a cashier I know; that's the Holy Grail of NYC living.
Clay: The roof deck, absolutely. I have tried the gym.
Which do you never use?
Turner:  Zipcar. I didn't know we have that. I don't drive, so no use for it.
Francine: I don't use Zipcar either, or the barbeque.
Glen: I haven't used Zipcar and there's a gym in my office building that I prefer to use instead of the building gym. I also try not to bug the doormen too much, so I guess I don't "use" them.
L J: I prefer the local parks to the roof deck. My husband and I have an 18- month-old. The roof isn't really baby-proof, and I don't think the residents would be so thrilled to hear a baby crying while they're trying to day drink and relax. It is mostly a young building, so we keep that in mind when deciding what to check out.
Clay: I have gone to the gym but I would say I don't actively use it because I'm still paying for Crunch on Lafayette. I think besides that, I use it all.  
Anything surprise you?
Turner:  It's a really young building. People love partying on the roof. That's been fun.
Francine: I definitely agree [with Turner]. Nothing else really surprised me.
Glen: The building staff isn't as friendly as you'd think for the rent I pay. That's why I stopped really asking them to do anything, because even if I did ask, it wouldn't get done.
L J: It's a building full of millennials. Which is a little surprising, to be honest, because the rent is so high. My parents wouldn't have paid $4,000 a month rent for me to have a doorman.
Clay: The building itself is really loud. Like, the hallways I mean. Because a bunch of fancy college kids live there, it's kind of like a grown-up dorm. Not that I can complain, I just graduated business school so I think I'm still one of them.
Did the amenities draw you to the building?
Turner: Yes, I wanted full service. I love that I can pretty much stay in on weekends and have everything I need here.
Francine: My parents really wanted me to live in a doorman building. I think they were more worried about amenities than I am. I do like it now that I have it.
Glen: Two words: Roof. Deck. That was a major requirement for me. I also wanted to be in the LES so it really narrowed my options quickly. This was one of the cheaper studios I saw, actually, and I still went over my budget.
L J: I wanted to live on top of Whole Foods and have a doorman. The building also feels really safe, a little bubble downtown.
Clay: My friends wanted to live here, and I wanted to live next door to them. It is one of the few buildings where the management company actually notified us when two next door apartments went on the market, so we went for it.
Brick Underground articles occasionally include the expertise of, or information about, advertising partners when relevant to the story. We will never promote an advertiser's product without making the relationship clear to our readers.