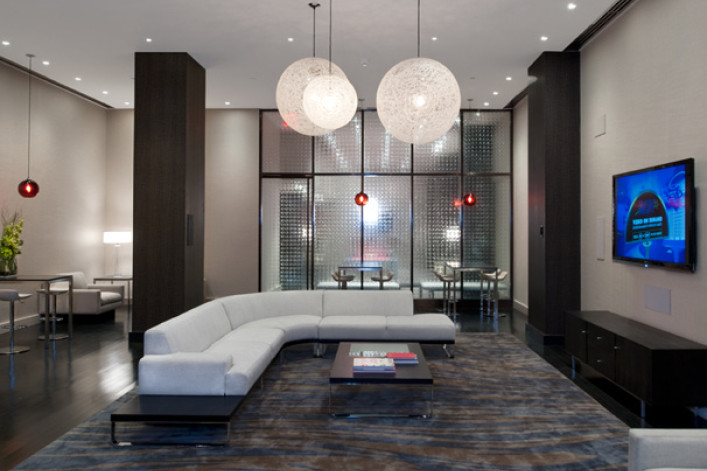 Each week, our intrepid Perk Check correspondent Polly Mosendz surveys those who live in New York's most amenity-laden buildings to find out which extras are actually useful and which ones barely get a try.
The building: 25 Broad at the Exchange, a rental building in the Financial District 
What you'll pay: Rentals available start at $4,078 and  go up to $7,438.
Amenities: Lounge, playroom, golf simulator, fitness center, rooftop with an outdoor barbeque and full outdoor kitchen, concierge services that can handle dry cleaning and laundry service, an on-site tailor, dog walking, fitness trainers, maid's service and shoe repair. Anything done through the concierge--laundry, dry cleaning, etc. costs extra. All other amenities are included in the rent.
Which amenities do you swear by?
Lisa: The lounge, the playroom, the gym, roof, laundry service.
Jin: Lounge, playroom, doorman, gym, roof, laundry, concierge.  
Sarah: I just moved in, and so far I have only tried the gym.
Sharon: Sarah and I just signed our lease in May--I didn't move in until June 1--so I haven't tried much of anything. I definitely use the doorman and I think I'm going to end up using the roofdeck a lot. I don't have a dog, but I think dog walking is really cool and useful.
Nettie: I have given everything a shot. My husband is obsessed with golf, so I'm sure he'll be a frequent guest of the simulator.
Which do you never use?
Lisa: I've never cooked outside here.
Jin: I've tried the barbeque but not the kitchen.
Sarah: I don't think there's anything I'm really against using. I just don't have a pet and I prefer to do my own laundry, so maybe I wouldn't send anything to the building's dry cleaner. I also don't think I would use a tailor. I'm really specific about how my things fit and I don't know who they use, so there's no way to look up their reviews or anything in advance.
Sharon: I don't have children, so I'll never use the playroom. I also think the outdoor cooking is a little silly. No one in the city really knows how to manage a grill. I think that's kind of excessive. But for this kind of rent, bring on the excess.
Nettie: Personally, I hate golf.
Anything surprise you?
Lisa: Surprised we have a shoe repair, that's quirky.
Sarah: The building used to be a bank, which I think is really cool. It's not an amenity or  anything but it's a cool story. And it's unsurprising that a bank would be turned into a building basically gilded with gold inside. Everything is so fancy.
Sharon: The building staff are really nice. They are all very attentive and already know my name, which I think is awesome. I've never had a doorman before so it's great how kind they are to new New Yorkers. The maintenance guy was really nice too. He helped a lot when we moved in with boxes and arranging furniture.  
Nettie: I think the residents really try using everything because of the astronomical rents that just keep getting higher every lease term. It really pushes people to use what there is here because people want the bang for their buck. And that means the gym is packed and I can't get an elliptical when I want one.
Did the amenities draw you to the building?
Lisa: Some of them were deal breakers not to have, like the lounge and playroom, so it did draw me in.
Jin: I just wanted a doorman, but I'm happy with what I got.
Sarah: Definitely, I wanted to have all the bells and whistles.
Sharon: I wasn't really sure what I was getting into moving to New York, so I just wanted something really safe and friendly, regardless of all of the amenities. I feel like the neighborly feeling drew me in the most.
Nettie: Not really, I was sort of forced into the apartment by my husband. It's really close to both of our offices, so I can't complain much, but I don't think I'd care if all the amenities disappeared tomorrow.  
Related:
Renters at Avalon Chrystie Place gladly pay up for a Whole Foods below and a roofdeck above
Renter's insurance and drinking games on the roofdeck? Both are a go at this Murray Hill building 
Living at the Continental: it's like a hotel, for better or worse (and yes, breakfast is included)
Amenities: icing on the real estate cake 
The technology concierge...and 6 other amenities we'd like to see
What matters more: location or amenities?
Brick Underground articles occasionally include the expertise of, or information about, advertising partners when relevant to the story. We will never promote an advertiser's product without making the relationship clear to our readers.