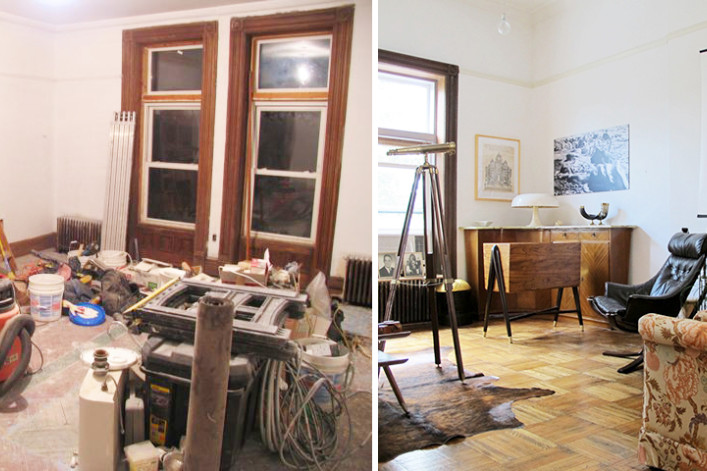 We're always on the lookout for novel ways to save on rent. So when we heard about Brooklyn furniture designer Ben Erickson's proposal to gut-renovate a landlord's property in exchange for getting a rent reduction, we were intrigued.
A 36-year-old New Jersey native, Erickson is no stranger to this kind of arrangement. In 2009, he offered to overhaul the top floor of a Queen Anne-style brownstone in Bed-Stuy for the owner, a longtime neighborhood resident and antique dealer. He invested $60,000 plus labor and choose the design, and the landlord shaved $1,000 a month off the $2,250 a month rent over the course of a five-year lease.
The biggest surprise of the whole experience? "The fact that this crazy idea came to fruition, and was such an absolutely fabulous house for the last five years," Erickson tells BrickUnderground.
With his lease expiring in six months, Erickson is hoping to repeat the success. So he emailed a slew of friends, family and real estate brokers, plus a few design blogs, to find Brooklyn property owners interested in doing a deal. This time around, he's looking for a more industrial property; the dream would be to build a steel and glass house atop a warehouse. He doesn't have a ton of funds to invest--he's sunk any extra money into his latest furniture line--but he's willing to put in sweat equity and design work.
"I'll come in," he said in the email, "do the entire renovation myself using all hand-selected custom finishes and talented licensed tradesmen, covering all the costs."
Below, Erickson tells us about how he set up the first project and why he's almost evangelical about renovating apartments--even as a renter.
Finding the brownstone
Erickson was renting across the street from the brownstone, at 247 Hancock Street. On a walk home one night, he spotted new windows in the top floor of the house, and a light bulb went off in his head. "I thought, 'Oh my god, why don't I offer to renovate the entire thing in exchange for cheaper rent?'" he says.
The idea wasn't completely far-fetched. He was familiar with the owner, Claudia Moran, who headed up an antique shop around the corner. ​And Erickson had first renovated a place in Bed-Stuy--a full floor of a brownstone that he rented for $975 a month--about eight years earlier, not as a favor to the landlord but simply to upgrade his own home.
The next day he called Moran, who bought the house in the 1980s and rents out the parlor room and backyard for weddings and private events. She'd been using the top floor as storage space for some of her antiques.
"It was never really touched," Erickson recalls. "The floors were a total mess, the ceilings were caving in. There wasn't even proper walls in some of these areas."
Nonetheless, the potential was there: 1,600 square feet, with big rooms, original parquet floors under layers of brownish paint, and three feet of untapped space in the rafters, which would bring the ceilings up to 11.5 feet in the living room.
Hammering out the lease
The pair hired a lawyer to draw up a contract, which spelled out how much Erickson would invest and how it would be broken down each month, among other things. Though Erickson is hazy on the details all these years later, he acknowledges there was a contingency plan if everything went south: Moran could pay him the balance of whatever was left on his lease, and he'd leave.
Still, the arrangement was comparatively casual. "I guess we both got lucky, to be honest," he says. "We just kind of vibed. We just connected and somehow instinctually knew that we were just going to be friends and everything was going to be cool."
The design
Part of the deal was that Erickson had free reign on the renovation.
"I just got carte blanche to literally design the entire thing using any materials I wanted," he says, adding that Moran was familiar with his style from his past projects and knew he was working with a good architect.
"She saw my previous apartment, so it wasn't like I was going to do something crazy and ridiculous," he says. "It's fairly classy and in keeping with the original architecture."
Erickson put in a new slate floor in the kitchen, as well as a stainless steel chef's stove and refrigerator. He kept costs down by doing a lot of the work himself and salvaging appliances and other materials on Craigslist. "I didn't pay full price for anything," he says.
The bulk of the job took four months; after that, he moved in and finished off details like the powder room, walk-in closet, built-in bookcases and custom millwork.
The apartment is now set up with a 25- by 16-foot loft-like main room, plus a master suite with a walk-in closet and bathroom. He uses an extra room as a playroom for his 3-year-old son, who visits on weekends.
Renovating a rental
Though Erickson has nothing but positive things to say about the project, after almost six years, both parties are ready to move on.
Indeed, Erickson is a passionate proponent of renovating, even if you don't own your place. (For tips on making your rental your own without incurring your landlord's wrath, check out our story here.)
"If you have the opportunity to do quality restoration work, absolutely--get the nastiest place you can, as long as it has good bones and potential, and do it," he says. "If you get a really rough apartment that the landlord has never really updated and you do it yourself, then it's like a blank canvas."
And that goes doubly if you're a renter: "Life is way too short," he says. "Why can't you enjoy your surroundings and make yourself a beautiful home, even if you're renting? Who cares?"
Related:
8 easy upgrades to make your rental your own
What's an expediter--and do I need one for my reno?
Why NYC renos cost more than you think, plus how you can save
The 8 best websites for finding a no-fee apartment in NYC
Brick Underground articles occasionally include the expertise of, or information about, advertising partners when relevant to the story. We will never promote an advertiser's product without making the relationship clear to our readers.