Perk Check
Renter's insurance and drinking games on the roofdeck? Both are a go at this Murray Hill building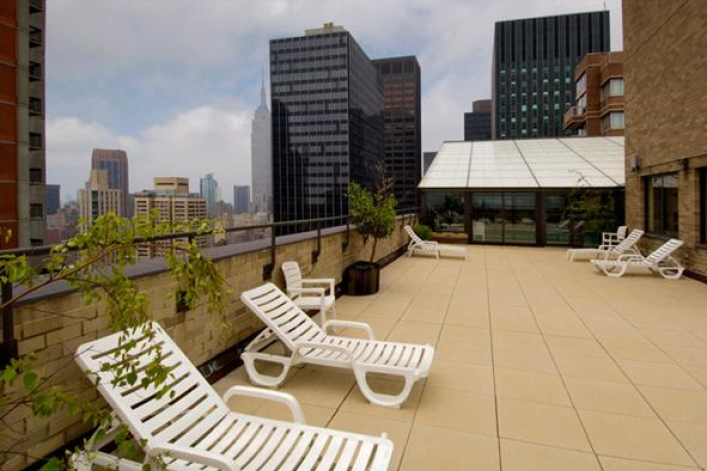 Each week, our intrepid Perk Check correspondent Polly Mosendz surveys those who live in New York's most amenity-laden buildings to find out which extras are actually useful and which ones barely get a try.
The building: Archstone Murray Hill, 245 East 40th Street, between Second and Third Avenues
What you'll pay: Rentals available now start at $2,965 a month for a studio to $6,390 for a two-bedroom. No broker's fees.
Amenities: A "clubhouse" lounge, concierge, doorman, fitness center, renter's insurance through Assurant (for an extra fee, depending on which policy you choose and your valuables), spa, hot tub, sauna, pool
Which amenities do you swear by?
Rebecca: The pool, the gym, the sauna. I guess I have the insurance too. It was in the lease or something.
Melanie: About the same for me. People here love the pool and the terrace. There are a bunch of people who play drinking games up there during the summer.
Gail: Really just the doorman. I work too late to get a full range of the other stuff.
Benavides: I looked into all of them when I first moved in but only use the doorman, gym and pool regularly. 
Elsie: I use the roof when it is open and I use the gym year-round.
Which do you never use?
Rebecca: The spa.
Melanie: I never ask the concierge to do anything.
Gail: My hours are probably longer than most people in the building, so I get home too late to take advantage of the best stuff like the pool in the summer. It just closes way before I get home. I think its open till 7, but if you work 10 to 8, doesn't really matter. I think I would use it if they offered a night swim program.
Benavides: I use most of them. I wish I used the lounge space more, it seems like a good place to get work done.
Elsie: I don't use the lounge, I don't think I have the insurance, and I haven't used the spa.
Anything surprise you?
Rebecca: Now that I think about it, the insurance thing is pretty unusual. I never had that in other leases or buildings.
Melanie: Not really. I think Archstone is a standard luxury building.
Gail: Just the short hours.
Benavides: Not really. Everyone is nice and hospitable. Pretty much what I was hoping for.
Elsie: I feel like I get a lot of bang for my buck. I think because it's not the fanciest neighborhood, the building went above and beyond to be accommodating to the tenants, so I do think I get more than I pay for.
Did the amenities draw you to the building?
Rebecca: I just wanted to live in an Archstone building. My sister had lived in one and really liked the management company, and the amenities came with.
Melanie: The roof and pool did it for me. I needed that in my home.
Gail: I wanted a doorman, so sort of.
Benavides: I was more attached to the apartment and living with my friends who wanted to be in Murray Hill than I was to getting a gym or doorman. I went along with their choice but I'm glad I did.
Elsie: They sealed the deal for an apartment I already liked.
Related:
At 15 William, the gym gets raves. But the catering kitchen is too "Real Housewives"
Tenants applaud Mercedes House amenities -- except ping pong
At the Edge in Williamsburg, the kids love the perks. But the virtual golf is a puzzler.
At Brooklyn Gold, the pool is a draw. But the parking? Not so much.
New York by Gehry residents: Wild for the workout spaces, but lukewarm on interior design tips
Amenities: icing on the real estate cake 
The technology concierge...and 6 other amenities we'd like to see
Brick Underground articles occasionally include the expertise of, or information about, advertising partners when relevant to the story. We will never promote an advertiser's product without making the relationship clear to our readers.