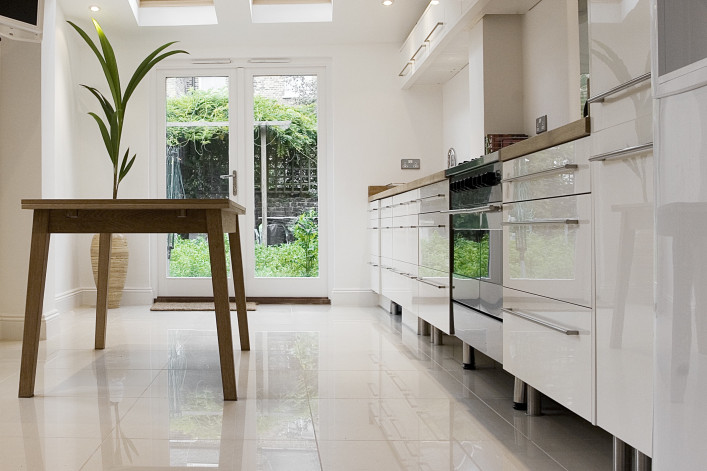 Q. I'm redoing my kitchen and plan to install new appliances. What do I need to know before I buy them? Is there really a difference between the $2,000 and $10,000 options?
Today's appliances come with so many features, it's easy to get lost in the choices (and prices). Here are the critical questions to ask yourself before deciding what to buy: 
Will I use the appliances often, or are they more for display and to impress potential buyers during a resale? (Be honest.)
What are the size constraints of my kitchen?  
What type of electrical power is there in the kitchen and how much? 
Let's assume that the kitchen is the central functioning part of your home, and its appliances will be used frequently by more than one person. For a basic kitchen, the difference between $2,000 and $10,000 appliances can be like comparing a compact car to a luxury SUV. 
Both price ranges will get the basic job done as far as storing, cooking and heating your food. But the major question is, how much are you willing to spend for a stove with different sized burners, an oven with several cooking modes, a double-drawer dishwasher, or a refrigerator with a built-in icemaker? Spending more can mean smarter appliances, more convenience, and better technology or use of space. One example: a refrigerator under your counter.
There's also the matter of quality. If you're a seriously dedicated chef, it may be worth it to drop the cash on commercial quality appliances. Brands such as KitchenAid and Viking have commercial ranges targeted at the (affluent) home cook.
Or if eco-friendly products are important, you may want to invest in energy- and water-efficient models, which could also offer savings on your utility bill. Check each supplier's technical sheet for how they compare.
When it comes to buying and installing your new kitchen appliances, consider the following: 
1. Get the technical specs right. First, ask your condo or co-op board or landlord if the building restricts what you can install. Find out how much power your kitchen currently uses for each appliance in the apartment's electrical panel. It's also a good idea to ask your building's manager, super or general contractor about the state of the electrical system or consult a licensed professional about the gas supply. In some older buildings, the supply won't be enough to power some of the fancier appliances on the market.
2. Plan to shop during the holidays: Generally, appliances go on sale during every major holiday and many minor holidays as well. So time your shopping accordingly. If you're not shopping on a sale day, it never hurts to ask the salesperson if you can get a deal. Pro tip: if you can't wait until the next holiday, sign up for store email updates or ask the store if they have showroom items for sale.
3. Do more than one round of research: You may want to compile a shortlist through online research—consulting sites like Houzz or Remodelista—and each brand's website, then visit stores in person to do a more thorough check. The sales person at the shop can also give you the scoop on how well they really work, and can show you other comparable items in your budget. Be sure to take note of size, quality and reliability. 
4. Prep for installation: With a new appliance, it's sometimes not as simple as taking something out of the box and plugging it in. Some stores offer to install the machines for you, but make sure the installers are familiar with the appliances you bought. Ask if they will need an electrician or plumber to be there, and whether they'll be handling all aspects of set-up and delivery. (It's also a good idea to find out whether they'll be taking your old appliances away.)
Check that the appliances will fit in your elevator and front door or service entrance, whether you need to book a time for delivery, and who will handle the removal of the appliance packaging. And be sure to give your appliances a test run after installation to ensure they operate correctly. Check for water or gas leaks in particular.
5. Brands count. Go with known name brands that offer warranties, and buy from a store with reputable service centers or personnel that will fix any issues without a massive hassle. Big brand names include Maytag, LG, GE, Kenmore, Electrolux, Frigidaire and  Viking—they usually have different ranges that fit moderate to  big budgets.
Brick Underground articles occasionally include the expertise of, or information about, advertising partners when relevant to the story. We will never promote an advertiser's product without making the relationship clear to our readers.