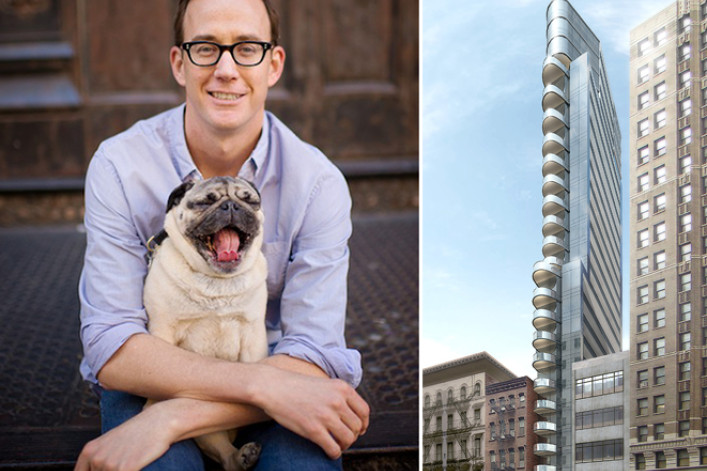 One of the best ways to get a feel for a place is by reading a neighborhood's blog. In our Confessions of a Neighborhood Blogger series, we spoke to the writers who chronicle the controversies, preoccupations and happenings of their chosen slice of the city. Now, we're checking in again to see what's changed, what's stayed the same, and what's the story dominating every street corner. 
Erik Torkells, who has been a Tribeca resident for over a decade, founded the neighborhood blog Tribeca Citizen in 2008 after leaving his job as editor-in-chief of "Budget Travel." The online publication answers neighborhood questions about real estate developments, restaurant recommendations, and new store openings and closures. Readers also compete to identify a location pictured in his regular photo contest "Where in Tribeca...?" 
We first spoke to Torkells back in September 2012, and though he assures us that the area hasn't changed for the better or worse in a year and a half, we're still curious: are his favorite haunts still in business? Does he still consider Tribeca the stroller capital of the five boroughs? Read on.
Many New York institutions are shuttering. What recent Tribeca closures shocked you?
It doesn't shock me anymore when a retail store closes in Tribeca. The rents are high because landlords know that residents are pretty well off, but there just isn't a lot of foot traffic. That said, I was disappointed that Pearl Paint closed, even if the writing had been on the wall for years, and a lot of folks around here doubt J&R will come back in brick-and-mortar form.
What new places should we check out?
Tribeca still has more independent shops and restaurants than many other Manhattan neighborhoods, and a lot of New Yorkers have never really explored it. A few newish businesses that people are digging: Khe-Yo, the Laotian restaurant [opened] by a chef who worked with Marc Forgione; Taymour Grahne Gallery, which specializes in Middle Eastern art; Aqua, where you can do indoor cycling in a swimming pool; Asphalt Green Battery Park City, a gorgeous facility with a lot of interesting cultural programming; By Suzette, a cute creperie run by two Frenchmen; Mulberry & Vine, where you can eat healthily without sacrificing flavor; and Racines NY, a sister to popular wine bistros in Paris.
In our last chat, you counseled neighborhood newbies to protect their toes from wayward strollers. Does that advice still stand?
Yes, Tribeca is definitely a family neighborhood, probably more than ever before. While those of us without kids can feel like we wandered into the wrong party, I genuinely believe that there wouldn't be as much of a neighborhood feel here without so many parents--they all know each other, socialize with each other, and keep each other informed. Plus, parents put down roots in a way that non-parents are less likely to, which means we have residents who are more emotionally invested, and definitely financially invested, than you'd find in other parts of the city.
A couple of years ago, the main real estate controversy was a proposal to put up a 10-story rental building at 460 Washington. What's going on with that now?
460 Washington is still happening and now there's another big project, possibly two, nearby. Related Companies is building on West Street between Desbrosses and Vestry, and Ponte Equities looks like it'll do something on the western half of that block. Meanwhile, [developer] Aby Rosen wants to tear down 67 Vestry. Every time I post about a big new development--not just in northwest Tribeca, but all over, since the Broadway area is in a massive residential conversion boom--Tribecans get outraged. Is no one planning for the continuing population growth down here? Schools are full to bursting, and yet the city doesn't seem to have a clue.
Any other new developments that have you scratching your head?
I'm dying to see the design for 101 Murray, a mammoth new residential building across from the exceedingly popular 101 Warren. And if you've never looked at what's coming to 19 Park Place, a narrow plot that runs through to Murray, you should. It's called Tribeca Royale, and it's tall and shiny and curvy. Oh, and it's a sign of the real estate gold rush happening down here that DDG is turning two tiny triangular parking lots on Sixth Avenue--they barely connect--into condos. I fear that northwest Tribeca's splendid desolation will never again be what it once was.
What's Tribeca missing?
I'd cry tears of joy if No. 7 Sub opened somewhere in south Tribeca. And I don't eat much meat, but I think The Meatball Shop would make a killing in this area.
What could Tribeca do without?
Bank branches and nail salons! We have so many of both, and they keep opening!
Any plans to leave?
Nope, not yet. I will admit that I make a point of going Aboca--above Canal--at least once a week. We live in a lovely bubble down here, and it's a good idea to get out every now and then.
---
See all Confessions of a Neighborhood Blogger.
Related:
"Have you ever noticed that Tribeca has very few 20-somethings?"
Which NYC neighborhood are you?
A move-by-move neighborhood guide for the people, by the people
11 years later, a TriBeCa native longs for a pre-9/11 Lower Manhattan
Brick Underground articles occasionally include the expertise of, or information about, advertising partners when relevant to the story. We will never promote an advertiser's product without making the relationship clear to our readers.