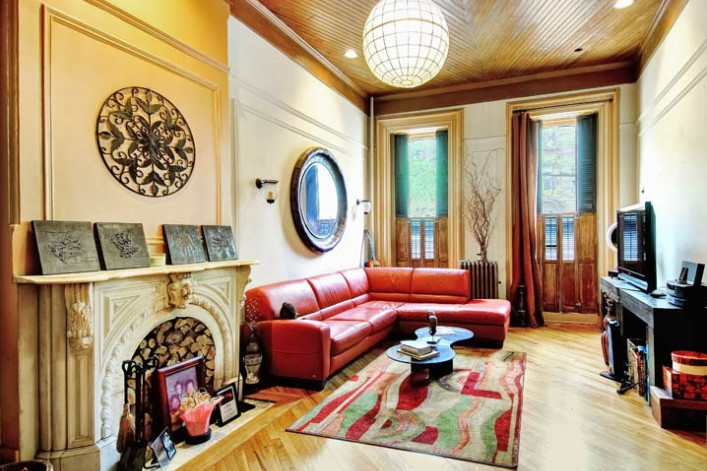 Desperate to own a bona fide Brooklyn brownstone, but fearful of all that can go wrong with a historic house? Donald Brennan of Brennan Real Estate outlines your options in this week's Buy Curious.
THE WISH LIST:
I've always been in love with the idea of owning a brownstone in Brooklyn, but I just can't see myself buying an old home. I have no patience for dealing with old plumbing, creaky floors, out-of-date kitchens and all the other hassles (and expenses). I've got $2 million to spend. What are my options?
THE REALITY:
Love hurts. It hurts even more when you can't get what you want. Two million dollars doesn't go nearly as far as it did in Brooklyn just a few short years ago, and you may need to adjust your expectations on location and redefine what "brownstone" means to you. That said, there are opportunities out there for buying what you and the rest of the free world are currently pursuing.
In fact, $2 million should be able to get you a 3,000-square-foot home that's still in need of some work--at least a four-bedroom in a single-family configuration or a three- to four-bedroom in a two-family configuration.
For that price, all systems, such as plumbing and heating, should be in working order, but likely won't be new. The place should have a functional kitchen and bathrooms, but they'll probably be dated. You'll also possibly have to deal with creaky floors, but even more likely sloped floors as the floor joists will probably have deflected over time. You may choose to update and improve some of the finishes and systems over time but don't absolutely need to unless you want to keep up with the Joneses. 
Also, since many of the properties you'll be looking at will have a floor (or two) set aside as a rental, think about whether or not you want to be a landlord. While it can be a great source of income to offset your monthly costs, you'll also have to deal with the sometimes aggravating process of selecting a tenant as well as the possibility of a break in rent if the tenant stops paying or the unit is vacant for any period of time. 
Here are a few compromises worth considering to make a Brooklyn brownstone fit your budget:
Forget the brownstone part: If you want to be in for under $2 million without getting your hands dirty--that is, doing a major reno--your future home will most likely not have a stitch of brownstone on it. More likely, it will be a wood-framed semi-detached house with a rental unit or a modern interpretation of the classic brownstone townhouse. 

For the most part, actual brownstones are larger and grander than their wood-framed or wood-sided cousins, and they're in much higher demand (read: pricier) than their non-brownstone counterparts. And while the classic brownstone is all about vertical living--with kitchen, dining and living rooms compartmentalized--a more contemporary configuration would combine some of these spaces, opening them up to each other and the outside.

If you're skipping the brownstone altogether, brick and mortar is probably the sturdiest exterior finish. However, it will need some upkeep over the years—the mortar more so than the brick—especially for south-facing walls that get the brunt of the sun. Stucco and vinyl siding also appear on Brooklyn townhouses, often applied over existing but deteriorated finishes like wood shingles. But beware: new homeowners may be in for an expensive rehabilitation in these cases.
Know where to look: More affordable brownstones are outside the typical Brownstone Brooklyn neighborhoods (which includes Park Slope, Cobble Hill, Brooklyn Heights, Fort Greene and more). Places in East Brooklyn, including Bed-Stuy, Bushwick and Crown Heights, have the most opportunities for more reasonably priced brownstones. I would also suggest looking in up-and-coming Greenwood Heights, where many inexpensive gems can still be found. While these homes aren't likely to be in any better shape—meaning you'll still probably have to renovate—they will be lower priced. 
Don't buy a fixer-upper: Find a place that's been at least partially renovated—boasting updated electrical or a new kitchen or new windows. It'll be less work for you, and smaller projects over time might be more manageable.  
Buy a new condo in a brownstone: If you really don't want the hassle of maintaining an entire brownstone, an apartment in a converted townhouse could be the perfect solution. New developments these days are typically condos, and range in size from one to four bedrooms. Usually at least the ground-floor and top units have private outdoor space and may also include amenities like shared bike storage and a virtual doorman.
Hunt for a newly built townhouse: While I have not seen any new construction brownstones priced under $2 million, there are new (or newish) townhouses--minus the brownstone--available in your budget.
Renovated listings that fit your budget:
Willing to try a fixer-upper after all?
Boerum Hill four-bedroom/three-bedroom townhouse, $1,900,000: Currently configured as a two-family, this townhouse at 101 Douglass Street between Smith and Hoyt Streets can be converted for single-family use. Plus, it's undergone several price cuts since being featured as one of Brick's Flip or Flop properties. While the place does require a full renovation, zoning allows for a structure that's almost twice as large as what's currently on the lot. Of course, that would be quite an undertaking. 
Related posts:
9 things Manhattanites need to know before buying in brownstone Brooklyn (sponsored)
Buying, renovating or refinancing next year? 5 mortgage trends to watch in 2014 (sponsored)
What 8 first-time buyers wish they had known
Here are the 7 most likely reasons you'll get turned by a co-op board
7 questions to ask about the building before you buy an apartment there (sponsored)
---
Buy Curious is a weekly column in which NYC real estate brokers help buyers develop a realistic search strategy. Want some advice on your search? Send us your wish list.  
Brick Underground articles occasionally include the expertise of, or information about, advertising partners when relevant to the story. We will never promote an advertiser's product without making the relationship clear to our readers.