Design + Architecture
'Manhattan Classic' author explores the allure of prewars—and shows you how to add old-school glamour to your home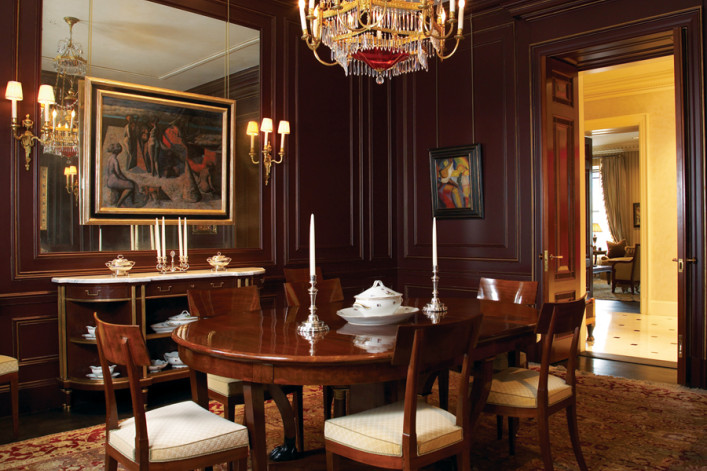 For anyone who doesn't live in a grand prewar apartment in Manhattan--but wants to--the only option is to gaze at them with a mix of awe and envy. Take heart: Geoffrey Lynch feels your pain. While looking to buy a place, this New York City architect fell in love with buildings constructed between the 1880s and the 1930s. In his new book, "Manhattan Classic: New York's Finest Prewar Apartments," you can drool over 84 of the best of them.
Lynch, who is a partner at H3 Hardy Collaboration Architecture, explains why New Yorkers covet them so much, how to make any apartment prewar elegant, and why good floors can change your life. 
What makes prewars so special?
A big part of it is the beauty of the floor plan. You arrive in a great foyer, and all of the rooms are off that. You don't really have corridors; you are always in a room going to another, compared to many modern apartments where all the rooms are lined up connected by a corridor.
How can we add prewar charm to our not-so-charming apartments? 
Focus on timeless details. In bathrooms, use white marble throughout for floors and walls. In living and dining rooms, redo floors with five-inch wide boards in a herring bone pattern like the apartments at the new Walker Tower condos. Thick wood doors, eight feet tall, with door hardware from Nanz, make any space feel grand. Prewars are so lovable in great part because of attention to detail. 
Lynch's book,  "Manhattan Classic: New York's Finest Prewar  Apartments," is made for voyeurs.
For a rental, I would suggest using classic, period wallpaper. It definitely adds warmth and character, is relatively easy to do, and is great fun.
You say prewars define the glamour of living in New York. Not the glass mega towers?
Yes. Prewars look like palaces and make you feel like you are living in something grand and exciting. The glass buildings have certainly changed the skyline, but I think prewars hold their own.
Where do they rate architecturally? 
Buildings like 740 Park, 834 Fifth and The Apthorp do compare with some of the greatest residential architecture in the world. The Apthorp--which Nora Ephron famously wrote about in The New Yorker--is one of my favorites. It feels like an Italian palazzo.
Who are the great prewar building architects?
Rosario Candela, who designed 740 Park, 834 Fifth, and 75 Central Park West; Emery Roth, who did 211 Central Park West, also known as the Beresford, and 60 Gramercy Park North, and J.E.R. Carpenter, who did 550 Park and 173-175 Riverside Drive. They were artists who created buildings that were the height of taste, detail, ornament and care. J.E.R. Carpenter was the master of restraint, but very elegant.  Candela was more flamboyant and his buildings felt a bit more palatial.
If you could move into any of these buildings, which one would it be?
I would say either 173-175 Riverside Drive or the Beresford. Riverside Drive is one of Carpenter's best buildings; it has the most beautiful floor plans anywhere. The Beresford because with its cupolas you feel like you are the king of the castle.
In the 1800s, it was considered immoral for a wealthy family to share space with  another. What changed minds? 
Developers made apartment buildings desirable. They had to offer something to compete with townhouses, so they had to make grand facades; the buildings had to seem like palaces. The apartments had grand rooms and offered the latest in modern conveniences, like elevators, luxury bathrooms with porcelain tubs ... and they were fireproof.
Where do you live and how long have you been there?
I live with my wife in the Financial District, and have been down there since 2002. I think to live in Manhattan [and get a good deal and space] you need to buy into an up-and-coming neighborhood. I moved into my current two-bedroom apartment in 2010. The building is 100 years old with a seven-story glass addition on top. [Ed's note: the original structure was commercial space that later went residential, so it was never a prewar apartment building.] 
What do you love most about your home?
Though it's a modern apartment, it has the feel of a prewar in terms of the sequence of spaces. It's our own floor so it's very private, the rooms are all very well laid out, and we have tons of light. 
How would you describe its aesthetic?
My wife is in the fine arts business, and I would say it feels much like an art gallery. We are nascent collectors; we love modern art.
So while you don't live in a prewar, they are a passion. How did that happen? 
I had been living in New York six years and was looking to buy. I started going to open houses, pretending I had a few million to spend! I was amazed by how beautiful prewars were, and how elegant. I ended up moving downtown, but it sparked my interest.
You have an unlimited budget. What is your fantasy purchase for your home?
A beautiful wide plank floor. They are very expensive, but like in the prewars, a great floor can make a great apartment.
The one thing you cannot live without? 
A wine fridge--it's a little thing but we love it.
Your pick for best restaurant in the Financial District.
The Trading Post down by the Seaport. The seafood is spectacular. I recommend the jumbo shrimp. 
Why are New Yorkers obsessed with real estate?
I think people come here to make their dreams real, and as they grow through their careers they want a great job, great spouse and great apartment. With the latter I think it's what partly drives developers to create great buildings.
Related:
Author Michael Gross on 15 Central Park West's Trophy Condos: "There's no accounting for taste"
Five Minutes With designer Jonathan Adler
Designer-to-the-stars Zang Toi on why your knick-knacks have to go
"Sex and the City" set decorator Christina Tonkin shares tips on glamming up a small space
Design*Sponge blogger Grace Bonney on where to snag vintage Brooklyn decor
Brick Underground articles occasionally include the expertise of, or information about, advertising partners when relevant to the story. We will never promote an advertiser's product without making the relationship clear to our readers.