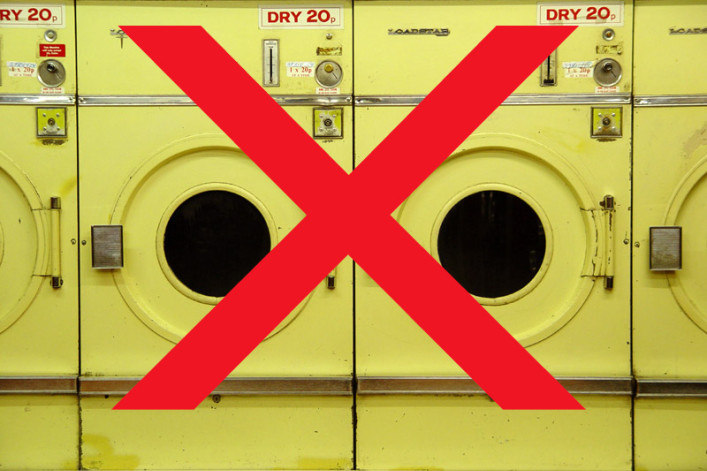 New Yorkers dream of a washer and dryer like they do extra square footage. No more schlepping dirty laundry to a skeevy basement, no more wasted hours guarding loads at the laundromat. But remember necessity? The mother of invention's a NYC fixture, and the city is awash, pun intended, with services that'll at least make laundry day more manageable. Let us count the ways:
• Go high-tech 
Laundry pick-up and delivery isn't new. However, a few entrepreneurial types are attempting to streamline the process with a bevy of apps that order up the service--fast. They're similar to traditional laundry delivery services, but the convenience factor is amped by modern technology (think Uber). Their goal is to free up your time as much as possible with speedier, more flexible pick-up/delivery times. Your laundry is done in the same laundromats in your area (or sent out to large laundry facilities outside the city), but these establishments are vetted to ensure they're up to par. Some options:
Cleanly
Can't be home to hand off or receive your load of clothes? Cleanly, which soft-launched for invitees only in April on the Upper West Side, is "a delivery logistics technology," explains founder and CEO Tom Harari. Cleanly's mission is to streamline laundry logistics. The app is designed to get your order in, and get you out of the app, as quickly as possible, he says.
Cleanly partners with local laundromats that meet a certain standard for doing laundry, like separating colors and whites and using correct temperatures.
"Little things like that help us streamline the process," says Harari.  "Customers don't need to request those things since they come standard--as they should."
The app is free to download and allows you to enter the time that you're available to hand off the hamper. Wait times are only 30 minutes, so it makes sense even if you don't have a doorman. 
Cleanly marks up prices based on zip code. On the Upper West Side, for example, they charge $1.20 per pound--whereas your typical wash n' fold service could easily cost under a buck--which includes pick-up, washing, folding, delivery and tip. Dry cleaning is by item, but a man's dress shirt costs around $6. Wash-and-press for the same shirt is around $2.50, though prices vary by area. 
The company plans to expand to the Upper East Side and parts of Brooklyn in the coming weeks, then roll out to the rest of the city by the end of 2014.
Hamperville
Another service, Hamperville offers office pickup. Clothes come back within two business days--a boon for those who lack a doorman or can't meet the company's three-hour pick-up window.
You can also give Hamperville a key to your apartment building, and the company will pick up a bag of clothes outside your door. So far, the company says, they've had "zero issues with theft of customers' laundry." Still, you might want to run this set-up by your landlord or board first.
To get started, you can either sign up for a monthly subscription, with the price based on the approximate amount of laundry you do every month; additional clothes are charged at $1.33 per pound, and if you go under, the credit rolls over to the next month. Or you can pay as you go at $1.48 per pound. There's a $25 minimum per pick up and a $5 surcharge for fourth-floor or higher walk-ups. 
FlyCleaners
FlyCleaners is another smartphone-powered delivery service. Their app provides users with continuous updates on the progress of their laundry, as well as a way to reschedule deliveries.
They also vet laundromats: FlyCleaners does pilot runs with each dry cleaner and laundromat to make sure they're up to snuff, says co-founder Seth Berkowitz, and their turnaround times are swift. For wash 'n' fold service, laundry picked up before 11 p.m. is available as early as 7 a.m. the next day, while dry cleaning takes about two to three days. Prices are on the less expensive side, at $0.99 a pound. 
Currently, the company only serves part of North Brooklyn and the East Village, but plans to expand to Boerum Hill, the Lower East Side, Alphabet City and other parts of Manhattan soon. The app is free, and users can sign up online to get notified if FlyCleaners comes to their area. 
• DIY options: Cranks, pods and more
Laundry Alternative's WonderWash and MiniWash Plus countertop washing machines
The bestseller at Laundry Alternative, an online retailer of laundry appliances for cramped spaces, is the WonderWash, a 12 by 12 by 16-inch hand-cranked mini washing machine that can fit on your countertop or in a bathtub. 
"The unique design allows you to fit as many clothes as possible in a small, light tub that weighs under six pounds," says company owner Corey Tournet. 
The WonderWash costs $42.95 and is best suited for more delicate items, since it "doesn't have an agitator or impeller, so it's very gentle on clothes," Tournet says. A typical load holds about 10 t-shirts, seven to eight dress shirts, 30 pairs of socks or two pairs of jeans, and the company says a load takes only a couple of minutes of cranking each for the wash and the rinse.
If powering the machine by hand isn't your cup of tea, check out an electrical model like the MiniWash Plus. For $99, this baby features an automatic rinse cycle and has a capacity of about 4.4 pounds. It hooks up to your faucet and drains into your sink like a standard portable washing machine; a cycle takes about 35 minutes.
As for getting one of them by your landlord, Laundry Alternatives ships their products in unmarked cardboard boxes so they can be "smuggled" into apartments, says Tournet. Though he maintains that the products don't pose the same flood or fire risk as installing a full-fledged washer/dryer, "it still doesn't matter. Landlords see the word 'washer' or 'dryer' and automatically say no."
The Laundry Pod 
Ever look at your salad spinner and think, "I wish I could wash clothes in that"? Now you can! The Laundry Pod, which sells for $99.99, operates on the same principle. Put your clothes, water and detergent inside the apparatus--which measures 13 by 14 by 14 inches--secure the lid, and turn the crank for around two minutes to "agitate" the load.
To rinse, drain the soapy water, add fresh water, and crank for another two minutes. Then let the water out and crank for another two minutes to get rid of the excess water.
One wash cycle, which holds about 10 items of clothing, requires three gallons of water, compared to 40 gallons in a typical washing machine. 
The Scrubba Wash Bag   
Invented by a patent attorney planning to climb Mt. Kilimanjaro, the Scrubba Wash Bag is billed as the world's smallest washing machine: a water-tight bag lined with hundreds of nodules that act as a flexible version of an old-fashioned washboard.
"Independent testing by a washing machine manufacturer showed that three minutes of rubbing in the Scrubba Wash Bag provided a machine quality wash," says inventor Ash Newland. "It was also twice as effective as hand washing, while remaining gentle on clothes."
The bag can hold about 3 gallons of water, but ideally you'd only use a gallon, since filling it too tight makes it difficult to press down and get a good scrub. It holds about "two days' worth of summer clothes" at a time, says Newland. To help speed up drying, the company suggests rolling the clothes in a towel afterwards.
The product, which was crowdfunded into commercial existence in 2012 and now ships worldwide, has proven particularly popular among fitness lovers who want an easy way to wash their work out gear. The Scrubba bag costs $64.95 and can be ordered on the company's website.
• A bag of laundry walks into a bar
Of course, if you actually like doing your laundry at a laundromat, there's no reason not to embrace it, especially when the chore comes with a pint of lager.
At the Wash House, a launderette-cum-bar in the East Village, patrons sip beers and munch on grilled cheese while counting down the minutes on the spin cycle. No time for a meal? A wash n' fold service offers next-day pick-up.
Related:
Breaking the rules of NYC real estate and what it'lll cost you
Ask an Expert: What's the worst that can happen if I install a washer/dryer without permission?
Brick Underground articles occasionally include the expertise of, or information about, advertising partners when relevant to the story. We will never promote an advertiser's product without making the relationship clear to our readers.