Improve
F'd in Park Slope blogger Erica Reitman on officially leaving Brooklyn and selling her place from afar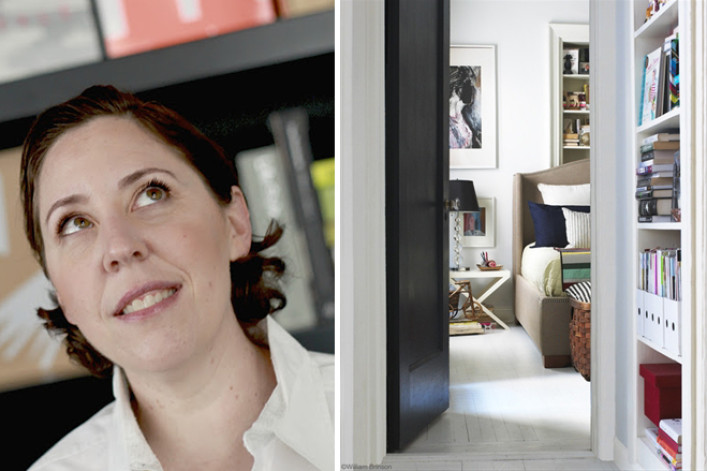 Erica Reitman, founder of the cheeky Brooklyn blog F'd in Park Slope decamped to the West Coast about a year ago, but it's taken her until now to sell her Union Street apartment, which she put on the market this week.
We last checked in with Reitman for an installment of our Confessions of a Neighborhood Blogger series, where she told us that despite a move to L.A., she and her husband were adamant about keeping their place in the Slope.
Not anymore. Between their love of L.A.--Reitman started a stylish design blog called Design Blahg--and the red hot seller's market in Brooklyn, the couple decided it was time to get the F out of Brooklyn once and for all. The one-bedroom is listed for $495,000, but a note to the wise: the furnishings (pictured below) are no longer in the apartment, since Reitman sold their furniture on Pinterest.
We caught up with Reitman to find out how she'll sell her apartment from 3,000 miles away.
Why did you move to L.A.?
New York City and I had steadily been growing apart for what seemed like a few years when my husband and I decided to finally move. You know when you reach that final breaking point and you just think to yourself: I am officially done. That's what happened with me and New York. There honestly was not one moment that put me over the edge. But I did find, the older I was getting, the less patient I became with the everyday "battlefield" that is life in NYC. And then I would go visit other cities like L.A. and see that everything was so darn pleasant and easy there, and I just wanted some more of that in my life.
Why sell your co-op a year later?
According to the rules of the building, we are only allowed to sublet for two years. We did not want to sell [initially], as we wanted to make sure we didn't hate L.A.--we love it! When we found out our subletter would not be staying on for a second year, we took a look at the real estate market in Brooklyn and realized it was on fire.
What are the hassles of listing an apartment from out of town?
The process was actually way more challenging than I had anticipated. We knew we needed to come back to Brooklyn to do a final walk-through. We had planned to do a quick paint refresh, but we actually needed to do a bit more work. Lots of painting, a bit of plastering, regrouting tile in our bathroom and transforming an old hamper attached to our bathroom wall into a magazine rack. I'm slightly bummed we never did any of this stuff when we were actually living there. 

How has your move affected your blog?
The fact that we are all so connected online makes doing something like this easier. However, I don't think I would have been able to pull it off without an amazing staff and a kickass managing editor, Karen Gerwin, who's still running the show in Brooklyn. While I could still report the news from afar, I can't be on Seventh Avenue taking pics of a funny sign someone hung outside of La Bagel Delight, or attending a comedy show at Union Hall.
What's changed about Park Slope since you left?
My husband and I did come back recently to handle all this apartment stuff and it was fun to see some of the new spots in Park Slope. There is now a Paper Source a block away from our apartment, which would have been seriously dangerous for me and my bank account [when we lived there]. I think because I still stay on top of all the news, I definitely still feel a connection to it all.
Would you recommend Brooklyn as a place to live or is L.A. home?
Of course I would still recommend Brooklyn as an awesome place to live! Especially Park Slope. The interesting thing I've learned as I get older, is that your needs and wants change so dramatically over time. So a neighborhood that might have been perfect for you five years ago may not be so hot for you right now. For me, it was all about just being ready to move on from New York. If I was still in NYC, Park Slope would still be the neighborhood that I'd want to live in for sure. Also, we did pick a pretty good winter to miss!

Do you think you'll ever move back?
If I've learned one thing in this crazy life of mine it's, never say never. However, at this moment I am enjoying the free WiFi out by our building's infinity pool sitting in the sun, I gotta say that coming back to NYC seems like a very remote possibility at this stage of the game.
Related posts:
Confessions of a neighborhood blogger: F'ed in Park Slope: wanna move here? Better get a baby or dog pronto
Design*Sponge blogger Grace Bonney on where to snag vintage Brooklyn decor
Author Michael Gross on 15 Central Park West's trophy condos: "There's no accounting for taste"
Million Dollar Listing's Ryan Serhant on boosting his sex life with purple walls and why he won't buy a place
Designer-to-the-stars Zang Toi on why your knick-knacks have to go
"Sex and the City" set decorator Christina Tonkin shares tips on glamming up a small space
Brick Underground articles occasionally include the expertise of, or information about, advertising partners when relevant to the story. We will never promote an advertiser's product without making the relationship clear to our readers.