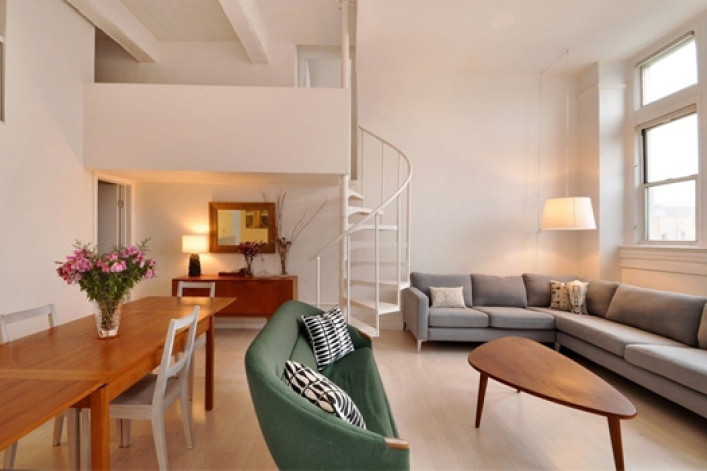 If you had to choose between buying a fixer-upper apartment--which could become your dream home with enough sweat equity--or a more expensive place in "turnkey" condition, which would you pick? We asked six city dwellers to share their thoughts:
Leaks and gunk? No thanks If I wanted to be responsible for fixing broken boilers and leaky roofs and gunky dishwashers, I would move into a house in the suburbs! - Mark, Upper West Side
No DIY diva I definitely would prefer a turnkey condition apartment. I wouldn't mind being able to change things up with paint and shelving and decor. But I don't want to worry about the big things like remodeling a bathroom or even installing recessed lighting on dimmer switches. And I would want to choose what I want to improve, not be forced into it because something stops working! - Kay, Midtown West
Nothing blah about turnkey I used to think that move-in ready apartments meant moving into a boring white box outfitted with "blah" standard appliances, but from what I've seen on the market, it can also mean moving into a crisp and clean, freshly painted place, with Miele appliances and new bathroom and kitchen fixtures. It's also means being able to settle into a space and immediately start making it your own with furniture and art, without having to worry about big, costly repairs. - Nichole, Queens
Monthly costs at a minimum It all depends on your budget when you buy a place, I guess. But for me and my money, I would rather pay less upfront for a place, and then fix it up at my own pace, and to my own tastes and specifications. There is still the cost of buying materials and hiring people to do work for you, but even if you spend that money, you're not paying interest on it in large monthly mortgage payments. I'm all for keeping monthly expenses low. So what if it's not perfect? It's a process! - Susan, Upper West Side
Neighborhood considerations Manhattan is so expensive, no matter where in the city you look. And some of us need to be in certain neighborhoods because that makes the most sense for us, work-wise. So, if you can't choose to live in a neighborhood that is slightly more affordable, then the next thing to do is find an apartment that is affordable because it's not in perfect condition. That seems to be the most common trade-off. Either that or you are severely compromising on the square footage. We got a quote from a contractor on what it may cost to renovate an apartment we were interested in. It was a high number, but still worth it to buy an apartment in the ideal neighborhood for us. And with the option to do a lot of the work ourselves, we can cut costs a little bit. We can also make sure it's done just as we like it.  -Sam, Hamilton Heights
Growing pains We have an 8-month-old and now is not the time to messing around with home improvement projects! In fact we are looking to move again, and one of our criteria is that it is move-in ready. After seeing things that are out there, we decided we have to increase the budget. And maybe move to New Jersey! - Alexis, Harlem
Verdict:  Turn-key: 4; Fixer-upper: 2
Winner: Turn-key, 2:1.
Related posts: 
Would you rather have a wi-fi-enabled work space or a tricked-out roof deck?
Would you rather live with a same-sex roommate or an opposite-sex roommate?
Would you rather rent or own your NYC apartment?
Would you rather have a part-time doorman or a full-time remote doorman?
Brick Underground articles occasionally include the expertise of, or information about, advertising partners when relevant to the story. We will never promote an advertiser's product without making the relationship clear to our readers.