The One That Got Away
Orange Is The New Black's Alysia Reiner on the Upper West Side duplex she loved and lost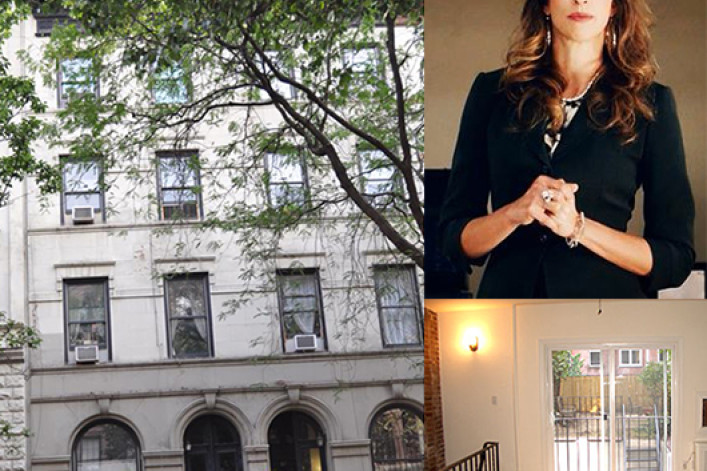 Alysia Reiner still pines for the suburban oasis she fashioned out of a duplex on the Upper West Side in the 1990s. 
A native of the neighborhood, Reiner plays the brassy assistant prison warden Natalie Figueroa (better known as Fig) on Netflix's "Orange Is the New Black," which debuts its second season on June 6. She has also appeared in "Sideways" and has a role in the upcoming "Life Itself" with Morgan Freeman and Diane Keaton. 
But in 1994, Reiner had just graduated from Vassar College, where she studied acting and biopsychology. She and her first love--her now husband, David Alan Basche, who stars on the sitcom, "The Exes"--returned to Manhattan and got wind of an apartment for rent on West 84th Street.
"My dad's ex-girlfriend told me about a great 600-square-foot basement garden duplex for only $965," Reiner says. "It was all about the outdoor space."
The lower floor was partly below ground and housed the kitchen and dining area, plus a terrace. The upper level had a single bedroom, which opened to another outdoor seating area. The place got plenty of light thanks to sliding glass doors on both floors. 
"The only thing that was a tiny bit of a negative was having to go downstairs to use the bathroom in the middle of the night," says Reiner. "But even that wasn't so bothersome."
They furnished it with IKEA and parental hand-me-downs, and little by little invested in better pieces, cleaned up the outdoor spaces and, three years after moving in, got married. Still, planting grass was a "nightmare," she says. "Eventually we planted amazing roses, only to come back from our honeymoon to find them eaten by our neighbors' kids' pet rabbits!"
Rabbits aside, it was the sense of having a haven in the urban jungle that appealed most, even if rent eventually went up to $1,300 a month.
"People would come over all the time, sit outside, and remark how they felt they were in a home outside the city," Reiner says.
But when Reiner and Basche began thinking of starting a family (they now have a 5-year-old daughter), they decided to find something bigger. After looking at 106 apartments--and going into contract on five of them only to be outbid, sometimes by more than $100,000 cash--they found an empty shell in Harlem where they could replicate their duplex. 
"The problem was we were spoiled. We wanted our exact apartment in our exact neighborhood, only bigger," she says. "We couldn't do without the dual levels and multiple outdoor spaces.  We wanted to keep that feeling of having a suburban house in the city."
After a complete rebuild of the brownstone townhouse, they moved in in 2007. Just a few subway stops away, the new place has outdoor space on two levels and a backyard, plus a rental unit for Reiner's younger sister. 
"In New York City, your immediate neighborhood becomes your town, so having lived for so many years on the Upper West Side, the transition to Harlem, although so close, was hard at first," Reiner says.
Not to mention, the Upper West Side duplex--which now rents for almost three times what Reiner paid in the 1990s, according to StreetEasy--was the site of so many milestones. 
"I got my first commercial there, my first off-Broadway play and my first major movie, 'Sideways,' whilst living there," she says wistfully. "I experienced my marriage there and sadly, my father's death there. It was just so symbolic of so many firsts in my life."
Related posts:
The one that got away: The bed bugs did it
The one that got away: 'I gave up my chance to buy my East Village 2-bedroom for a laughable $90K'
The one that got away: Loving and losing in NYC real estate
---
The One That Got Away chronicles stories of love and loss in NYC real estate.
Brick Underground articles occasionally include the expertise of, or information about, advertising partners when relevant to the story. We will never promote an advertiser's product without making the relationship clear to our readers.