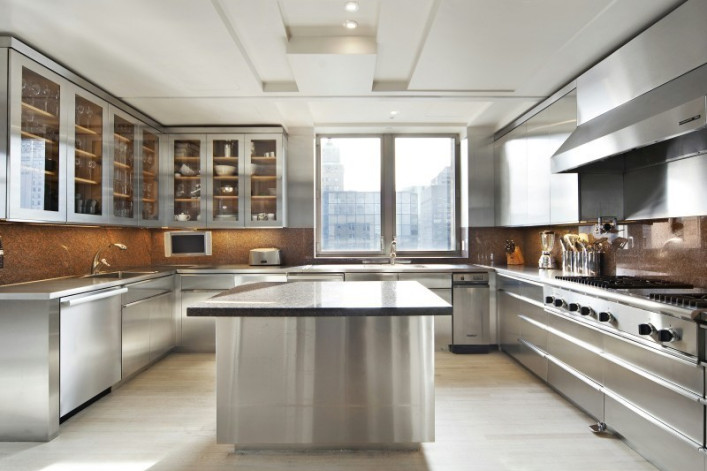 Sometimes, the best home improvement is getting a new apartment. Updated kitchens and in-unit laundry are good too. Below, five New Yorkers weigh in on their coveted dwelling fixes.
Laundry closer than the basement I would love to be allowed a laundry unit in my apartment. Who wouldn't, right? It's not a huge inconvenience to go down to the basement to do laundry. But once I had to have knee surgery and couldn't even really manage that! There are people here even older than me. I don't know how they manage without having to hire help. - Clarice, Hamilton Heights
A design-mag-worthy revamp My roommate and I love interior design and we have the same tastes, so there is so much we could do to our place! There are some trends we'd love to try out, like turquoise ombre walls. We'd love to change our ugly rental light fixtures, and put some molding on the walls and doors that'll give the place more character! We love antique furniture and looking at cool pieces at the flea market. But alas, we are in a rental and can't do any overhauls.  And even if we could afford to buy non-IKEA furniture on a joint budget, it makes no sense, since we won't be living together forever.  - Beth, Park Slope
Rewire to avoid a fire I'd love to have the electrics in this whole place redone. We swapped out outlets in this place from two-prong to three-prong ones and the wires inside were practically falling apart--crumbling tape and wire wrapping and frayed ends. Sometimes I think we're one electronic device away from a fire. - Ernie, Upper West Side
A kitchen that's not on its last legs I want a new kitchen. I hate my kitchen. It sucks. I'm in a rental, so… The drawers stick, and drawer faces pop off when you yank the handle too hard.  The cabinet doors are wobbly. There's not enough storage or counterspace. There's also no natural light because there is no window. All the appliances are dated and ugly.  - Yasmin, Harlem
Same building, more square feet I really love my apartment. But an apartment in my favorite line in the building just became vacant. I'd love to switch apartments! It's more spacious, so that means more square footage and higher maintenance, but it would be worth it. More space is always better. Plus, the views from that line are amazing. If only it was in my budget… -Tess, Morningside Heights.
Related posts:
The 7 worst places to live in a building
10 first time renovation mistakes even New Yorkers make
Moving to NYC? Here's a crash course in finding an apartment here
Brick Underground articles occasionally include the expertise of, or information about, advertising partners when relevant to the story. We will never promote an advertiser's product without making the relationship clear to our readers.