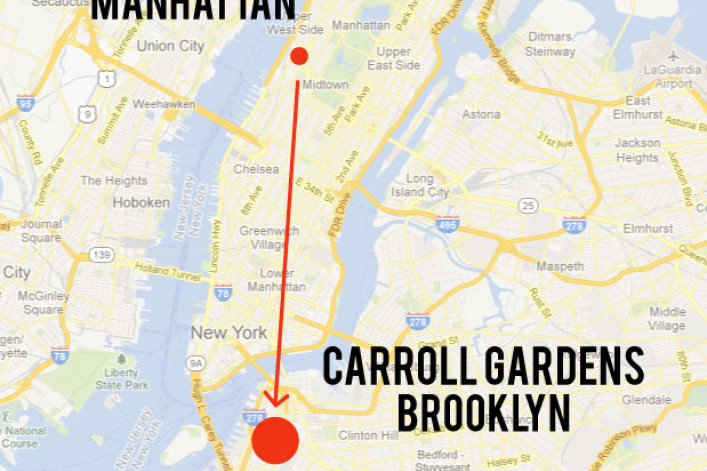 The apartment: Room for a sectional
Four years ago, I rented  a 500-square-foot alcove studio in one of the big Trump buildings on the westernmost slice of West 66th Street. It's a micro-neighborhood of the Upper West Side known as Riverside Boulevard. When I moved, I was paying about $2,300 a month; my rent eventually went up to $2,850.
The finishes were what you'd expect in a luxury building and the bathroom was huge. But the apartment was horrible. It looked onto a brick wall, and I only got sunlight for a few hours in the morning. Sometimes. I used the cleaning service, which was $50 if you did it every two weeks. I also loved dropping my laundry off in the morning and picking it up from the concierge in the evening.
My new apartment is on the third floor of a 10-unit, pre-war walk-up in Carroll Gardens. It's an 800-square-foot two-bedroom condo with a dining room. I've always dreamed of having a sectional couch and now I do!
I liked this apartment because it wasn't cookie-cutter, like a lot of the other ones I saw in Brooklyn. I paid $570,000 cash for it. It was first listed for $700,000, but it seemed like the price went down by $10,000 every week I checked it. 
I've put in about $95,000, replacing the floors, the ceilings, getting all new appliances, soundproofing, getting rid of the dumbwaiter, adding a window and reconfiguring some rooms. That process took about five months, and I moved into the apartment about a month ago.
I wanted to buy for several reasons: I was involved in a company buyout and had an influx of cash, and I wanted to lower my monthly costs in case I decided to leave my new company. My expenses are significantly less now.
The neighborhood: Less remote, more artsy
I bought in Brooklyn for two reasons: I have a good friend who lives in the area and I couldn't afford the same apartment if it were in Manhattan.
That said, I never would have stayed in my old neighborhood. It took 15 minutes to walk to anything. Sure, we had a couple of mediocre restaurants, which kept changing, a not-so-great supermarket and a coffee shop/real estate office. It's great in the summer when you want to go to Riverside Park, but otherwise, not so much. Also, the people who live in that pocket of the Upper West Side are all executive types.
My new neighbors are more artsy (and I've already met eight out of 10 of them). I think I need to grow a handlebar mustache and get some skinny jeans to fit in.
There's much more street noise in my new apartment from cabs and a nearby police station. My old place looked onto a courtyard, so the only noise I'd occasionally hear were kids' birthday parties, which were much more annoying!
We have great restaurants and shops nearby. I really like Buschenschank, a German restaurant with good beer and food. Koto Sushi is really good too. I also like Cafe Luluc, a bistro-type place.
The closest supermarket to me now is Met, which is your typical big NYC supermarket with slightly surly cashiers. The new Whole Foods is about 10 blocks away, and I plan to go there a lot. I only buy what I can carry, but they do offer delivery.
The commute: Same time, bigger crowds
The F and G trains are about two blocks from my building, and it takes me about 30 to 35 minutes to get to my office in Chelsea, about the same as from the Upper West Side, because most of my commuting time on Riverside Boulevard was waiting for my building's shuttle--it was a 15-minute walk if you missed it. Now, waiting for the F takes longer than the 1, 2 and 3 did and it's packed.
Related posts:
Moving to NYC? Here's a crash course in finding an apartment here
Brick Underground articles occasionally include the expertise of, or information about, advertising partners when relevant to the story. We will never promote an advertiser's product without making the relationship clear to our readers.