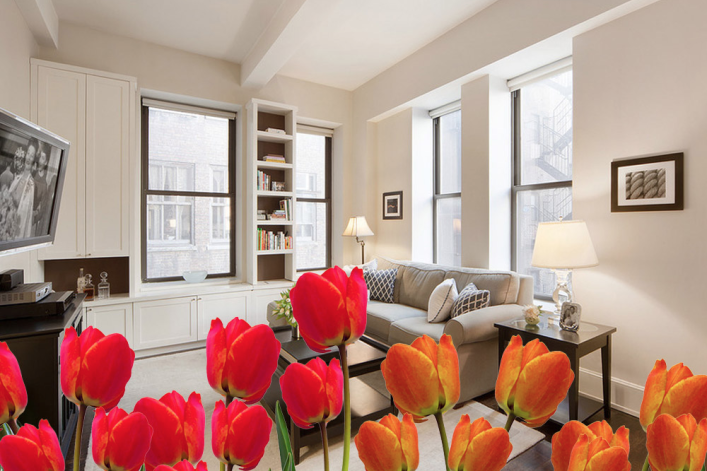 It's almost spring (hooray!), which means two things for New Yorkers: Get ready for that funky subway platform smell to kick in, and apartment-hunting season to kick off--with a vengeance.
Thanks in large part to the chilling effect of the polar vortex, the season's off to a late start, meaning buyers have had fewer homes to choose from than they normally would.
"We have sellers waiting until spring--actual, snow-free, green shoots spring--to list their properties. Sellers with outdoor space in particular are waiting to list, in part because they are unable to prep those areas for sale when they are encased in ice," Brooklyn-based real estate broker Tina Fallon of Realty Collective.
Here's what to expect in terms of listings, prices, financing and more this spring:
More apartments for sale; slightly less rabid competition
Last year's real estate market was particularly tough due to a historic lack of inventory. This year, expect a "slight" bump in available apartments, leading to a "less frenzied" environment for buyers, says appraiser Jonathan Miller of Miller Samuel. 
"I don't expect we're going to see the same torrid pace of sales, so inventory has time to edge higher and that takes some edge off of costs," he says, adding that "inventory is still chronically low."
What that could mean for buyers: More opportunity to find your dream home (rather than settle), and less likelihood of all-out bidding wars.
Competition-wise, expect your fellow-buyers to be "eager, but not desperate" the way they were in 2013, Miller says--or even during the boom years of 2004 or 2005 when "people would buy anything with walls."
Except in Brooklyn, maybe.
"In our market and for our primary property types, demand exceeds supply," says broker Donald Brennan of Brennan Realty Services, referring to larger co-ops, condos and townhouses in brownstone Brooklyn.
And if you're in the market for a brand new condo in Manhattan, don't expect a major increase in new development options--unless you're part of the one percent.
"In Manhattan, it's mostly luxury condos that are hitting the market, because land prices are at or near record levels. That doesn't ease inventory for the bottom 90 percent of the market," says Miller.  
You'll find more variety in the outer boroughs, since developers are building condos to cater to buyers with different budgets, says David Maundrell,  founder of Brooklyn-based brokerage aptsandlofts.com. "A price point that works in Park Slope will not work in Bedford-Stuyvesant for condominiums. Hence, finishes and unit mixes will vary. Same also for design concepts and style of the aesthetic of the building."
Modest price increases in Manhattan; more ambitious in the boroughs
Unlike the price jumps of 2013, this spring will likely bring only a moderate rise in prices in Manhattan at least, according to Miller. That's because the conditions fueling a sudden surge in demand last year have mostly dissipated.
"The well-documented increases of 2013 were a result of several factors," he says. "There was pent up demand leading up to the fiscal cliff at the end of 2012. The world didn't end, so people jumped into the market. Also mortgage rates spiked, so legions of fence-sitters came in concerned that they would miss out on lower rates."
Price hikes this spring are more likely to be concentrated in Queens and Brooklyn, where buyers are continuing to flock.
"Brooklyn has become a destination market, and is no longer just the more affordable location for those priced out of Manhattan," Miller explains. "Queens is the new Brooklyn now in that regard."
Brooklyn real estate broker Brennan says asking prices there now "reflect an expectation by sellers that the market will continue to move up."
That said, luxury condos are still a bargain in the outerboroughs compared to Manhattan. In fact, the threshold for luxury--the priciest 10% of home sales--in Manhattan is $3.2 million. In Brooklyn, it's $1.36 million, Miller says. It is interesting to note, though, that the threshold for Booklyn is the highest it's been in the six years since Miller's been tracking the data.
And new upscale condos are bringing the average prices up in the outerboroughs. According to the MNS Brooklyn New Development Market Report for the fourth quarter of 2013, the year-over-year median price per square foot was up 15 percent versus the previous year. 
"We're expecting record pricing across the board," says Maundrell.
One example is Toll Brothers' 108-unit Pierhouse condo at Brooklyn Bridge Park, where asking prices average $1,600 per square foot, according to a company spokesperson.
"There hasn't been a lot of new condo property in the last three years, and certain neighborhoods in Queens and Brooklyn have become more popular places to live," says Maundrell.
Miller says he's not seeing concessions much at Brooklyn's new developments, "but that doesn't mean there aren't any at all." Interestingly, he's seeing a bit more in Manhattan now (though he describes it as "nominal"), which may be a result of the fact that more new developments are hitting the market after a lull following the housing crash.
And what's on the market now is even swankier. Developers are "spending more for extra luxury finishes," like high-end appliances and iPod docks and speakers, Maundrell says.
"Lately we have really focused on the common outdoor spaces with features like customized roof decks and courtyards with outdoor kitchens and barbecues, outdoor showers, fully landscaped areas with lush green lawns and cabanas and custom-built furniture," he says.
Super-luxury condo pricing is likely to continue to be sky-high in Manhattan.
For example, "record pricing is expected" at the Woolworth Building, the iconic office tower where Alchemy Properties is converting the upper levels to condos, as well as 30 Park Place, which is set to be a Four Seasons Hotel and luxury condos, notes agent Elliot Bogod of Broadway Realty, who handles new construction sales.
Mortgages: Rates inch up; the process takes more time
After the rate for a 30-year fixed-rate mortgage jumped last week, it's holding steady at 4.21 percent. In 2013, the rates increased by a little less than one percentage point.
It's unclear what will happen with rates in 2014. A lot depends on macro-economic forces (the labor market, the actions of the Federal Reserve), but experts are not expecting as large an increase as last year. 
New mortgage lending standards took effect on Jan. 10, and while they're designed to lower the risk of default--by offering lenders legal protections if they enforce certain minimum standards on loans--they have complicated the process of financing a home purchase.
In short, prepare for more scrutiny if you need a mortgage. "Loans will have to have full documentation of the ability to repay," says Robbie Gendels of National Cooperative Bank.
Financial institutions are now analyzing a borrower's ability to repay based on  credit and financial information, including credit history, current income, expected income, current obligations, debt-to-income ratios, employment status, and other financial resources.
"It's more of a process," Gendels adds. "Borrowers have stated that it feels more like an audit. It's a more time-consuming and paper-intensive procedure, but we are certainly still making loans."
Related posts:
Turn your apartment into a piggy bank without breaking the law
Brick Underground articles occasionally include the expertise of, or information about, advertising partners when relevant to the story. We will never promote an advertiser's product without making the relationship clear to our readers.