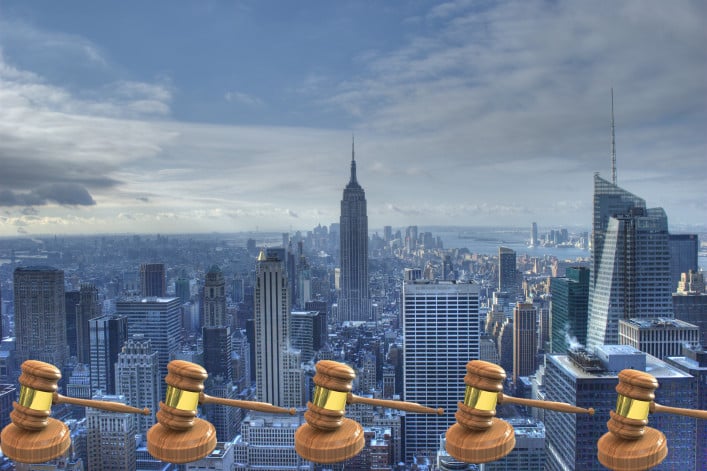 Owning a co-op or a condo sometimes feels like living with endless constrictions, from the seemingly limitless power of co-op boards to the specificity of condo contracts. They're the product of dramatic legal disputes between buyers, board members, developers and other real estate players that have shaped the way we live in these buildings now.
Here, five influential courtroom showdowns in recent history--and what they mean for you.
1. The Levandusky case: Co-op and condo boards can do pretty much anything, as long as it's for the right reasons
The details: This is a story of a co-op board president carrying out a renovation against the board's permission--and of the board winning out in the end. 
In 1987, Ronald Levandusky, the board president at One Fifth Avenue in Greenwich Village, wanted to remodel his kitchen. He mentioned to his architect, who was retained by the board, that he planned to move or "jog" a steam pipe riser in the kitchen as part of the project. The next spring, Levandusky submitted plans to the board without mentioning the steam pipe, and the board approved them.
Not long after, the board figured out what he wanted to do, and after an engineer concluded that moving the riser could lead to future plumbing problems, they vetoed the reno. But that didn't stop Levandusky, who went ahead and hired a contractor to do the work. After the board ordered him to stop, he sued. And he lost--big time.
The takeaway: The upshot was that courts rarely question boards' decisions, even if they turn out to be unwise, as long as their actions are "taken in good faith" to further their "lawful and legitimate corporate purposes"--known as the business judgment rule.
Since then, the business judgment rule has been applied to virtually every sphere of a board's operations--from renovations, to assessments, and much, much more.
2. The Pullman case: Boards have a nuclear option when it comes to obnoxious owners
Talk about a nightmare neighbor. Soon after moving in to his Upper West Side apartment in 1998, David Pullman began making enemies. 
After butting heads with the board, he accused his upstairs neighbors--a retired professor and his wife--of running an illegal book-binding business from their apartment, storing dangerous chemicals as a result, and watching the TV too loud. He distributed flyers claiming she was having an intimate relationship with the board president's wife. He made alterations without getting permission. He filed four separate lawsuits against the building, the board, and his neighbor. He even got into a physical fight with the professor. 
Eventually, the co-op owners voted unanimously to kick him out. Specifically, they directed the board to terminate his lease (the co-op equivalent of a deed) and take back his shares in the corporation that owned the building. 
But not so fast. Pullman sued, opening up a tortuous legal battle. Though he initially won the case--a lower court agreed that the vote was not enough to cancel his shares--the state's highest court found that, as in the Levandusky case, the business judgment rule applied. In other words, as long as the board had acted in good faith, and after it had proved that Pullman's conduct was objectionable, it was free to exercise its will.
The takeway: Aside from creating a new verb--as in, "Let's Pullmanize that sociopath on the ninth floor"--this case affirmed co-op boards' power to toss out noxious apartment owners. The significance of this power cannot be underestimated, says real estate attorney Steve Wagner of Wagner Berkow. 
"The power to give the boot to misbehaving residents is a huge source of leverage and a tool for negotiating the smooth transition of an objectionable tenant out of a building by a voluntary sale of the apartment," he says. "Basically, it lets you maintain the peace while getting rid of a bad apple."
What's more, points out Wagner, it's a power that's unique to co-op boards. 
Because owners get deeds instead of proprietary leases, "Condos have no similar 'nuclear weapon' at their disposal," Wagner says, "making it that much harder to enforce the rules or get rid of objectionable residents."
To be sure, Pullman isn't carte blanche to throw out a merely annoying neighbor, and courts have nixed plenty of attempts to do so. (For a step-by-step guide to doing it right, see Wagner's "How to Kick a Nasty Neighbor Out of Your Co-op.")  
But if someone repeatedly flouts a rule--smoking in hallways or illegally subletting their apartment--and disregards the board's warnings, then it's au revoir.
"As long as there was no self-dealing, no corruption, no discrimination, as long the board and the shareholders act in good faith in accordance with their corporate documents--their proprietary lease--a court will always defer to the wisdom of the board or co-op," says attorney Adam Stone of Regosin, Edwards and Stone.
The Rushmore, a 289-unit luxury condo building at 80 Riverside Boulevard, was a much hyped, much coveted piece of real estate developed by mega builder Extell Development and the private equity firm the Carlyle Group. The apartments hit the market in 2006, and by 2008, at least 41 buyers had put down deposits amounting to $16 million. 
Then, the housing bubble burst. All of a sudden, plunking down hundreds of thousands of dollars as a deposit for a shiny new condo didn't seem like such a smart use of money. 
In early 2009, one of the Rushmore buyers went to the Attorney General's office--which oversees the sale of co-ops and condos--to get out of his contract. To back up his case, he pointed to the fact that Extell and Carlyle had stipulated in the offering plan (the gargantuan document that sets out exactly how a condo project will take shape and when) that they would close the first sale by Sept. 1, 2008--but by the following February no deals had closed.
If that were true, the buyers would be entitled to get their deposits back within 15 days. Soon after, more buyers joined in, demanding Extell and Carlyle rescind their contracts and refund their money. 
The developers' response? It was a typo. A "scrivener's error" meant that the offering plan was a year off; in reality, the first closing wasn't due until Sept. 1, 2009, the developers claimed.
Then Attorney General Andrew Cuomo found in favor of the buyers back in 2010, but the developers filed lawsuits in federal and state courts to undo his decision. Ultimately, the courts ruled that Extell and Carlyle had to refund the money, though litigation continues over interest payments and other quarrels. 
The takeway: Though the buyers ultimately came out on top in this one, the years of legal standoffs underscore how important it is to have your lawyer read (and reread) the offering plan when you're buying a new condo. 
"I see it as a victory for the little guy--if you can call purchasers of multi-million dollar apartments the 'little guy'!" says Stone. "While the [developer's] law firm probably did make an unintentional typographical error in the offering plan, a one-digit typo can have major legal and financial consequences. Which is precisely why lawyers need to proofread documents over and over and get a second or third set of eyes to help proofread."
4. The ILSA cases: A technicality can get you out of a condo contract
Another group of cases started from similar circumstances: when the New York City real estate market bottomed out in 2009, buyers scrambled to get out of their contracts. After all, some had purchased condos that lost 40 percent of their value before even being built. 
One legal maneuver, made popular by real estate attorney Adam Leitman Bailey, relied on the Interstate Land Sales Full Disclosure Act, or ILSA, a federal law that protects condo buyers but was almost unknown in New York. 
"Most developers do know about this law," says Stone. "Maybe they misinterpreted it and thought it wouldn't apply to them. The truth is, before the collapse, nobody cared. The economy was good, nobody was looking to get out of anything."
These ILSA cases originated with Vasilis Bacolitsas, a Greek shipping executive, and his wife, who put down a $510,000 deposit on a three-bedroom at the Brompton, an Upper East Side tower constructed by the Related Companies.
In theory, when developers are building condos, they must submit a description of the tax lot of each condo in a form "acceptable for recording"--in other words, in a format that becomes part of the city's official property records. But in practice, condos are often pre-sold before construction, and condos aren't assigned tax lots until construction is complete. So buyers often sign contracts before a proper description is filed.
Initially, in 2010, a federal court sided with Bacolitsas. But in December 2012, a federal appeals court overturned that ruling, finding that Related did not have to refund his deposit because of ILSA. While the case is still technically ongoing, Bailey says that the "ILSA cases are over. That loophole is closed."
A bill is currently pending before the U.S. Senate to amend ILSA to make an exception for condos with 99 units or more; it passed unanimously in the U.S. House of Representatives.
The takeway: The main lesson here? Creative and innovative lawyers will always find a solution, no matter how obscure, says real estate attorney Marc Fitapelli of Fitapelli Kurta. "I had several of these cases and I remember other lawyers laughing when I told them what we planned to do. The litigation results were mixed, but in the end many buyers had the last laugh."
Even if Bacolitsas lost on appeal, Stone says that he was able to get deposits back for some clients simply by threatening an ILSA suit. And many developers faced with a court battle wound up settling, letting buyers recoup their deposits.
5. The Biondi case: Co-op board presidents sometimes have to pay damages out of their own pockets
The details: This case dates back to 1995, when Simone Dimou, a resident of the Beekman Tower Hotel in Turtle Bay, decided to sublet her apartment to an interracial couple, Gregory and Shannon Broome. Initially, the board president, Nick Biondi, told her that he'd meet with them first, but that an interview with the full board wasn't necessary. 
After he met Gregory, who is black, and Shannon, who is white, the board president apparently told another board member about his race, noting that he was "uneasy" with him. Soon after that, the full board was summoned to interview the couple and unanimously vetoed their sublet application. 
Dimou cried racism and was promptly slapped with a notice of default for her "objectionable behavior." In February 1996, the Broomes sued the building and the board for racial discrimination; the building fought back with a counterclaim and a defamation lawsuit against Dimou. 
In the end, a federal jury found that Biondi and the board had violated the Fair Housing Act by denying the Broomes' application for racial reasons. They awarded the couple a total of $640,000 in damages, while Dimou won $164,000. 
But here's where any board president should perk up her ears: Of the total damages awarded, Biondi was personally responsible for paying $355,000. The building's insurance kicked in for some of the damages and his legal fees, but the president still had to pay $125,000 in punitive damages himself. And when he tried to sue the co-op for the money, he lost.
The takeway:  The lesson here is pretty simple, according to Fitapelli: "He was found to have have done something very wrong. Punitive damages are never covered by insurance. You can have the best car insurance coverage, but if you drive drunk and hit somebody, you're on your own."
One other thing: if you sit on the board, do not take the responsibility lightly. "It's scary to serve on the board," he says.
Related:
The Board Room: Dealing with problem condo owners--including hoarders, renters, and noisemakers (sponsored)
Your rental building's going condo. Now what?
How to kick a nasty neighbor out of your co-op (sponsored)
Brick Underground articles occasionally include the expertise of, or information about, advertising partners when relevant to the story. We will never promote an advertiser's product without making the relationship clear to our readers.