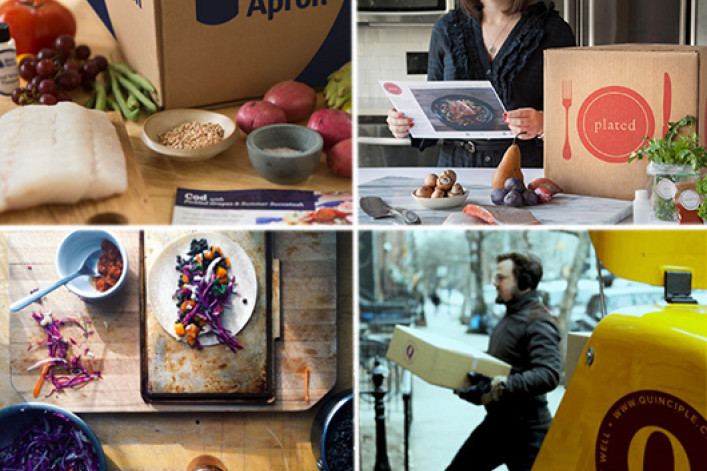 Grocery shopping in New York City is, to put it mildly, a hassle: maneuvering the cart in cramped aisles, spotting the Trader Joe's "line ends here" sign parked a mile from the cash registers, lugging your bags home and up the stairs. If you're not keen on FreshDirect (pricey and planning-intensive) or take out (pricey and unhealthy), check out these meal delivery services that promise to take care of your dinner needs.
Plated will send you pre-measured ingredients and recipes from upcoming and established chefs so you can quickly cook your own gourmet meals. You can choose between seven different recipes each week, with at least one gluten-free and/or vegan option offered. All of the items are locally sourced; you'll get details on cooking equipment and anything else you'll need, like salt and pepper; and the package comes with calorie counts. 
Deliveries don't require a signature and are packed in insulated boxes with cold packs to keep ingredients fresh. If you're not home, the delivery person can leave boxes at your doorstep, with a neighbor or with a doorman. Choose between a monthly membership for $10 a month (plus $12 per plate) or an annual membership for $8 a month (plus $12 per plate) or pay as you go. Memberships allow you to save $3 for each plate, while pay as you go is $15 per plate. 
Similar to Plated, Blue Apron offers pre-portioned, seasonal and local ingredients. However, they also offer a range of recipes to choose from at any one time, with multiple vegetarian options. Each meal is between 500 and 700 calories and takes 35 minutes to prepare on average. If you aren't home to receive deliveries or don't have a doorman, there's no worry: the ingredients are packaged in a refrigerated box so food will stay fresh. A weekly subscription includes three meals for two people and is priced at $60. There are no monthly or yearly commitments, so you can skip any week as long as you let Blue Apron know by their weekly deadline. 
Serving the Upper East Side, Upper West Side and lower Westchester County, Clear Cut Meals will ship your ingredients chopped, diced, minced, blended and whisked, cutting prep time down to 15 minutes. Select what you'd like from more than 50 entrees, sides and desserts, add them to your cart, and they'll be delivered later that afternoon. Prices per plate are typically between $9 and $15.
Quinciple sources ingredients from local farmers and producers. Instead of offering specific recipes, they deliver a box full of ingredients each week, including meat, fish, produce and so on, with tips and recipe ideas. Every box makes at least two different dinners for two people and starts at about $50 for home delivery. Quinciple services most of Manhattan and downtown Brooklyn with pick-ups available at local Brooklyn businesses for a lower cost of $38 per box.
For Sweet Roots NYC, you create a preference profile to ensure you never receive an ingredient you don't like (and keep things vegetarian or vegan if necessary). Each Friday, you're provided with a custom menu that can be altered up to the confirmation deadline on Monday at 6 p.m., and all ingredients are prepped and labeled (the dish above is a vegetarian quesadilla). Pricing starts at $12 per meal for breakfast, $16 per meal for lunch and $25 per meal for dinner. There is a $75 minimum per delivery.
The same deal as Plated and Blue Apron, chefs at HelloFresh create three tasty, simple recipes, and fresh ingredients are delivered to your home each week. There are no subscriptions. You choose between the classic box for omnivores starting at $69 or the veggie box for herbivores starting at $59. Each box yields three meals, either for two or four people.
Related posts:
No doorman? No problem, thanks to these 5 cool finds
Brick Underground articles occasionally include the expertise of, or information about, advertising partners when relevant to the story. We will never promote an advertiser's product without making the relationship clear to our readers.