Flip or Flop?
Will this Upper East Side seller get $6.5 million more than what he paid in February? Maybe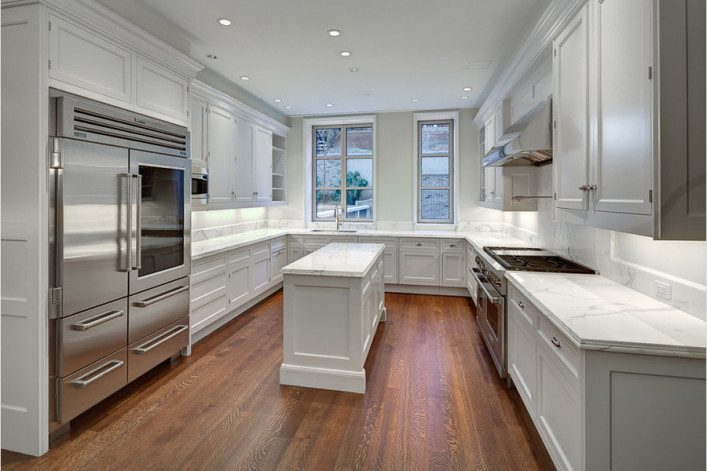 In a rising real estate market, it can be hard to tell the difference between a fair asking price and dream-on numbers. BrickUnderground periodically examines homes on the market for significantly more than their most recent sales price and, with the help of experts and the number crunchers at real estate listings and property data website Point2 Homes, we try to figure out why--or why not--the asking price is worth it.
The numbers
Asking price: $18.5 million
Previous sale price: roughly $12 million (including a $112,500 storage unit)
Difference: $6.5 million
Markup: 54%
Listing date: March 17, 2014
Days since last sale: 25
The property
This maisonette is something of a hybrid—a luxurious townhouse-style home at the base of a new condo development at 135 East 79th Street and Park Avenue.
The owner, according to public records, is Gerald Erickson, Jr., reportedly an heir to a convenience-store fortune, who bought the place when the building was little more than a mud pit.
The developer, the Brodsky Organzation, had originally intended the space as two units: a five-bedroom maisonette spanning 4,322 square feet, plus the development's lone studio, a relatively modest 492 square feet. But Erickson and Brodsky collaborated during construction to combine the two into a single 4,803-square-foot home, according to Inez Wade, a broker at Stribling & Associates who has the listing.
The result has six bedrooms, five bathrooms, two half-bathrooms, a landscaped 972-square-foot private terrace, a custom floating staircase, private elevator access and two private storage spaces. The monthly nut includes $6,938 in common charges and $4,230 in taxes. 
"It truly feels like an elegant townhouse in a fully serviced building," Wade says.
Indeed, the 32-unit, 19-story development has the coveted look of an old Upper East Side co-op—a facade of carved stone, wood case moldings, herringbone-patterned floors. But it's also got the bells and whistles you'd associate with a new development, like an exercise room, a yoga room, a resident's lounge with a private catering kitchen, and a recreation room.
Erickson, who lists Vail, Colo., as his residence in records, was keen on making the place his own; he'd even put down deposits on an audio visual system, and the wall coverings, chandeliers and some furnishings had been delivered, Wade says. But his plans changed after the sale closed, according to Wade, who declined to elaborate.
The takeaway
Wade says she arrived at the asking price by looking at comparable properties on the Upper East Side and valuing the outdoor space at half that of the interior space. That would make the property 5,289 square feet and the price $3,500 a square foot. Without the terrace, the price breaks down to $3,852 a square foot.
"This was a very thoughtful computation based on other comparable product in the marketplace," she says.
Only two condos larger than 4,800 square feet have closed on the Upper East Side in the last 90 days, according to StreetEasy, averaging out to about $7,400 a square foot. One of them was, in fact, a penthouse at the same building.  
But is this home really worth $6.5 million more today? Several reasons may explain the spread.
The first is that Erickson signed the contract in late October 2012—before the market for high-end homes, particularly Upper East Side condos, had caught fire, says Jonathan Miller, president of appraisal firm Miller Samuel.
The convenience store scion was also one of the earliest buyers at the project and bought at a "pre-construction price," says Wade. Typically, developers "ratchet up" prices as a project gets closer to being done, and the first round of buyers effectively gets a deal, Miller notes.
"They, in theory, gain instant equity even if the market isn't rising all that much," he says.
And lastly, greater contiguous space almost always commands a premium, Miller says. For example, a two-bedroom the size of two one-bedrooms will sell at a higher price per square foot than the one-bedrooms separately.  
Of course, this wasn't a traditional combination, where someone buys two apartments, does a big-ticket renovation, and then puts them on the market as one. "When people are buying a combination in a new development, they generally don't pay a premium for the combination," Miller says.
But Erickson has still set an asking price that factors in the combo bump, says Miller, who was careful to note that he has not appraised the property and cannot say whether it's worth $18.5 million.
As for how this stacks up against comparable properties, it's difficult to say. Maisonettes are already rare, let alone one that's this size, with two levels, in a new development that features a bevy of condo amenities. For what it's worth, a brand new, 3,558-square-foot two-bedroom penthouse in the same building is also asking a cool $18.5 million.
Related posts:
Flip or Flop Update: Lenox Hill flippers shave $125K off their asking price
Flip or Flop: Did renovations really up this co-op's value by 75%?
Flip or Flop: The price for this Bed-Stuy townhouse spiked $650K in 3 days. Is it worth it?
12 tips for buying new construction with confidence (sponsored)
NYC Real(i)ty Speak: Lofty aspirations for the ground floor
---
Flip or Flop takes a look at apartments on the market for significantly more than their last sale price and provides an opinion on the increase.
Brick Underground articles occasionally include the expertise of, or information about, advertising partners when relevant to the story. We will never promote an advertiser's product without making the relationship clear to our readers.