The One That Got Away
The One That Got Away: 'I gave up a chance to buy my East Village 2-bedroom for a laughable $90K'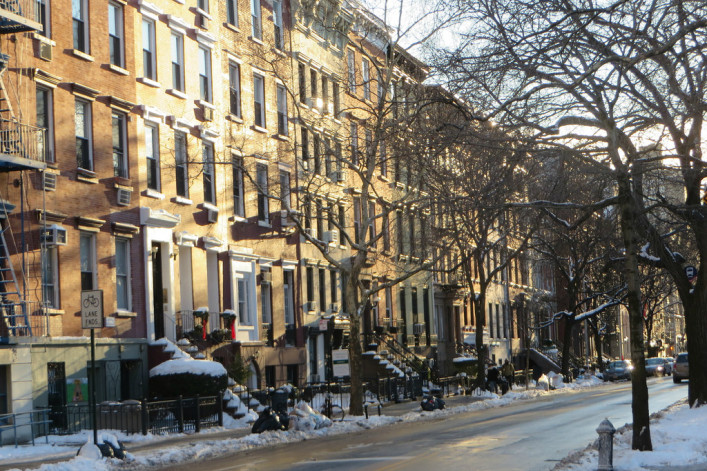 As a New Jersey kid growing up within spitting distance of New York City, David longed to make a permanent move across the Hudson. He got into the city's club scene as a teenager in the 1980s, "working the door at Limelight and doing various other promotions directly with Peter Gatien," he says.
It wasn't until 1990, however, at the tender age of 18, that he finally secured a place--a two-bedroom on East 9th St. between Avenues B and C for about $900 a month, which he found paging through the Village Voice.
Club king living
David moved in by himself but had a couple of short-term roommates in the year or so that he lived there. The area was riddled with drugs and crime and so was the building, but everyone wanted to crash at his place after nights out. 
It was convenient, and the apartment was a good size for a young, single guy who didn't cook, though the details are foggy some two decades later.
"The landlord was this kooky Puerto Rican guy that once in a while would barbeque in the small yard behind the building, even though he didn't live there," David says, adding "I had a feeling he was somewhat involved in the local drug trade."
Especially thrilling was staying out into the early morning and knowing there'd be no trip to the Port Authority to catch a bus back home to Jersey.
Hindsight hangups
After living there for a year, David got an offer from the owner to buy the place for $90,000. The landlord was headed back to Puerto Rico to retire and was trying to get as much liquidity as possible. 
"He told me he had owned that particular building since the '70s and had several others he would be turning into condos and selling the units," David says. 
David balked at the price--$90,000 seemed such a lofty sum for a dismal neighborhood—but spent a month thinking it over.
Ultimately, he decided the investment just didn't make sense. David figured something better would come along and eventually he moved to Gramercy--a much nicer neighborhood. 
"I didn't really give it much thought at all," David recalls. "That is until afterwards—years afterwards--when I could have probably sold it for ten times or more the amount I was being asked to pay."
David has had at least six other rental apartments (shares and sublets included) since his first NYC residence. Recently, he walked down the block trying to figure out the address, but the neighborhood has changed so much he couldn't even pick out the building.
What we do know: The median price right now for a two-bedroom co-op in the neighborhood is $725,000. The median for a two-bedroom condo is $1.95 million, according to StreetEasy.
He still kicks himself whenever he's down there: "If only I had known how trendy that area would become! Today, I'd be a millionaire."
Related posts:
The one that got away: Loving and losing in NYC real estate
The one that got away: I lost my dream home and all I got was this lousy $50K
An ode to New York City, on Valentine's Day
Landlord wants to buy you out? How to name your price -- plus real-life examples from $15k to $1 million
Hell's Bitchen: The one that got away
Moving to NYC? Here's a crash course in finding an apartment
---
The One That Got Away chronicles stories of love and loss in NYC real estate.
Brick Underground articles occasionally include the expertise of, or information about, advertising partners when relevant to the story. We will never promote an advertiser's product without making the relationship clear to our readers.