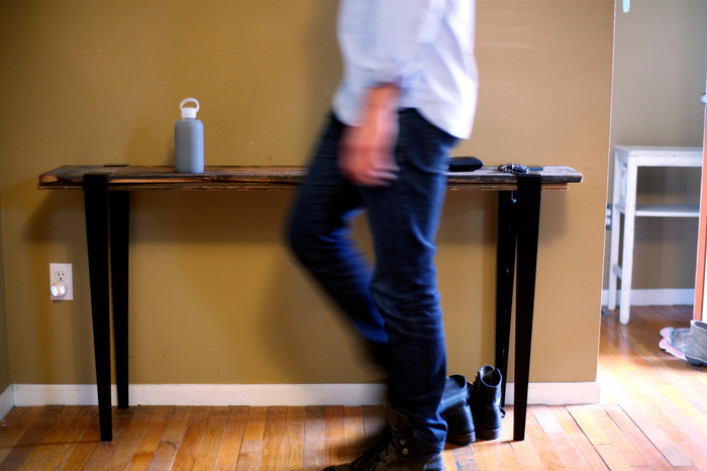 What's the next cool thing for your New York City apartment? We've rounded up a few contenders from designers and entrepreneurs hoping to make their ideas a reality via crowdfunding site Kickstarter. Whether a beautiful and efficient lightbulb, a versatile table leg or a radiator contraption that lets you control your steam heat, these apartment additions were all created to make your home life more livable.
The Floyd Leg
The Floyd Leg is the kind of invention that's so simple you wonder why it wasn't invented earlier. Made up of a set of four steel clamps, the contraption is basically a detachable table leg that turns any flat surface--from reclaimed wood to a door--into a table. The leg comes in two heights: 29" for a standard table and 16" for a coffee table.
The Floyd Leg is the brainchild of Kyle Hoff and Alex O'Dell, a pair of Detroit-based designers who took inspiration from a "nomadic" period in Hoff's life.
"In each new place, I found myself buying (and ultimately) discarding furniture," Hoff says on the group's Kickstarter page. "To solve this problem, I was looking for a work desk that was easy to pack up and move around with. In addition, I wanted something that was beautiful (don't we all?)."
The Kickstarter campaign, which wrapped up last week, raised more than $256,000, well over their $18,000 goal, from 1,400 backers. The creators plan to manufacture 4,000 Floyd legs, or about 10 times their initial expected run, Hoff told the Huffington Post earlier this month.
Plumen 002
The London-based team behind Plumen set out to "bring a little magic" to the humble light bulb and, much like Tesla did with electric cars, create an energy-efficient model that also looked beautiful. Their first effort was the Plumen 001, which works as a stand-in for 60 watt incandescent bulbs.
But for those darker moments--when you want an ambient glow in your living room or mood lighting in your bedroom--they're now working on the Plumen 002, an alternative to 30 watt bulbs that uses about 25% less energy than regular incandescents.
Based on a design from Texas sculptor Tony Greer, the Plumen 002 has an elongated shape; the blown glass bulb works naked or in a lampshade or wall sconce, either alone or hung in bunches.
"We see no reason why art can't live in everyday objects, especially when it comes to lighting," says founder Nicolas Roope in a Kickstarter video.
The Plumen 002 has raised $59,000--almost three times their goal--from 617 backers. The campaign finished two days ago, and they plan to start manufacturing in May.
The Cozy
It's a problem that seems particular to New York City dwellers: the clanging radiator that's impossible to control, blasting your apartment with heat even on mild days. While the Cozy won't stop the noise, it does promise to let you regulate your radiator from your smartphone, thereby controlling your own heat.
Radiator Labs founder Marshall Cox invented the Cozy as a PhD candidate at Columbia University when he found himself opening the window on winter nights to get relief from the uncontrollable steam heat, as he explains in a Kickstarter video.
So how does it work? The Cozy is a thermal cover for your radiator that traps heat inside, as Gothamist noted, while outside sensors monitor the room temperature and release heat through attached fans. The whole shebang is enabled with WiFi, letting you control the Cozy from a mobile app. 
Radiator Labs says it's beta tested the Cozy in about 300 apartments, and the Kickstarter campaign is aimed at funding their first large production run. So far, they have 109 backers who have contributed just over $13,000. The campaign ends in 22 days.
Brick Underground articles occasionally include the expertise of, or information about, advertising partners when relevant to the story. We will never promote an advertiser's product without making the relationship clear to our readers.