Neighborhood Intel
PropertyShark Foreclosure Spotlight: Midtown East condo hits the auction block--here's what you need to know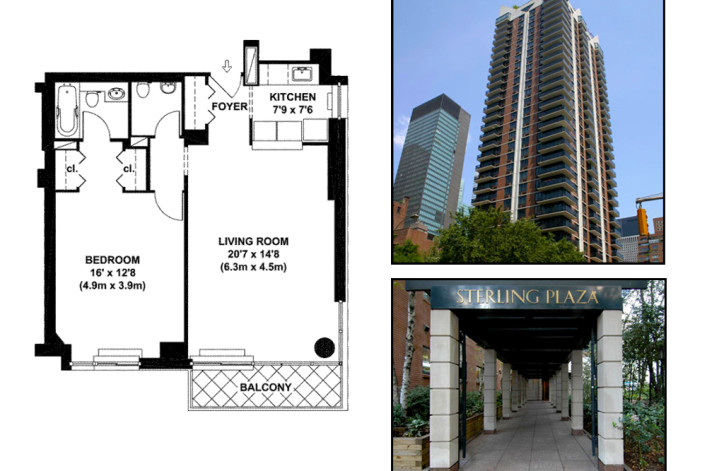 In this edition of the PropertyShark Foreclosure Spotlight, the focus is on a Midtown East condo up for auction on Wednesday, March 12. But should you hightail it to the courthouse steps? A look at the detailed property report from real estate data powerhouse PropertyShark.com may help you decide. 
The basics:
Address: 255 E.49th St. between 2nd and 3rd Aves. in Midtown East, Apt. 7B
PropertyShark property report: For basic information, click here. To unlock a free comprehensive report, register first, then click this link.
Size: 1-bedroom/1.5-bathroom
Building: 32-story mixed residential and commercial condo building with 172 residential units and 2 commercial units
Most recent sale price: $720,000 in 2005. A comparable but higher-floor 1-bedroom in the same line (#14B) sold for $815,000 in September 2013. A few months later, in January, apartment #25B sold for $925,000.
Foreclosure type: Unpaid condo common charges
Lien amount: $64,427
Minimum bid: Will be announced at the auction
Date of auction: Wednesday, March 12, 2014
Location of auction: Room 130, New York County Courthouse, 60 Centre St.
The facts:
The current owner bought this apartment back in 2005, early in the last real estate boom. Two years later, he put it on the market for $845,000. Over the next few months, he dropped the price to $795,000. 
When the apartment still hadn't sold by June 2008, the owner tried to rent it out for $3,500/month. 
Flash forward to 2012. After a number of unpaid monthly common charges, a lis pendens (or pre-foreclosure notice, the first step in the foreclosure process) was filed against the property in the amount of $5,197, as shown in the screenshot above.
A year later, his bank filed a lis pendens against the property when the owner failed to make payments on his $684,000 mortgage. However, the actual amount owed on the mortgage is still unclear—that won't be determined until the bank decides to ask for judicial intervention and move forward with the foreclosure process,  says PropertyShark senior data analyst Nancy Jorisch.
In October 2013, after common charges of $986 per month continued to go unpaid, a lien was filed against the apartment in the amount of $64,427.
While this might seem like a big jump from the $5,197 of just a couple of years prior, Jorisch explains that "on top of the nearly $1,000 a month that the owner failed to pay in common charges, there's also legal fees, the referee's fees, interest and other fees—all of which are compiled by the referee."
What else you need to know
1. You might be on the hook for more than the $64K lien
In addition to paying off the $64,000 lien, you could also be responsible for the mortgage--potentially up to $684,000. That adds up to $748,000, which is about $177,000 less than the most recent sale in the line. That apartment, 20 floors higher and possibly in better condition, went for $925,000 in January.
"At first when you look at this, you might think 'Wow, what a bargain,'" says Jorisch. "But this is a classic example of buyer beware—the foreclosure may be for only one of several liens against the unit."  She suggests calling the plaintiff's attorney (whose contact information is listed in Section A8: Foreclosure) to see if they'll give you any more information before the auction. 
To see what other liens or encumbrances you could potentially be subject to, check out Section C1: Liens of the unit's PropertyShark property report.
2. But at least the building looks to be in good shape 
A check of the building's property report (just type in the building address on PropertyShark's main page without any unit numbers attached) can show whether any major repairs are needed or whether large sums of money have recently been spent in order to fix something in the building. In this case, a look at Section F3: Permits and Section G: Violations reveals no major violations. In addition, the permit section indicates that other owners in the building are investing in their apartments, which is a good sign, says Jorisch.  Translation: the building is probably in fairly good condition. 
3. This auction might not happen in March after all
There are a number of things that stop the clock on a foreclosure, including declaring bankruptcy, says Jorisch, so even though the auction's been scheduled for March 12, it might very well be cancelled at the last minute.
Call the auction referee or the plaintiff's lawyer, whose contact information is listed in Section A8: Foreclosure, to make sure the auction is still a go before heading on over to the courthouse.
But even if the unit owner does manage to stave off foreclosure this time around, you can be fairly sure that that pesky $684,000 lis pendens will more than likely have this condo back up on the auction block again before long, so be sure to click "Add to Watch List" on the top right of the report. Once you do that, you'll get an e-mail when any new record is filed for this property, including deeds, foreclosure filings and building permits. 
---
PropertyShark.com is a real estate website that provides in-depth data for more than 75 million properties in New York City, Philadelphia, Los Angeles, San Francisco Bay Area, and other major U.S. markets. The company covers most of the U.S. with a primary focus on the New York real estate marketplace. Click here to see what services and data are offered in your area.
More from PropertyShark.com:
QuickTip: How to check for liens before you make an offer (and why you should)
How to buy an apartment that's not for sale
How to find the real owner behind an LLC
3 more ways to find the real owner of a NYC property 
Map of the Month: Toxic sites in New York City
Map of the Month: See every groundfloor retail space in NYC--for your buying, renting and shopping convenience
Map of the Month: See every co-op and condo with a parking garage in NYC
Brick Underground articles occasionally include the expertise of, or information about, advertising partners when relevant to the story. We will never promote an advertiser's product without making the relationship clear to our readers.