Transitions
Park Slope to Roosevelt Island: More reasonable rents, better views, and a pretty perfect neighborhood if you don't need much nightlife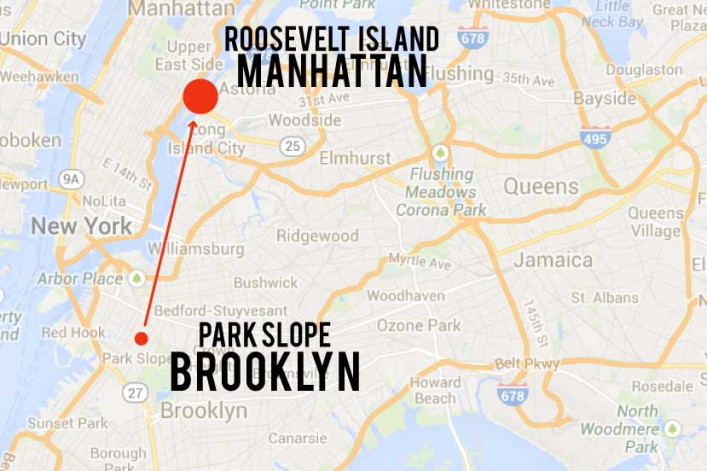 I am originally from Los Angeles and moved to Park Slope three years ago.  I lived with one roommate in a three-bedroom, 1,000-square-foot apartment. Thanks to rent regulation, our rent was $1,800 per month.
I was 10 minutes away from Barclays Center and 10 minutes away from Prospect Park. Basically right in the middle of all the activities, between Fifth and Sixth Avenue, in one of the pre-war apartment buildings near Union Street.
I really liked that Park Slope had rows and rows of beautiful brownstones. I loved strolling on Seventh Avenue. I also liked having so many nice, delicious restaurants. There were lots of coffee shops, flower shops, and brunch options.
For brunch, I love Apertivo on Fifth Avenue, which was literally a five-minute walk from where I lived. They have very inexpensive brunch options and you can add unlimited mimosa/bloody mary/bellini for $3.99. I also loved Miriam's, which has tapas and a great happy hour.
There are tons of coffee options and I know everyone talks about Gorilla Cafe, but I thought Kos Kaffe was really good on Garfield and Fifth Avenue. Cafe Martin is also great on Fifth Avenue.
I liked how safe Park Slope was. It's a great place for families. The neighborhood was great for people watching from café windows where you can read and relax.
Park Slope definitely has a very "neighborhoody," family feel. You almost don't need to go into Manhattan because everything you need is in the surrounding area.
But if you want to venture out, transportation to and from Park Slope is convenient. The Atlantic Avenue terminal is the main hub for transportation—you can get every train there and the LIRR.
It was only 15 minutes from SoHo/Lower Manhattan on the 4/5, which was great AND you can walk across the Brooklyn Bridge, which I've done several times. However, Midtown and Upper Manhattan are more of a trek to get to.
I know that Park Slope is considered one of the best neighborhoods to live in New York, but I really wanted to experience THE CITY. That was my first big reason to move…I felt like Brooklyn just still wasn't the city (especially for a young professional such as myself who is always out and about in Manhattan). 
Second, the building I lived in Park Slope was quite old, so there were NO amenities, limited views and a lot of things were falling apart.
Third, the commute was too long for me because I work in Midtown. Even though Park Slope has an assortment of train options at the Atlantic Avenue hub, traveling for over an hour to Midtown each way was starting to take a toll.
Lastly, but not least, I wanted the city views.  It was really important to me that if I were to give up this great Brooklyn neighborhood with plenty of space, I had to gain a view of the Manhattan skyline. 
I started looking elsewhere--primarily in the East Village and then Hell's Kitchen. Space was a big issue in those neighborhoods. There was also never enough light coming into the apartments. I liked some studios and one-bedrooms I saw in the East Village, especially with brick walls, which are a nice touch, but they were very dark inside with absolutely no views (unless you want to count a brick wall as a view.) Also, I found the East and West Villages to be very loud, and while I absolutely love dining and hanging out in those neighborhoods, living there seemed too much for me
After exhaustively looking in the East Village, Greenwich VIllage, the Financial District, Hell's Kitchen, and Upper East Side, it took me five minutes to decide on the Roosevelt Island apartment. I walked in and saw the floor-to-ceiling windows and saw the gorgeous view and was it was a done deal!
My fiancé and I moved into a $2,400 per month one-bedroom, 750-square-foot apartment in one of the newest luxury high-rises on Roosevelt Island. OK, maybe it isn't ON the island of Manhattan but technically it is considered Manhattan... (A Manhattan apartment of the same size would have cost an additional $1,000, and we couldn't justify the additional cost.)
The building offers 24-hour concierge, amenities such as valet service, free gym and laundry service all included, and best of all…we have an amazing view of the Manhattan skyline and Hudson East River!
Our apartment faces the East Side, so we get the beautiful unobstructed view of the skyline with the Queensboro Bridge and the Hudson East  River.
At first, I was very concerned reading the reviews of people saying Roosevelt Island is really isolated and transportation is inconvenient, but that is NOT true at all. I don't think they actually live here! 
Transportation to and from Roosevelt Island is so easy. The F train comes so fast and you can get anywhere in the city in less than 30 minutes AND the aerial tram is amazing and runs until 3 a.m. My commute to work in Midtown is a breeze—it was cut by more than half, to 20 minutes door to door!
If you work in Midtown or Upper East Side, it's definitely a great commute. If you work in Lower Manhattan, it's still only 20-25 minute train ride. If I want to go out, a 5-10 minute subway ride doesn't bother me at all and it won't stop me.
There aren't as many food/entertainment/activity options as Park Slope, but Riverwalk Bar and Grill is amazing. They have an express stand where you can get take-out, and the food is delicious and fresh. They even bake their own pastries. Fuji East is also great which is across from Riverwalk. Good sushi, great prices.
Starbucks, which is pretty new to the Island, is also helpful to have. I might be biased but I think they make better coffees at the Roosevelt Island one compared to other ones in the city.
I also love Franklin D. Roosevelt's Four Freedoms Park and just sitting on the bench by the river with the view of the skyline is reason enough to move here. An  I've been exploring so many new shops and restaurants just across the river on the Upper East Side,.
Roosevelt Island has more grocery stores and restaurants than I expected--they are so small they don't show up on Yelp. They deliver anytime.
I also like that Roosevelt Island is technically part of Manhattan, but yet it's less hectic and when I look out the window and I see the whole city and the river. Roosevelt Island is quiet. I like quiet neighborhoods and on the weekends I want to be away from all the craziness and hectic work life and be alone and read a book in a nice apartment.
Roosevelt Island is very safe and people are friendly. They are all professionals like myself and mostly work in Midtown or at U.N., so it's a very nice environment. And the luxury high-rise apartments are so brand new that everything feels very nice and modern.
If I had to do the move again I absolutely would, in a split second. Roosevelt Island is great for couples and families. Because it is so small there is a real sense of community, which I love.
As long as you aren't into partying/drinking every weekend, it's a great place to live. But if you are super extroverted and have to be out partying every weekend, it's definitely not the place for you. I do think the best part of Roosevelt Island is the view…the view is unbelievable anywhere around the Island. There are benches lined up right by the river…it is mesmerizing.
I am very happy with our decision to move to Roosevelt Island. I highly recommend that people check out this place before rents start to skyrocket.
---
Transitions highlights New Yorkers' first impressions as they transition from one neighborhood to another. Want to tell us your transition story? Drop us an email.
Brick Underground articles occasionally include the expertise of, or information about, advertising partners when relevant to the story. We will never promote an advertiser's product without making the relationship clear to our readers.