The Market
PropertyShark QuickTip: How to check for property violations (and find the ones that really matter)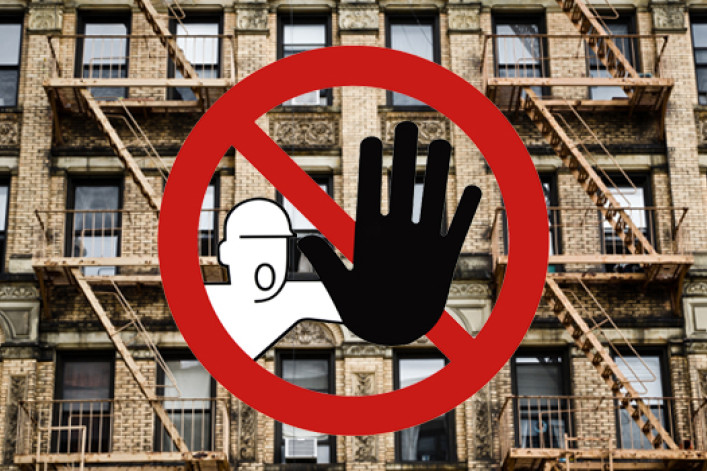 Violations against a building or apartment can range from non-hazardous (like minor leaks) to hazardous (lack of adequate lighting in public areas) to immediately hazardous (such as lead paint or lack of heat).
While some are merely a nuisance, others can pose a genuine threat to your health and well-being, require extensive repair work, or result in substantial fees or even liens being placed against a property.
QUICKTIP: To look up violations before you make a down payment on a new apartment, type the address into real estate data website PropertyShark to view a detailed property report ($9.95 each, or $39.95/month for 150 reports a month). Then head to Section G: Violations to see complaints and violations filed by the NYC Department of Housing Preservation and Development (HPD), Department of Buildings (DOB) and Environmental Control Board (ECB).
As you review any violations and complaints, here are a few questions and tips to keep in mind, says PropertyShark real estate data specialist Nancy Jorisch:
Are there multiple problems throughout the building or are they limited to one or two apartments? The former is usually more troubling.
Similarly, violations limited to only a few apartments within a big building are less of a concern than those pointing to major issues that affect the entire building (facades, boilers, elevators, etc.).
Are the violations severe and ongoing or scattered and promptly resolved?
Are open violations truly open? Most city agencies have very precise procedures they want followed, so it could be that the violation has been fixed but the documentation of completion wasn't properly filed.  "This may be the case for violations that appear to have been lingering for years without a change in status," says Jorisch.
Are there changes in the ownership or managing agent coupled with a change in the number and severity of violations?  A regime change coinciding with a lot of recently closed violations may signal that a historically troubled building is in the midst of a turnaround.
How does the building compare with other properties in the neighborhood? Double-click the map in Section G1: Housing Preservation and Development Violations to check the violation situation in a given region. The map, which is updated monthly, depicts in red all the properties in the area with violations that still need to be put to right. It's one thing if a neighboring building has a leaky roof—that won't affect you. But if your potential new building is surrounded by other properties that are infested with rats, they could easily infiltrate your place too.
If you're concerned about unresolved violations in a building you're thinking of moving into, "there is nothing wrong with contacting the managing agent and asking," suggests Jorisch.
---
PropertyShark.com is a real estate website that provides in-depth data for more than 75 million properties in New York City, Philadelphia, Los Angeles, San Francisco Bay Area, and other major U.S. markets. The company covers most of the U.S. with a primary focus on the New York real estate marketplace. Click here to see what services and data are offered in your area.
More from PropertyShark.com:
QuickTip: How to check for liens before you make an offer (and why you should)
How to buy an apartment that's not for sale
How to find the real owner behind an LLC
3 more ways to find the real owner of a NYC property 
Map of the Month: Toxic sites in New York City
Map of the Month: See every groundfloor retail space in NYC--for your buying, renting and shopping convenience
Map of the Month: See every co-op and condo with a parking garage in NYC
Brick Underground articles occasionally include the expertise of, or information about, advertising partners when relevant to the story. We will never promote an advertiser's product without making the relationship clear to our readers.