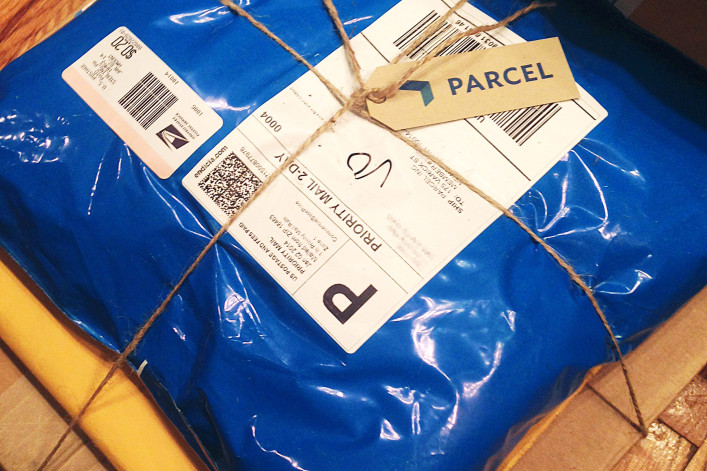 Launched in December 2013, Parcel has the potential to save doormen-lacking New Yorkers some serious headaches. Instead of coming home to a haphazardly stuck UPS notice alerting you that your package is being held hostage until you can arrange to sit at home and sign for it, you can employ this NYC service to hand-deliver your package at a convenient time.
What is it? 
Founder and CEO Jesse Kaplan moved to New York this past summer and soon started ordering packages to his non-doorman building.
"As soon as I missed my first package, I came up with Parcel," he said. "I sent things to friends with doormen, or to offices, which was inconvenient, and I was amazed by the poor customer service and lack of transparency at shipping centers."
After speaking with about 70 doorman-less New Yorkers to assess pricing, payment, frequency of delivery and the most common size of a shipment, Kaplan had the foundation for Parcel. 
For $5 per package, Parcel will deliver your package, up to 22" x 22" x 15" and lighter than 20 pounds, straight to your apartment. The service is only available in Manhattan, but they're hoping to expand to Brooklyn soon. You select a one-hour window between 7 and 11 p.m., Monday to Friday, via text message. If your package requires a signature, Parcel will take care of that too. 
How it works
The first order of business is signing up on www.fromparcel.com. After a quick input of your email, address and cell phone number, you will receive a custom address from Parcel.
A member number links your actual address to Parcel. That is how they can ensure that your package gets into the right hands, and can be carefully tracked at every turn. 
You use the Parcel address as your shipping address while online shopping. When placing my order online, I put the member number in the address into the "Attention Of" field which did the trick. (Note: If someone is sending you something, they'd have to have your Parcel address.) 
I gave Parcel a spin with some precious cargo: my bridesmaid dress for my sister's wedding.I kept track of my package via the usual UPS tracking code online. My package arrived to the Parcel warehouse just after 2 p.m. and by 4 p.m. I received a text message to schedule my delivery. 
My bridesmaid dress arrived at 8:15 P.M., wrapped in a cute twine bow. 
What could go wrong? 
If they are running late, which happens infrequently, Parcel will notify you and compensate you for the inconvenience. Parcel boasts a 100% money back guarantee if your package does not arrive within your delivery window. They will credit you the $5 to another Parcel delivery, available automatically on your Parcel account. 
For worst-case scenarios, Parcel also offers up to $100 worth of insurance on their packages. Additionally, any package that arrives damaged from the shipping service is photographed right away for evidence and you are notified immediately. Keep in mind that Parcel is not liable for packages that are lost by shipping services, so if it never arrives to their warehouse, you will still have to work  it out with the shipping provider. 
Final verdict 
Overall, I was happy with the service. My package arrived exactly as it should have, without a delay for using Parcel. The price is fair, especially because so many companies offer free shipping to begin with. Additionally, if you miss the package at your own address and have to reroute it to an office or friend with a doorman, the retailer will charge you for this--a charge usually much more than $5.  And shlepping to the pick-up point to get your undelivered package will likely cost you more time and cab/subway fare.
In an ideal world, I would love to use Parcel for my shipments over 20 pounds—those are the annoying ones I can't ship to my office. This would be especially helpful for furniture shopping.  Last time I had a couch delivered, the store offered only a six-hour delivery window from 9 a.m. to 3 p.m.--not exactly reasonable for anyone with a day job. 
The major benefit I found with Parcel is that it truly eliminates 90% of the reason I would ever live in a doorman building. I would much rather spend the $5 per package than the overblown rent of a doorman building. 
Related posts:
KeyMe, the app that gets you in when your locked out, for way less than a locksmith
6 things to do before you move
For flat-rate locksmithing who you gonna call? Lockbusters
Rental Rookie: Breaking in is hard to do
Brick Underground articles occasionally include the expertise of, or information about, advertising partners when relevant to the story. We will never promote an advertiser's product without making the relationship clear to our readers.