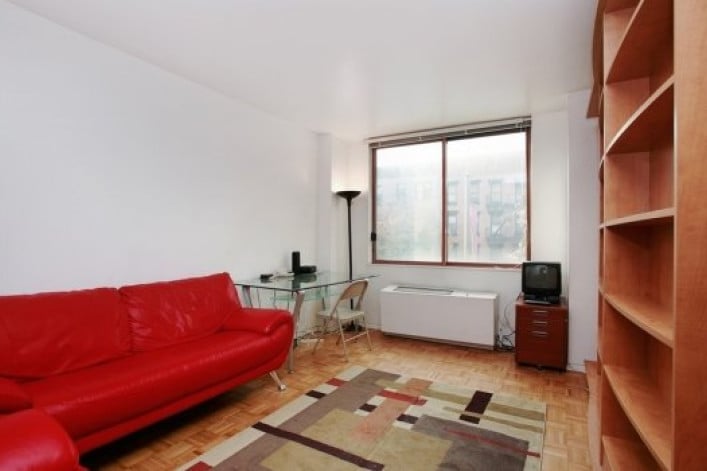 Thinking of buying an investment property in the city...for under $500,000? BOND New York's Michael Signet reveals which neighborhoods will give you the best bang for your buck in this week's Buy Curious.
THE WISH LIST:
"I'd like to buy an investment property for less than $500k. In which Manhattan neighborhood can I expect to get the highest rent and the best return on my investment?"
THE REALITY:
For starters, let me say how great it is that you're in a position to buy an investment property! While nobody can predict how the real estate market will behave in any particular year, we do know that an apartment in NYC will almost definitely appreciate over the long term. According to the Fourth Quarter BOND Report, the average price for a condo in NYC increased by 7.32% from the fourth quarter of 2012 to the fourth quarter of 2013. But of course, that kind of appreciation won't happen every year.
If you can only afford to put 20% down, you should look at this as more of a long-term investment than an instant income-generating property as you'll probably won't earn more than a few hundred a month, which will likely be put right back into the apartment.
That's why the first question I always have for buyers who are looking for investment properties is, "How much of the purchase price do you intend to put down?"  
If you plan to pay all or mostly cash and finance the minimum amount, you are much more likely to have positive cash flow.
I would start by searching for condos and condops (a co-op with condo rules) in your price range. While there are some co-ops in the city that allow for unlimited subletting, they can be hard to find, and since their rules are always subject to change you could potentially have an investment property on your hands that you can't legally rent out!
You should start your search by looking in neighborhoods that have a good ratio of condos that would allow subletting. You also want an area that will strongly appeal to renters, with nearby shopping, nightlife and transportation. We're fortunate in NYC, in that our real estate market is strong city-wide, so there are people who want to live in any and every neighborhood—as long as the price is right, that is.  
If you want to live uptown, try these: 
Upper East Side studio/1-bathroom condop, $499,000: Most investor purchasers are looking for a prime location and a full-service building like this studio in The Forum, (343 East 74th Street between First and Second Aves.) that falls just within your budget. The condop building has a land lease (meaning it doesn't own the land that the building is on, often resulting in above-average maintenance fees because of the rent the building pays for the land, but a lower overall price due to the high common charges). This land lease makes the apartment less expensive than comparable apartments, but doesn't affect how much it would rent for. In October of 2013, an apartment in the same line rented for $1,995 per month. At $499,000 with 20% down and a 4% mortgage, your monthly payments would be $3,052. But if you put 70% down, your monthly payments would be $1,861 and if you paid all cash, your monthly payments would be only $1,146.
Harlem 1-bedroom/1.5-bathrooms condo, $425,000: This 1-bedroom at 307 W. 126th St. between Eighth and St. Nicholas Aves. is well within your budget at $425k. Located in a townhouse building that has been completely renovated, this unit has a beautiful large kitchen, as well as in-unit laundry. It also has a tax abatement in place until 2022, which enables the property owner to pay zero taxes until the year 2018. With 20% down, the monthly payments on this property would be $2,353.21. Since it's such a small building, there hasn't been any recent rental history, but in today's market it's a good guess that this unit would rent for up to $2,500. Plus, it's close to Columbia University, so there will be a new crop of potential renters in the vicinity every semester.
If you'd rather be in Midtown, this might work:
Clinton studio/1-bedroom condo, $450,000: This is a lovely studio in Worldwide Plaza, a modern full-service building located at 393 W. 49th between Eighth and Ninth Aves. Renters are always looking for studios in the Theater District. It's easy to commute to pretty much anywhere else in the city from there and there are tons of restaurants and bars in the vicinity. If you put 20% down and finance the remainder at 4%, your monthly payments would be $2,634. A similar studio just next door to this one is currently on the market for rent asking $2,700/month.
FiDi also boasts a good selection of condos:
Financial District studio/1-bathroom condo, $495,000: This alcove studio in the old Cocoa Exchange at 1 Wall St. Ct. between Hanover and Pearl Sts. is asking $495,000. This is a new condo conversion with top-of-the-line finishes and building amenities, including a concierge and access to the roof deck. For this apartment, the monthly payments are at a 4% interest rate, so 20% down would be $2,406. The studio apartment just next door is currently for rent for $2,500/month.   
If you'd prefer a larger space and don't mind going further uptown, this is a good option:
Hamilton Heights 2-bedroom/2-bathroom condo, $400,000: If you're interested in a larger apartment and you need to stay under $500K, this 2-bedroom/2-bathroom duplex at 443 W. 151st St. between Amsterdam and Convent Aves. is only asking $400k and even has a den/office. The apartment is in a pre-war walk-up building with a common patio. With a 20% down payment and financing at 4%, your monthly payments would total $2,184. You could probably rent it for $2,300/month.
---
Buy Curious is a weekly column in which NYC real estate brokers help buyers develop a realistic search strategy. Want some advice on your search? Send us your wish list.  
Related posts:
10 mistakes to avoid when investing in NYC real estate
How to spot a good NYC investment property
Tips for buying the right one-bedroom apartment (as an investor)
Buying, renovating or refinancing next year? 5 mortgage trends to watch in 2014 [sponsored]
What 8 first-time buyers wish they had known
Here are the 7 most likely reasons you'll get turned by a co-op board
Brick Underground articles occasionally include the expertise of, or information about, advertising partners when relevant to the story. We will never promote an advertiser's product without making the relationship clear to our readers.