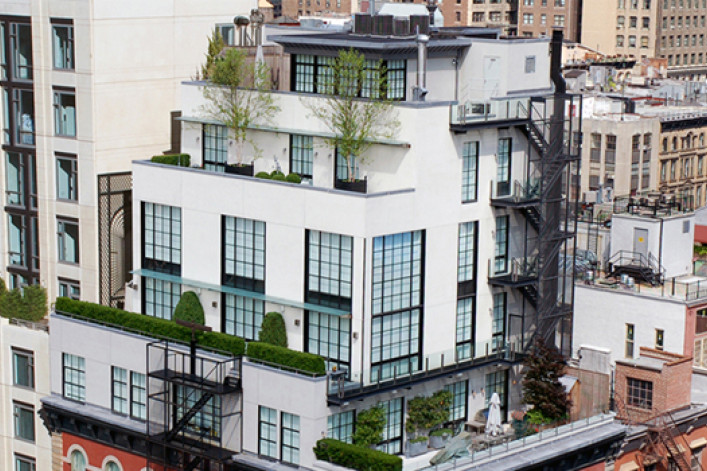 Q.  I'm in the market for an apartment on the top floor of a building--no stomping neighbors above my head, thank you very much! But it seems like every listing advertises these units as "penthouses" even when there's nothing special about them.
How do I figure out if an apartment truly is a penthouse? Will I wind up paying a premium for what's basically just marketing? 
A. It's an unfortunate reality of the New York City market that brokers and developers throw around the word "penthouse" willy-nilly, not only for a building's top-floor units but even for the ones near the top.
"Since the term 'penthouse' still carries a cachet, some marketers will admittedly burnish the allure and exclusivity of a high-floor unit by deeming it a 'penthouse,'" says real estate broker Gordon Roberts of Warburg Realty. "Puffery in real estate marketing is not a new thing."
But there are several attributes that distinguish penthouses from other apartments beyond their lofty locations, our experts say.
Architecturally, a penthouse is a structure on the roof of an apartment building that's set back from the outer walls, providing for a wraparound terrace and a feeling of seclusion from the rest of the building and the city below, Roberts says. 
Indeed, outdoor space is the signature feature of a penthouse—not just a balcony, but a true terrace.
Penthouse floor plans are also different from other apartments in the building—usually larger—and come with unique features, such as a vaulted ceiling or an atrium, says Jonathan Miller, president of appraisal firm Miller Samuel.
But again, there's a difference between the technical definition and common usage. While more than a decade ago, a penthouse was "a top-floor unit with outdoor space," these days any larger, high-floor unit with "upgraded finishes" will qualify, says Roberta Axelrod, a real estate broker and asset manager with Time Equities. 
So how do you make sure you're getting a true penthouse? 
Check out floor plans, comparing the so-called penthouse layout to others in the building to see if it really is distinctive, Miller says, and study the listing to see what features the apartment has.
Also look beyond the building at comparable properties to get a feel for what's out there.
"Some resemble rooftop fishing shacks with amazing outdoor space, others may just be a generic high floor apartment with a balcony," says Roberts, who advises, "If eliminating stomping neighbors overhead is your main concern, then obviously you'd avoid buildings with communal roof terraces, and embrace buildings that disallow roof access."
As for whether you'll pay more? You might—but not because it says "penthouse" in the listing. 
"Just because it's called a penthouse doesn't mean it's really a penthouse, and therefore doesn't mean there's a premium associated with it," says Miller. 
However, the qualities that make a penthouse a penthouse—outdoor space, a high floor, no upstairs neighbors and prized details—almost always command more money, experts say.
---
Trouble at home? Get your NYC apartment-dweller questions answered by an expert! Send us your questions.
See all Ask an Expert.
Related posts:
Ask an expert: How much is a higher floor worth?
3 things you must know before buying a new condo (sponsored)
Brick Underground articles occasionally include the expertise of, or information about, advertising partners when relevant to the story. We will never promote an advertiser's product without making the relationship clear to our readers.